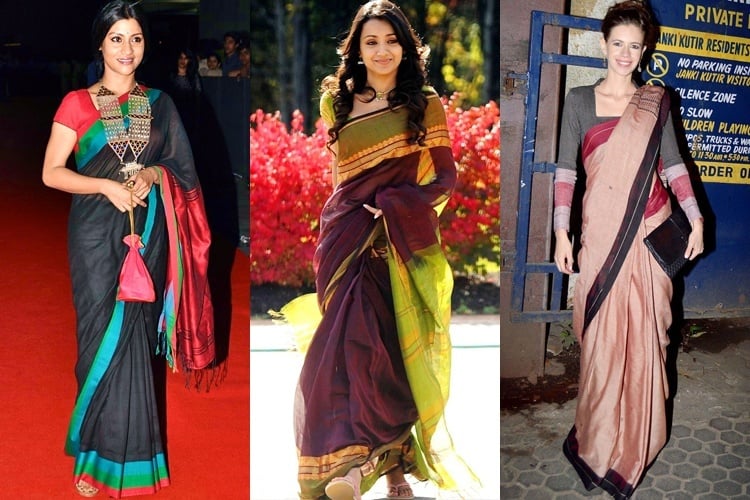 India is known for very many things – films, fitness, Ayurveda, street food, travel, tourism, gossip, chit chat. But the one thing that enthrall women folk in India who prefer to show sophisticated elegance when it comes to dressing up is Indian handloom sarees.
[Also Read: Types of Sarees]
What About Cotton Handloom Sarees
Handloom sarees is one such textile art of India that is very traditional in heart and spirit. The production of handloom sarees, whether it is silk or cotton handloom sarees might fancy many women of the upper echelons of the society but it is the bread and butter for thousands of laborers who put their painstaking skill and toil into each handloom creation.
Fashion domain has experienced a revolution in weaving, printing and designing technique. But the overall charm of Indian handloom sarees stays fresh in the memory of Mrs. Chatterji of Kolkata to Ms. Snehlata of Ahmedabad. Sit back and browse through the types of handloom sarees that you can pick to make an everlasting impact.
Banarasi Types Of Handloom Sarees
An Indian bride's wardrobe is incomplete without a red Banarasi saree, be it silk or cotton.
A Banarasi saree hails from the holy city of Banaras (also called Varanasi). A Banarasi is considered as one of the finest saris in India where the pallu is woven with pure gold and silver thread, and the multicolor thread work showing plants, various types of flowers and architectural ornaments.
While Banarasi silk is seen as the original Banarasi sari, Banarasi handloom sarees designs are a symbol of pride and festive celebration for Indian women.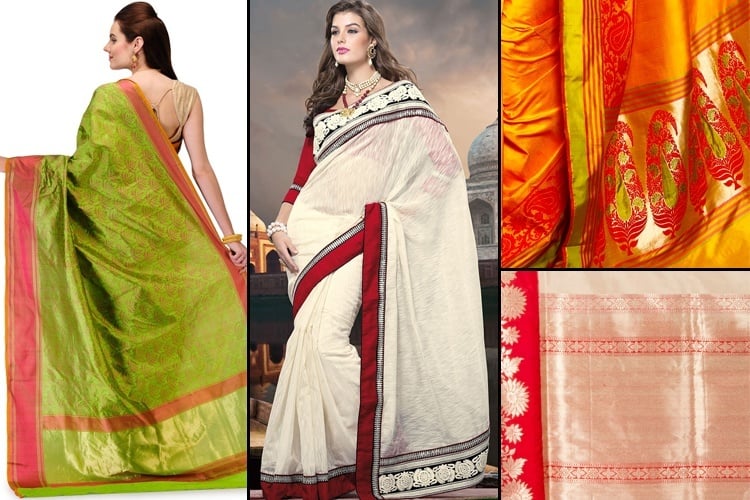 Tussar Types Of Handloom Sarees
You might be having the choicest of diamonds but when you have a tussar handloom saree wrapped around you, praises come naturally. Tussar Silk is Bihar's specialty that has a cotton mulmul texture in it.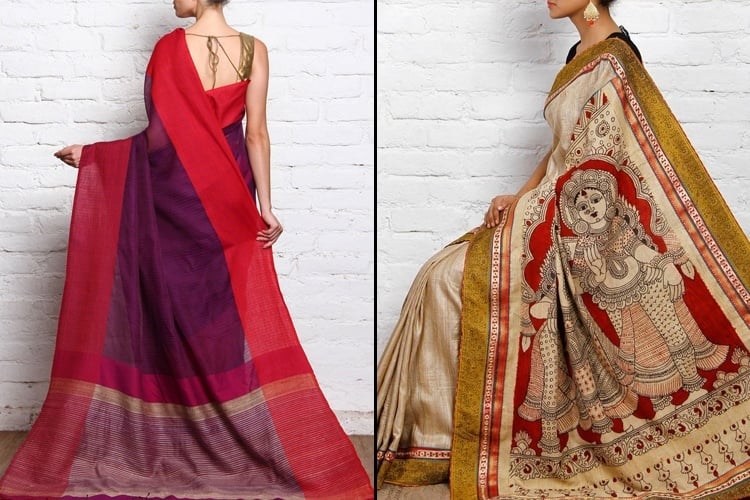 Baluchari Types Of Handloom Sarees
B for Baluchari, B for Bengal. Yes, a Baluchari is an integral trademark of West Bengal that goes back to 200 years ago in the 18th century when Nawab Murshidquali Khan was the ruling king. The Nawab had a fetish of bringing traditional craftsmanship of Bengal to the limelight, which explains how Balucheri cotton handloom sarees has been groomed and promoted till this day.
[Also Read: Chic Saree Styles For Durga Puja 2015]
There is no way you can miss out the intricate weaving method and fine embroidery of a Baluchari. When you drape the border and pallu of a Baluchari saree around you, expect to be adorned in local motifs, royal court scenes, event episodes from Indian epics and many more.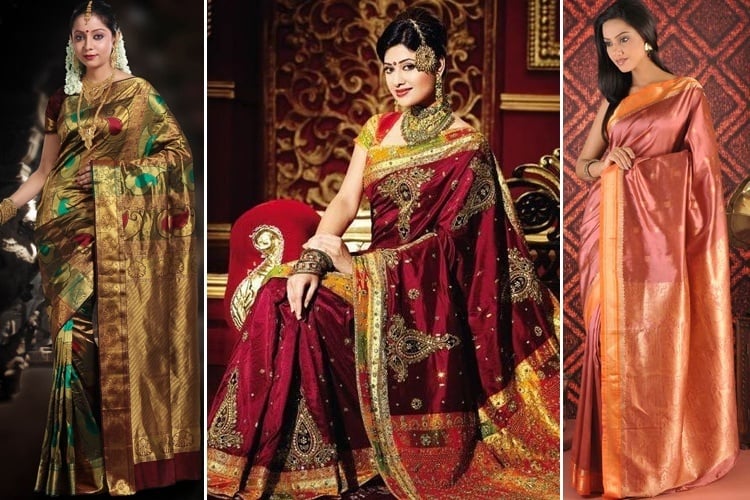 Tant Types Of Handloom Sarees
Soft and light muslin, Bengali tant handloom sarees designs is an easy to sport luxury in the Indian summer. The border is laced with silk thread work. The pallu is absolutely elaborate. Wear this delightful masterpiece from the state of Bengal and rejoice in this prized creation.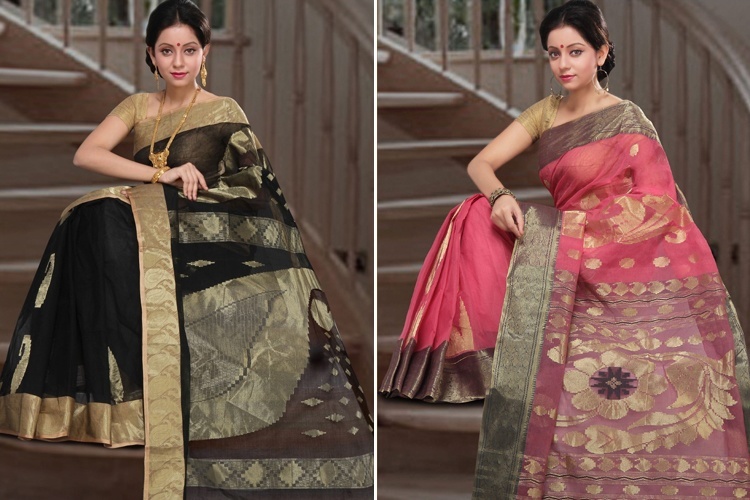 [sc:mediad]
Kantha Types Of Handloom Sarees
Kantha is once again a handloom creation of the West Bengal. 'Kantha' means simple stitching over the entire saree that is done over mulberry or tussar silk. Once again, it is the interplay of plants, animals, and fish motifs that gives a new definition to the elegant embroidery work.
Sambhalpuri Types Of Handloom Sarees
Just to dye the fibers of the Saree, it takes five days, so you can well imagine the painstaking labour that goes into the making of a complete Sambhalpuri saree. The best part about it is that only natural colours are used while creating a Sambhalpuri. Design elements such as fish, conch shell, and flower motifs are woven into the fabric to make it an outstanding piece of handloom saree.
[Also Read: Mistakes to Avoid While Wearing a Saree]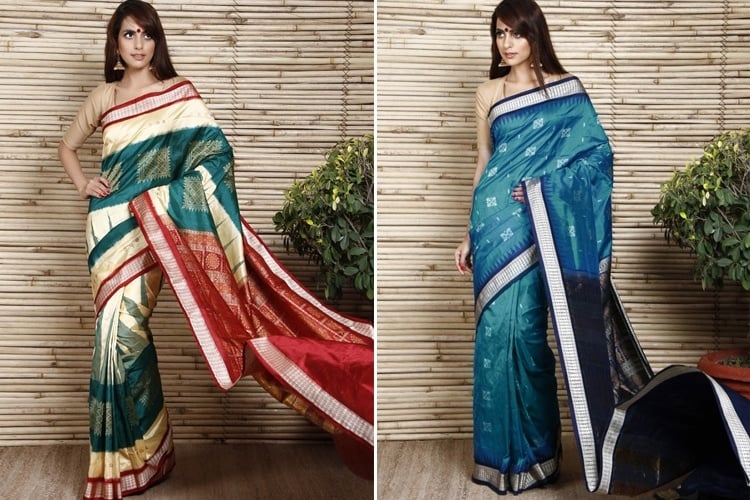 Munga Types Of Handloom Sarees
Munga hails from Assam. The best part about this handloom sarees designs is that the naturally blessed gold colours in it need no dyeing treatment. The border and the pallu have traditional butis and motifs that give a refined sophisticated look.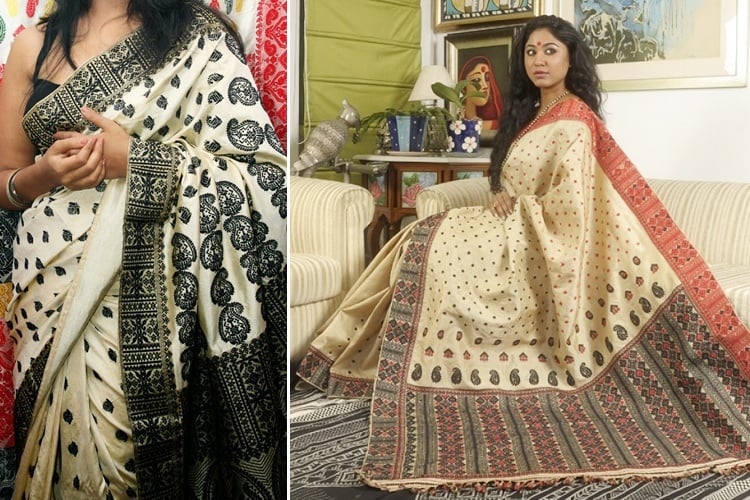 Chanderi Types Of Handloom Sarees
Chanderi is a light and glossy silk and cotton creation of Madhya Pradesh. Airy feel and classy texture greets you in a Chanderi. The saree borders are narrow and the anchal comes with butis.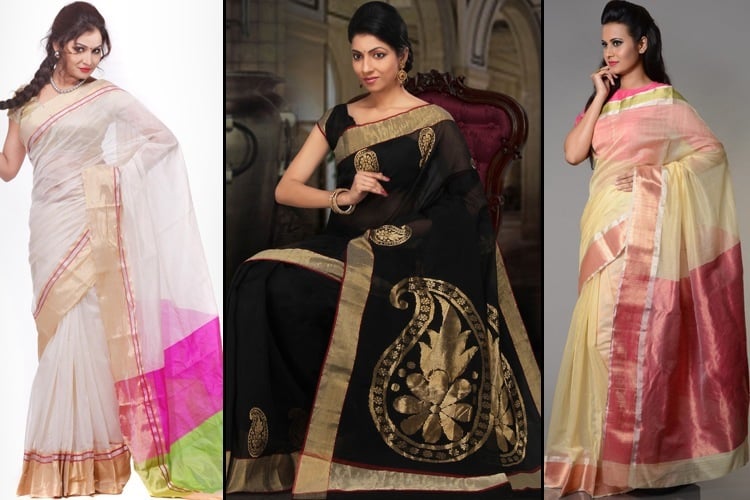 Bandhani Types Of Handloom Sarees
The word Bandhani in Gujarat stands for tying and dyeing. Get a dose of rich vibrant colours in handloom sarees in the colourful Bandhani. Panetar, Garchola, and Lehariya are three types of Bandhani sarees that stand out with its ethereal beauty and charm.
Now that we have shared with you some vintage Indian handloom sarees, all you need to do is shop for them for yourself, your mother, grandmother, aunt, cousins or friends and see how they treasure this timeless gift.
Drop in a line and tell us which of the types of handloom sarees shown above is your all time favourite.