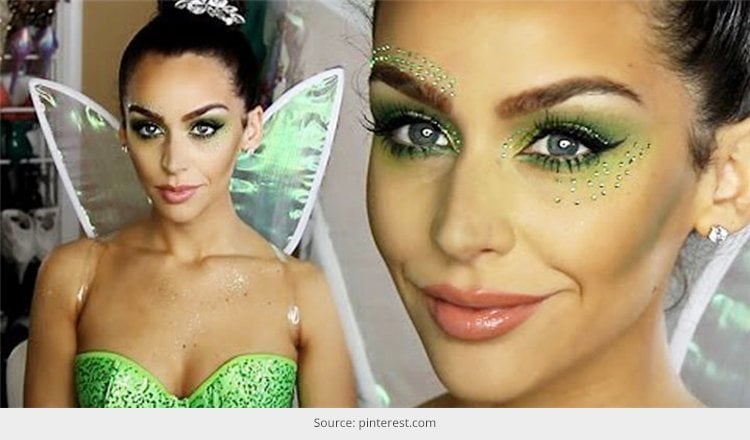 A month more and we shall be heading into the spookiest festival of all- HALLOWEEN! And this time we want more of the fairies and godmothers doing the rounds please; so tired of the ghouls, goblins and ghosts, so here's a fairy makeup tutorial.
[Also Read: Terrifying and Simple Makeup for Halloween]
Here Are Some Fairy Makeup Ideas We Have Come Up With
While you are busy selecting your princess fairy Halloween costume, don't forget to learn a little more on how to do your makeup right, or else all efforts would go down in vain. We are sure the below mentioned fairy makeup ideas will be of much help to you. Read on.
Glitter And Sparkle
LOL, you must take a look at this funniest video on the Ellen Show, showcasing Loni Love (celebrity DJ and guest host) taking lessons on how to be a fairy princess godmother with a fairy makeup tutorial and act.
While enjoying that laughter riot bit, we shall now sit and pen down for you steps on how to doll up the right way with princess fairy makeup; so that you could experiment and try various looks from today for the Halloween bash you have been invited to.
What You Need Is A Fairy Princess Costume!
Yes, and no questions asked about that. However, the makeup has to be just right for the fairy princess hostess too, and after researching well-enough, we seem to notice no one etched-in-stone fairy makeup tutorial for fairy princess looks. It is all about fantasy, imagination and quirky creativity that brings about the fairy look. So let's begin!
[Also Read: Easter Makeup Tutorial]
Steps On Becoming A Fairy Princess
As Loni Love was taught, she would need to raise her pitch a little higher than the usual to speak, and with utmost grace and poise, prance while socializing too- go right ahead and practice that. However, these few steps on gaining the basic fairy makeup tips (which you can improve upon).
[sc:mediad]
Use a reputed concealer which helps even out your skin tone
Pick up a reputed foundation and translucent powder as well
Use the help of a luminous bronzer to chisel the cheekbones and the portion beneath it too!
Once the contouring is done and over with around the cheekbones, it would now be time to use hot pink blush to the cheeks
How much blush to use- TWICE than you would otherwise do.
Time Now For The Eyes
In accordance to the fairy princess ensemble you would be wearing, you would need to match the eye makeup as well. In most fairy makeup ideas, the crease and brow it seems should have touches of champagne to bring about a heavenly look. The rest of the lids can be covered in metallic shine of the colour your ensemble has.
With the help of a very flat eye shadow brush, apply a little shimmer to the eyelids
Add a little more colour, brighter than that of the ensemble to the inner part of the lids
Dab the same colour very gently over the brows too.
The eyeliner should be sparkly and shimmer too, and only the lower lash line should have two strokes per lash to sparkle in
Do not forget the importance of false eyelashes- how else would you flutter those eyes when dolling out spells and love potions?
Before you place false eyelashes on the lids, use a black eyeliner in one thick stroke over the lids and form a winged-look!
Two coats of mascara in black is enough (or a colour close to your hair tone) for the twiggy eyes would be au naturale for a fairy princess.
Finally, you need to be the fun fairy princess and a pretty one too, so grab a pair of pretty fairy wings and use a little hair chalk to streak your hair with glittering colours too. We hope you loved this fun and very easy fairy makeup tutorial, as much as we did penning them down for you!
Do you have your own Halloween Makeup Idea for the fairy princess to share? Write in to us!