Fashion or Halloween makeup ideas, photography portfolios or simply a girls night out and you would want to dare to wear them all, here are 15 chic and very playful numbers for the eyes to doll up in, and to make heads turn as well.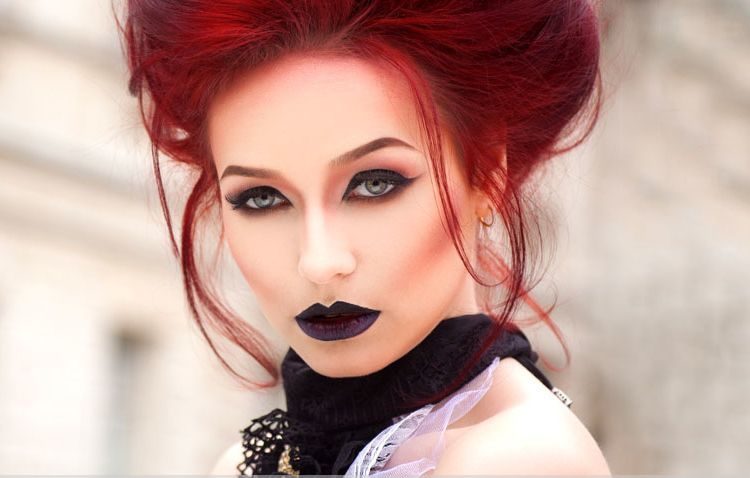 Best Halloween Makeup Ideas:
Read on and grab a few halloween or themed makeup ideas:
1. Bold Eye's and Lips Avant Garde:
Dress up for Halloween and don the vamp alien look, seek inspiration from dark colours that make the eyes and the regions around it magical and mystical, extreme deep reds and dark eye shadow with rimmed kohl lashes and plenty of mascara! Focus on white silvery shiny lips with a touch of matte read!
2. Monochromatic Looks:
Sexy and defined, the monochromatic look for Halloween events or fashion portfolios would stir up just more than a rage. It speaks volumes of the daring bold touch, in dark lip shades and very light metallic eye hues!
3. Avant Garde Eye Makeup:
With touches of green, purple and deep pinks or even reds, darkened eyebrow arches and filled in deep eyebrows to flaunt, the Avant Garde Eye Makeup look for fashion photography is the ultimate very bold stance to flaunt. Pout those dark red wine lips with this themed makeup!
[Also Read: Halloween Fashion]
4. A Chunky Rainbow Touch:
Feeling a little too colourful and rainbowish? The chunky rainbow touch to the eyelids in bold colour blocks of green, red, yellow and blues would make the imagination run wild. Embellish the neck region with stick-on crystal motifs and you're ready to grace Halloween parties!
5. Bold Gothic, So Bright!
Gothic themed makeup ideas usually would be on the lines of all things dark and matte, or shiny in some cases. But what if you had the option of notching things up and making it bold and silver, with hues of red for the bloody effect and blues to cool things down?
6. Chunky Spider Eyes:
Arachno lovers would want to don this look to make their ensemble flash a little creepier than what it should this Halloween 2015. Twiggy eyes with long false eyelashes, chunky touches to the arch and brow lines, and nude lips or pink below; types of Halloween makeup at its best!
7. Amazing Aquas:
Go aqua and be the submarine princess or Goddess Sedna- the Goddess of the Seas and the Oceans this Halloween. Think about the myriad shades of blues in aqua tones to play with, and keep the lips red with wine touches to flaunt!
[Also Read: Most Weird Hairstyles]
8. The KAYO Look:
Orange block lids and very dark symmetrical arches to flaunt, the KAYO dark girl misunderstood look for fashion photography and fantasy makeup is a trend these days!
9. Gold and Black:
Whack it out a little more with an edgy alien-ish touch using gold and black shadow for the lids and tipping the lips with touches of creative gold designs, the rest we would leave to creativity and imagination!
10. Colours Run Amok:
From dusky to dark and very black skin tones, you gorgeous sultry beauties can play with colours in more ways than one, find inspiration in golds, yellows, orange and blues!
[sc:mediad]
11. Graphic Prints For the Eyes:
If you thought graphic prints were the norm for fabrics and haute prêt-a-porter alone, you got it all wrong. Fashion photography and fantasia when they meet can bring about a magical transformation so edgy!
[Also Read: Hand Makeup]
12. Two-Toned Dark and in Gold:
To shoot for jewellery and accessories made of metal, the focus of the photographer would be more on the product and less on the model. This is why, slight touches of metallic gold for the face and very dark brown skin foundation makes an extreme fashion look!
13. Feather Eye Makeup:
Colourful, radiant and very vibrant, the feather eye makeup could be used for fashion or fantasy makeup, and for Halloween or themed parties too, a lot of fun and sassy quotients involved, you just have to be as wicked as possible with the play of colours.
[Also Read: Gothic Jewellery Ideas]
14. She Loves You So:
Creep him a little this Halloween with a red heart to flaunt on one of your eyes, yes do that and make it a naughty affair later on!
15. Chunky Eyes From the Ramp:
The Dior catwalk eye makeup by Pat McGrath is an inspiration to emulate for sure, and best used for fantasy fashion makeup too!
Found your inspiration yet? Speak to your makeup artist or a friend who is an artistic makeup artist, and they would help you get one of these Halloween makeup tips manifested!