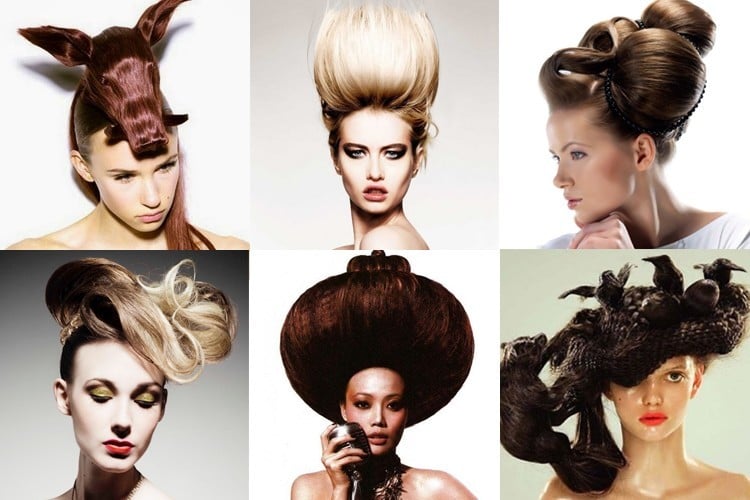 Love to experiment with your hair, but bored of those tried-n-tested looks? You need some crazy style doses. From weird colors to avant-garde techniques, there are lots of things to explore. We sorted out 20 wildest and weird hairstyles for you in this piece.
[Also Read: Hairstyles For Frizzy Hair]
Do You really Wish to Learn how to make funny hairstyles?
Check out to find out if you dare to wear these:
Style 1
How about creating a hairstyle with a couple of holes? A lot of mousse and hairspray are used here to give texture to the hair and the flattened end is arranged like the front of a broomstick.
Style 2
Well, should we call it 'snail hair'? Huge volume, heightened top, smoothened sides and sleek texture…what do you need more to go absolutely crazy with your hair apart from the snail-like shape?
Style 3
Ever seen such weird hairstyles that too in a ponytail form? Just look at the perfectly round segments and the amazing height. Are you ready to give it a try?
[Also Read: Different Ways to Wear a Ponytail]
Style 4
Confused whether it is hair or a hat? Well, with such a unique crazy and funny hairstyle, do you really need to care for it? Go get the look if you dare and grab the eyeballs!
Style 5
If you don't mind carrying a whole lot of weight on your head, then go for this crazy updo. But to be honest, you definitely need to be Rapunzel to wear this 3-tier bouffant with a front-side bun and a braided headband. Phew!
Style 6
Have you ever felt fascinated by the antlers of male deer? Now, you can get your own ones. Create different layers in your hair and style them up the following way. Quite innovative, isn't it?
Style 7
You may find uncanny similarity between the conical headdress worn in 15th century and this redhead look. But the funniest part is that you'll never need a sunglass, if you opt for this hairstyle. Agree?
Style 8
Want to master the art of weaving? Practicing with fabrics is so passé. Try it on your hair. Surprised? Just have a look at the following hairstyle and you will surely get inspired!
Style 9
Your hair itself is your 'crowning glory'. Then, why do you need an external 'crown' for it?
We'll teach you how to make funny hairstyles: Get lots of mousse, gear up to play the exclusive 'hole in the hair' game and turn your locks into a gorgeous crown! Come on! You can do it.
Style 10
How about imagining your head as the beautiful planet, Saturn and styling your hair as its rings? We just read your mind! Here is the 'desired' hairstyle for you. And don't forget to play with the shades for a true space-like feel.
This is one of the craziest haircuts ever! Agree?
Style 11
Now, this is what should call ball-headed hairstyle. Literally! Not only is the hair turned into balls of different sizes, but it is also decorated with small balls of almost similar color. Cool or weird? You decide!
Style 12
Love science? Show it through your hairstyle. See how certain 'molecular structure' is represented with the hair of this model! Ground-breaking, we must say! But don't ask us the name of the molecule, please!
[sc:mediad]
Style 13
What can we say about this colorful unicorn look? There are pigtail ponies with large round segments, there are burst of colors throughout the locks and then, there is a pointed mid-section like Spartans. Crazy, eh?
Style 14
This hairstyle looks much like Mohawk. We agree. But shift your eyes from the top section and you will find defined layers styled with texture. Vibrant colors have spiced up the look even more. Does it look like your cup of tea?
Style 15
Section off your hair, keep braiding them separately unless and until you return to the starting position and that's all! However, beware of this hairstyle! You may end up getting your head trapped!
Style 16
Hair or paper? Ummm…we too are confused! But whatever it is, we can't take our eyes off those copper brown flattened waves. Moreover, the hairstyle-makeup combo is just perfect for a horror movie. What say?
Style 17
Forget umbrella. Now, styling your hair is enough for keeping your head protected from scorching heat of the sun or never-ending rain. Don't believe us? Take at a look at the following picture.
Style 18
No. These are neither giant flower petals nor huge leaves of tree. These are actually human hair styled in a weird manner. But, who among you are ready to sport it? Anybody?
Style 19
If you love painting, this apparently creepy hairstyle and its unique shades will surely attract you. Oh, and how can we miss those bizarre waves with pointed ends at both sides of face?
Style 20
Finally, here is the much-awaited version of super woman. Yes, you can now give Batman a challenge with your own 'Bat Woman' avatar! All you need to do is change your hairstyle like this.
So are you game for any of these crazy, weird hairstyles?
If you have come across any craziest haircuts ever, don't forget to share them with us.