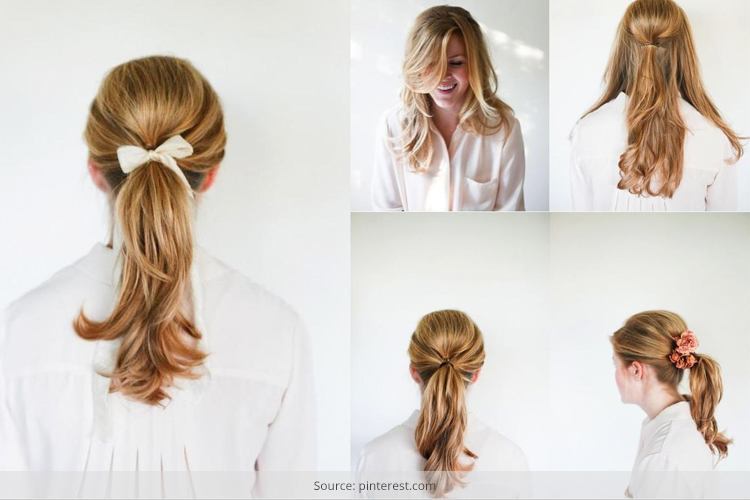 The easiest hairstyle ever and also the most versatile! You didn't think the ponytail could do so much, right? Most women choose the ponytail as their last resort, something to tie their hair up in when they have a chronic case of bad hair. The ubiquitous ponytail can be made even more amazing if you just have some simple tips in mind. You don't need too many accessories, but at the end of it, you will have a ponytail that's everyone's envy. So, let's get started on creative ways to wear a ponytail.
Get it High
The higher you go, the sharper you look! That's the bottom line when it comes to choosing a high ponytail. It is sleek and in summers is the best respite because it keeps your neck cool. So, no more sticky hair on your neck too. These ponytail hairstyles also keep the flyaway hair away. Just take a brush and take your hair in a ponytail as high as possible. This is a no brainer and is probably one easy ponytails hairstyles.
Look at how Beyoncé wore the high ponytail even with her curly hair!
[Also Read: Celebrity Hairstyles]
Messy Ponytail Hairstyle
If you have curly hair and you are thinking of channeling your inner boho chick, this is probably the best ponytail hairstyle that you can choose. It is easy and it can be tweaked in to put flowers or any other accessories too. Just curl you hair a little, to make those already existing curls a little more defined and then gather all your hair with a little elastic band. Easy peasy!
Selena Gomez is one such celebrity who regularly rocks this look.
Easy Hairstyles For Long Hair – The Rapunzel Ponytail Hairstyle
This is for the ladies who have extremely long hair and find it difficult to style it. Well you know what? Your next favorite style was just around the corner! If you have long hair, you can simply tie all your hair in a basic and sleek ponytail. Wear it a little loose and bring all your hair to the side. It's edgy, it's sleek and is probably going to be the favourite look for yourself!
[Also Read: How To Look Good In Stylish Ponytails]
Braid it up
If you are in the mood to add some braids, we would suggest you start with one! A simple side braid which goes from one side of your head to the next looks very demure and can be matched with almost any kind of dresses. You can wear it with casuals or even for a date night!
[sc:mediad]
Braided Ponytail Hairstyle
Another interesting and creative ponytail hairstyle would be to braid up the ponytail.
Illusion Double Ponytail
One of the many creative ways to wear a ponytail is this one. It's actually a double ponytail that gives off an illusion that your hair is extra-long. So you tie half of the upper part of your hair in a ponytail and then again use the remaining part of your hair to tie up another ponytail and then tie them both together! It will make your hair look a lot longer than it is!
Puff up The Ponytail Hairstyle!
Last but not the least, the puffed ponytail hairstyle never goes out of style. So whether you are rocking a tiny ponytail or a long one, the bottom line is, add a puff and you have added oodles of glam to it. This ponytail has the potential to blow anyone away! Get some height on the crow of your head and you are good to go.
Here's a Picture of Deepika Padukone's Ponytail Hairstyle to inspire from:
[Also Read: Deepika Padukone Hairstyles]
Nargis Fakhri sporting a ponytail hairstyle with a puff.
Here is another party ponytail tutorial for you all.
There you go! Some amazing ways to get so much more pizzazz to your normal ponytail!
Hope this article on different ways to wear a ponytail hairstyle was helpful.