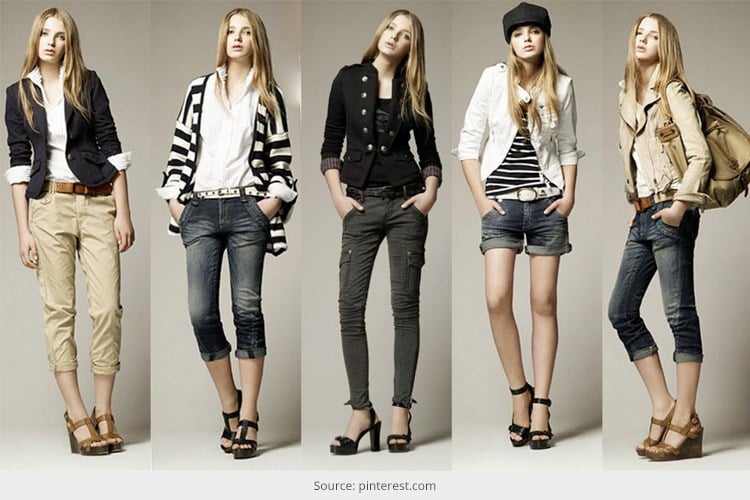 There was a point in my life, when I was totally unaware of what high street fashion was. To this date, the details are a bit sketchy. The reason being? Well, high street fashion is an umbrella term which encompasses a lot minute details. High street fashion ranges from brands to style. From people who endorse it to their personal, preferred style statements.
But, how can one simply define high street fashion?
Here's the thing – there is no hard and fast definition for high street fashion. The term has its origin in Europe, but there isn't a signature definition about it.
So, what is High Street Fashion? In a nut shell, high street fashion is affordable, stylish and chic.
Ralph Lauren rightly described fashion as – "Fashion is about something that comes from within you". Similarly, high street fashion is majorly about YOUR preferred style and YOUR comfort level. There are no rules for high street fashion and this is what makes it fantastic!
You can team a bikini top with your shorts and tag it as high street fashion. On the other end of the fashion spectrum, you can wear a pair of lose boyfriend jeans, team them up with a baggy tee shirt, a cape covering you and finally finish off your look with a fabulous hijab style and call that as high street fashion as well.
Like we said, high street fashion is all about what you find comfort in.
A. Diversity: High Street Fashion, Main Street Fashion & Prêt-à-porter
High street fashion has literally become a street friendly word now. But is it as widespread as we think? We have already established the fact that it has originated from European side (United Kingdom, mostly). But does that mean people in the United States of America don't do high street fashion?
Well, of course not!!
High street was just a word used to describe something more established. Hence, there is a similar word that people of United States use. It's called Main Street Fashion. So, high street fashion or main street fashion is the same. The only thing here is, high street fashion sounds more posh and rolls of our tongues more easily.
As for other countries, they prefer using prêt-à-porter. A much more exquisite French version.
However, these disambiguations are diminishing by the day as the term high street fashion is taking over the world.
B. Brands:
Now that we have described high street fashion in layman's terms and spoke about its diversity in other parts of the world. We would now like to go a step further and give y'all few details about popular fashion brands that endorse or rather manufacture high street fashion.
Since the term has European origin, it is quite understandable that most of these brands will be based out of London.
(Important point to note – though streets of London are ruling high street fashion, other countries are catching up. Did you guys know? India will soon have its very own high street brand? Keep reading to find out more!)
If you all follow a lot of YouTube vloggers who are based out of London, you'll definitely recognize the store which we will be mentioning below. Makeup addicts who follow Pixiwoos and Pixi2woos will definitely know every corner and rack of Topshop!
Let us list down some High Street Fashion Brands:
Miss Selfridges
New Look
River Island
Zara
Ted Baker
TopShop
1. Miss Selfridges
While in London, make sure to visit the best shopping destination – Selfridges. Even if you are just there to visit the place and taken in the beautiful scenery, you must, at least once visit Selfridges and bask in its exquisite glory!
While Selfridges can be a popular window shopping destination, its daughter brand Miss Selfridges is a place you can most definitely shop.
If you are looking for pretty Audrey Hepburn-esque pieces of fashion, walk in to Miss Selfridges with a $100 budget and walk with shopping bags that'll make you happy for a very long time!
Starting from $25 to $300, Miss Selfridges promises to offer you the latest prints and designs at a very affordable price.
2. New Look
If you think Miss Selfridges is a tad bit expensive, then you can quickly take a de-tour and visit New Look. Their range starts from a mere $15 and finishes at $90. Isn't that awesome? If you convert it into rupees, then the most expensive item at New Look will not be more than Rs. 6000.
New Look offers a variety of range, however, they excel in giving their audience the best and latest designs of jeans (skinny, ripped, boyfriend, distressed), skater dresses, crop tops and playsuits. Isn't that amazing?
[Also Read: How to Restrict a Shopaholic From Shopping]
3. River Island
This is one brand that teens have come to accept and love! Agreed that it isn't as affordable as Forever21, but every once in a while, a guilty pleasure can be granted. If you have come to love the grunge look or love Rihanna's eccentric sense of fashion, then River Island is your place to shop!
They start off at $10 and max their products at $300!
What's best about River Island? They have started franchising in India and all major shopping websites have their products, though they don't have their entire range yet.
Icing on top? The sale at River Island is as genuine as it gets!!
4. Zara
Zara is perhaps one store which has changed the Fashion scene and game. It is only due to Zara that today, we know what affordable fashion is. Makers of Zara should definitely get a standing ovation from all the fashion lovers around the world.
Zara may not be your everyday funky or grunge fashion store, but it has made fashionable office wear and we are so thankful for that!!
[sc:mediad]
From chiffon tops to pencil skirts, Zara has them all. That's not it, Zara also offers a wide range of heels and bags which are both suitable for formal and party wear.
We guess that's the thing about Zara. You can change their outfits from day to night. Wear a ruffled chiffon top with high collar to your office and then, when you want to catch up to your friends post work, open the top few buttons, tousle your hair and add a string of pearls around your neck! BAM!! You'll look HOT!!
Pssssstt… For this precise reason, always carry a red lipstick with you!!
5. Ted Baker
While the world out there is offering you an exquisite range of clothes and what not, Ted Baker here offers you the best range of bath and body products in a very high street way.
Agreed that you have to look good. But!! Personal grooming is also very important!!!
Along with excellent range of products for personal grooming, Ted Baker also offers an excellent range of red carpet-esque party wear.
6. TopShop
We have saved the BEST, for the last. Yes, we are totally agreeing to the fact that we love Topshop and it just gets to us!! Like literally. You can find everything in Topshop.
If we have to put Topshop in one sentence, we would say – "Heaven is a place in Topshop".
That's it. There isn't anything more to say about Topshop. The brand speaks for itself. From giving us plain white tee shirts to quirky prints, Topshop has proved itself time and again.
[Also Read: Best Shopping Destinations Around The World]
The best part is, it has also launched its own range of cosmetic and we are in love!
Our favourite lipstick, by the way is Macaroon *wink wink*.
C. Celebrities:
There are a lot of celebrities who have been spotted home in high street fashion. In fact, it is soon becoming a trend to mix high street fashion with high end fashion.
Did you know? Blake Lively teams up her vintage coats (which costs a lot) with basic tops that she purchases from local boutiques? What can we say? It's her way of curbing the guilt! And we are all game!
Before we talk about 'celebrities' per se, we would like you all to know about one particular woman, who set in motion, the entire frenzy about high street fashion.
Any guesses?
Kate Middleton!!
Yes, that's right. It was only after her many royal spotting's in not-very-expensive designer clothes that people started going mad about high street fashion. We mean, one would expect her to be always dressed in Alexander McQueen and Dior, right?
Of course, when she's off touring the world on royal duties and to formal events, she is spotted in Jenny Packham and Mulberry. But on her many casual and formal appearances in Europe, she's seen in high street fashion.
Did you all know? Zara and Resis are her go to brands?
Here's the one of the many times she wore Zara
A simple double breasted jacket with 10 gold buttons was what Kate Middleton wore when she visited Auckland on an official duty. One would think that the jacket must have cost a bomb but Ms Middleton got it for $139 only! Unlike Kimmy K who likes to wear trench coats which cost her $4500!
Which style would you prefer now? High street fashion or high end fashion?
We think we would like to go with Kate Middleton and follow her royal style statements. Don't you think?
High Street Fashion In India
The high street fashion scene in India is still budding and there are miles to go before we can think of calming down or thinking that we've reached on top.
Presently, we make the best of whatever we have. Brands like Westside, Max, Splash, Shoppers Stop, Lifestyle etc., do an amazing job in providing us with the best of their service. But, can we take it a step further and have something that exquisitely high street? Like say Topshop or Zara?
Of course, we do have a lot of foreign brands who have nestled their home in our famous malls and sell their latest collections like hot cake, but to say that we have our own dedicated high street fashion brand would be untrue.
We have brands like H&M, Zara, Marks and Spencer, Forever21, who have set their camps in many metropolitan cities of India and we are totally glad that they have done so. Otherwise, how could we possibly get our hands on the high street fashion products?
Though Zara is an all-time favourite among the 20 something's, it is Forever 21, which is popular among teens and adults. But you already knew this, right?
Now, coming back to the topic at hand, do you guys want to know an insider information? By the end of September, we will soon have our own high street fashion brand coming up and it's going to be very fun, quirky and up beat!!
Any idea on who will be the creative heads?
You know how they say – With God all things are possible? Well, just like that, with Sonam and Rhea Kapoor in tow, we think high street fashion in India is highly possible!
Yes, you are guessing it right!! Sonam Kapoor and Rhea Kapoor have been working for months to launch their own label and have promised us, that they will launch it by September. They aren't going all big and fancy like Global Desi and launching their own stores. In fact, they are trying to sombre down their label and are launching it in collaboration with Shoppers Stop.
They believe that fashion is affordable and it's all about how you style yourself. They say, style is what matters, not the brands.
Their brand Rheson will have a very affordable pricing and will start at Rs. 400 and go up-to Rs. 4000 only.
Cosmetics
Before we close our post, we would like to add a teeny tiny bit of information. Did you guys know, cosmetic brands can also be classified into high street and high end?
One would think that MAC products are high end, but in reality, MAC products are more of high street when compared to brands like Chanel, Tom Ford, Dior and Charlotte Tilbury. While a lipstick from MAC comes at Rs. 1450 a pop, Tom Ford lippies will cost you about Rs. 3500-4000 a pop.
Obviously, when we compare MAC to Maybelline or Lakme, we find it rather expensive. But, come to think of it, MAC is giving us the best at a little expensive price.
Hope you guys found this post on High Street Fashion to be an interesting read!