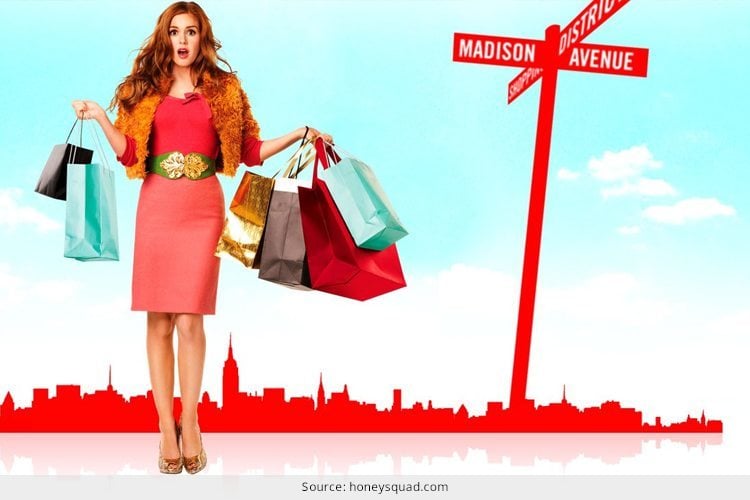 Every girl loves shopping! They can go on and on from dawn to dusk. Their relationship with shopping is unbreakable and everlasting. Buying fancy stuff, its in their genes and one should enjoy the so called 'shopping feeling' until it becomes a problem that needs to be addressed.
Yes! Shopping can be a problem if it becomes an addiction and dominates your monthly income. The retail therapy can uplift your mood to a limit, but make sure it is not overdone. It's not about curbing the urge to buy things; it's about prioritizing your purchases and buying worthwhile things.
"If you buy things you don't need, soon have to sell things you need" – Warren Buffet
Read on to check out if you fall under shopaholic category and find out ways on how to restrict yourself from unnecessary shopping.
[Also Read: Best Shopping Destinations In The World]
You A Shopaholic
If, you hide and lie about purchases you made to your family and friends.
Going to the mall is like a date with shopping, you have to look your best.
If, you spend lot of time calculating your budget, making more space to accommodate shopping.
If you feel guilty, baffled, regretful or embarrassed after buying stuff.
If, you visit all your favorite online stores and malls regulary.
If, spending weekends is all about shopping.
If, you look upto to sale to justify your buying saga.
If, your closet is bursting with stuff and still you have nothing to wear.
If, you compare your profits to the price of the dresses or shoes you want to buy.
If, you have a collection of things you hardly use or will use.
Any four tick from the above and you are warm welcomed under shopaholic category.
How to restrict yourself from Buying Things You Don't Need
1. Don't Get Swayed With Movies And TV Commercials
Getting influenced from movies and TV commercial can lead you to unnecessary purchasing of items that leaves you feel no better than you did before. Always remember, things shown on screen are unreal and most of the time impractical. Watching your favorite celebrities with their high end clothes and wanting to buy the same even if it doesn't flatter your figure or taste, ends up with senseless buying and a great set back to the credit card. Buy items according to its worth and your taste.
2. Don't Buy Items Just Because It's On 'SALE'
Not every 'Sale' is a plus. Buying additional items to avail discounts when you don't need them, and or buying an expensive Louis Vuitton bag and justifying it with a meager sale, is a sign of being a shopaholic. It seems like you're saving money, forgetting the fact that you don't need it in first place. So, keep your mind open and look only for the items that are worthwhile and then seek for discount.
3. Restrict Your Frequent Visits To The Mall Or Online Sites
Idle shopping results in idle purchases. Curb your visit to a mall when you're bored and indulge yourself in something that is more productive and interests you. Visit the mall with a purpose, if you want something for a vacation or a wedding. Same goes for online shopping, regular visit to online sites urges you to buy items you don't need.
[sc:mediad]
4. Avoid Shopping With Another Shopaholic
Going for shopping with a shopaholic friend will influence your purchases. Their on-going persuasive comments on every outfit will fluently urge you to buy random stuffs. Also, when you see your shopaholic friend purchasing products, you, as a shopaholic will tend to purchase more. As the result, both of you will end up with out-of-control spending. Therefore, go with someone who shops rationally.
5. Consider Your Budget and Closet
If you have watched 'Confessions of a Shopaholic', you will know that credit card debt can ruin you. Pay all the pending bills first and get a reality check; it will help to curtail irrational purchases. Also, do check your wardrobe and look for items you actually need. For instance, don't buy three different pair of skater skirt because they in trend, but you don't have any top to pair it up with. Also, as a shopaholic, you tend to buy things you think you will wear but that never happens. Therefore, shop according to your closet and avoid buying stuff you already posses. Your random wardrobe check will help you to refrain from buying unnecessary items.
We aren't saying that you should not shop. Just make sure you buy things you genuinely need and don't splurge on things that will just sit in your closet, drilling a hole in your bank account.
Also, if you have a holiday coming up, don't spend all your money picking up stuff from where you live, instead save some money to splurge on local products for the holiday destinations. This way, you will be travelling light as well as will get ethnic stuff from different places too.
Hope this article will help you to shop rationally and restrict your random purchases. Do share your experiences with us.