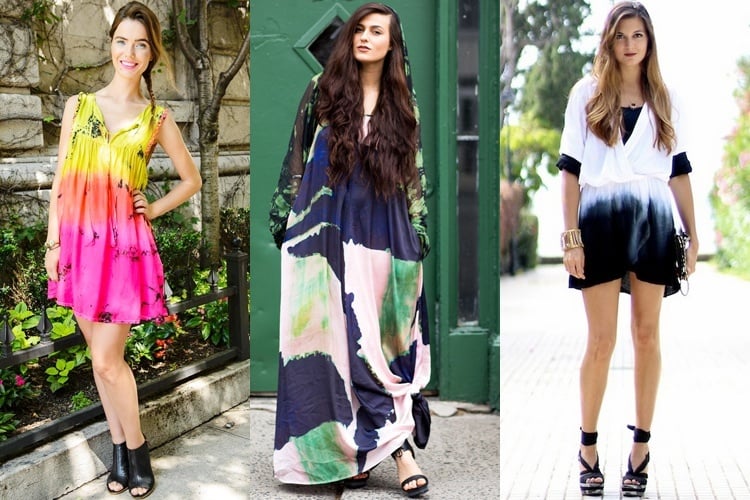 Back in the flower-power days, when the coolest hippies ruled the roads, the mountains, the hills and the beaches, almost everything around us all, the fashion of wearing psychedelic prints and patterns, flamboyant patterns and chic styles was the norm. Where did it all go?
Bring them out at once, the world needs colour, and we fashionistas can set the benchmark and fashion rules right, yet again. Yes ladies, it is up to us to flaunt the sexy Tie Dye Fashion look once again. What we love about the tie and dye look is that it is so versatile, which makes it adept and adaptable to almost any event, occasion or just about a coffee-date with the handsome brawny rugged bloke down the block!
Here are ten ways to flaunt the Tie Dye Fashion, darlings, read on!
Tie and dye tees with leggings
Fast, simple and with a statement so chic and beautiful, the Tie Dye Fashion tee with black leggings are a perfect ensemble for a coffee time out with the beautiful PYTs in the group, isn't it?
Putting your colourful feet forward
The best thing to do on a rainy day, so gloomy and shabby, is to put forth those colourful feet and in total style. What about a pair of sleek colourful converse shoes for the evening, day or the night?
Camisoles in tie and dye
Wondering what to wear for Friday dressing and to nail the client's deal, what about a tie and dye camisole top with a pair of leggings and a summer coat? Friday dressing done and your client would be impressed with the sense of style you flaunt! Tie Dye Outfits can be so cool, right?
Meeting MIL
You need to be dressed well and for the climes out there, and most importantly when mom in law is around. Simple, chic and with a statement of its own, the tie and dye skirt with a vest is the best way to impress and stay cool!
[Also Read: High Street Fashion]
A mid-summer nights dream
Bohemian to the core, the romper in tie and dye styles with a chic floral headband would make plenty of heads turn for the cool and casual look you flaunt. Try this out dear beauties! Here's to hippie tie dye designs!
Colourful pool parties
We all love a pool party and a watery bash when the climes beat harsh and hot, don't we? What about a bikini bra and colourful hot pants to stir things up today? Tie Dye Fashion can't get any better, right?
[Also Read: Sarong Ideas]
Cute tie and dye hats
Protect your hair and your scalp in style, with tie and dye caps and hats this summer. Flaunt the colours and make a statement wherever you go.
The JERRY GARCIA LOOK
Flaunt this cuter tie and dye top with denims when going out on a date with him. He sure would be impressed, especially with the peachish rose on the side.
[Also Read: Ways to Give a New Look to Your Old Denims]
Psychedelic skelly suits in tie and dye
Glad to have these onesies for a girls night out, isn't it? Love the dark colours and the play of colours, creepy yet sensual and seductive too!
[sc:mediad]
Sparkling tie and dye socks
Sparkle a little more for the cuteness overload effect when chilling out with your man tonight. Make it a little more sexier than before, wear the sparkling socks with an oversized white shirt and boyfriend shorts, and make him go mad and crazy about you!
We told you about the different ways to flaunt tie and dye for everyday looks, but here is one more for the road to show off with.
A black camisole top and a tie and dye sarong skirt
With a statement neckpiece to flaunt, a black camisole top and a sarong skirt in tie and dye patterns and black heels for the feet- need we say more!
Have fun darlings!
Meanwhile, let us know what you think about the Tie Dye Fashion.