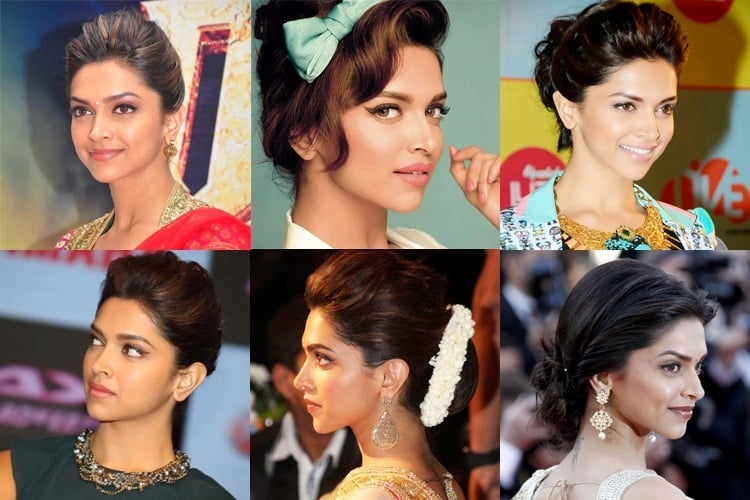 Deepika Padukone is quite the fashionista. Ever since she stepped into tinsel town, she has been inspiring quite a few women with all her style tricks. Not only is she effortlessly chic, but she also has an amazing dressing sense. She is a perfect role model and is it seldom that she goes wrong with her attire or her hairstyles.
Recently, we have seen her sporting very gorgeous Updos and buns. We have collated some of her best bun looks to inspire you. Let's have a look!
1. The Tight Bun
Deepika is no stranger to various kinds of bun, but this is one bun that she frequently sports. An effortless and easy bun, all she does is pulls back her hair and puts it all in a tight bun. The bun does not usually have stray hair here and there and also looks a lot like a ballerina's bun. So if you are having a bad day but not in a mood to put a hat, you should definitely go for this Deepika look.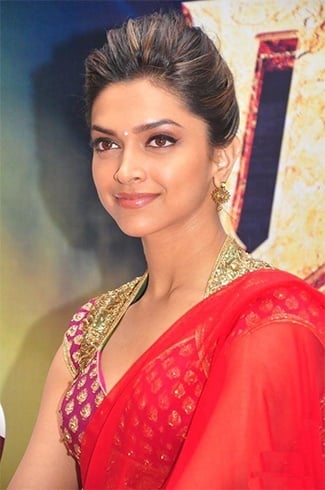 2. Pinned Buns
This is more like an updo and less like a bun. To achieve this look, you have to pin many sections of your hair to give an illusion of a bun. This is a more intricate kind of hairstyle because it requires some preps and your hair really needs to be carefully sectioned out to achieve just the look you are aspiring for. If you are planning for an evening out or are planning for a formal dinner, this up do would be perfect! It's elegant and chic.
[Also Read: Fashion For Women Over 50]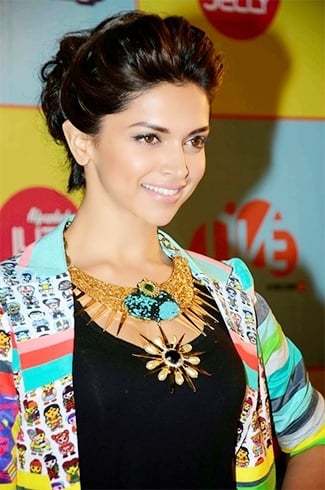 3. Clean and Tidy Bun
If you are in the mood for some really formal look, then this is exactly the bun that you should be sporting. This hairstyle is a little more difficult than the others because you can't have stray hair here and there. Unlike the ballerina bun, this one doesn't need to be on the top of your head, but the entire appearance should be in a way which would make your hair look very neat and tidy. It is perfect for an office look and Deepika carries it off very well!
[Also Read: Messy Bun Hairstyles with Tutorial]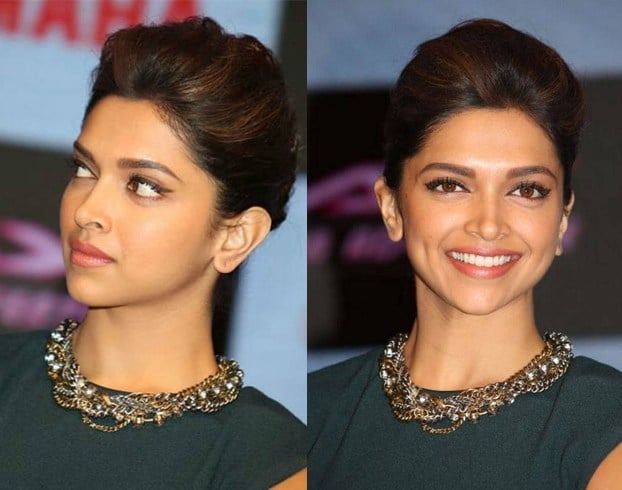 4. Chignons
Chignon is another name for a bun, except that it is tied at the nape of your neck and is often seen with a lot of hair accessories. This is again more of a formal occasion look and women are mostly seen sporting it in special occasions like a wedding. It looks perfect with sarees and don't forget to add a bit of glamour with hair accessories. Deepika is often seen sporting this look with sarees. It is easy and glamorous and keeps your hair all at one place!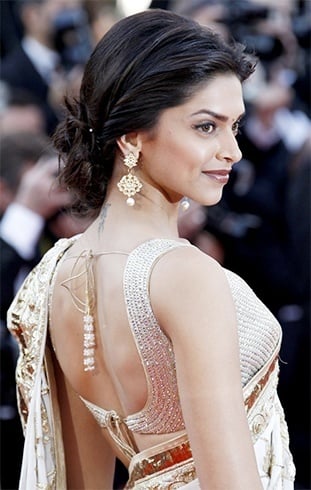 5. Retro Updo
Deepika has often been seen in retro inspired-movies and she has rocked retro hairstyles with so much élan. Her retro updo is pretty famous and it's easy as well. So if you are in the mood to channel the sixties, don't forget to get inspired by Deepika's retro buns.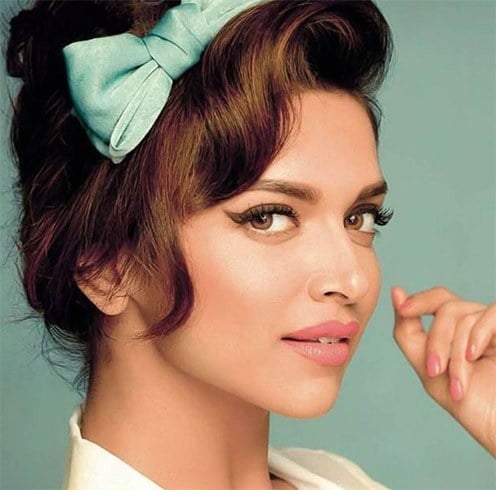 [sc:mediad]
6. Traditional Bun
Deepika loves to dress up in Indian attire. So be it a saree or a gorgeous lehenga, Deepika's hair game will also be on point. She usually sports these traditional buns when she is wearing Indian wear. She also accessorizes her buns with flowers or some hair accessories.
[Also Read: Trendy Hairstyles]
https://instagram.com/p/1Lde0eRLDi/
7. The Neat & Long Pony
Deepika Padukone is a woman who can haunt your every dream. This beauty pulled off this ponytail with ease, the perfect length at tying it up, the not-so-messy look. A marvelous hairstyle to try out even on a bad-hair-day. This works wonders on all hair below shoulder length.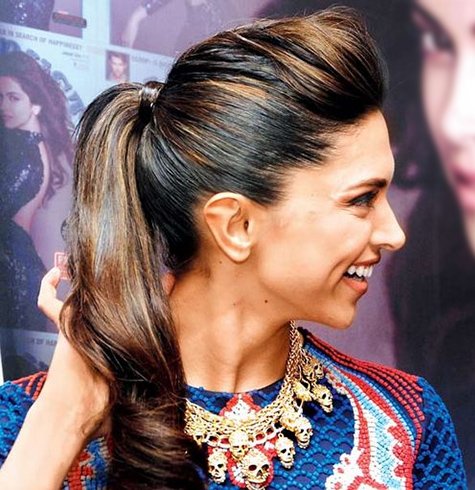 8. Braid with a Twist
Who doesn't love messy looks? This one sure tops the list of messy looks by a superior inch. A braid that is a mixture of a half fish tail and a half pony sure made Deepika feel like the queen that she is. This hairstyle can be paired with any outfit, be it western or ethnic.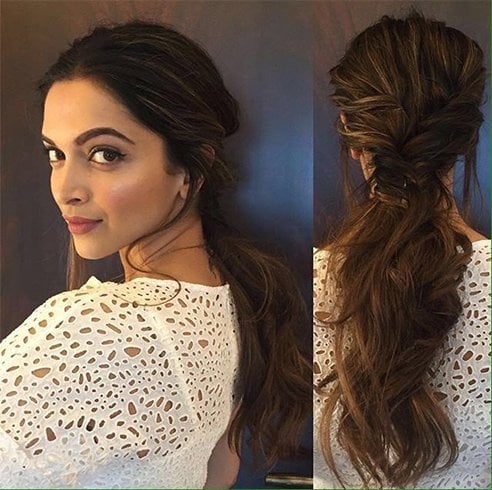 9. Nostalgic Middle Partings
When was the last time you saw such a straight middle parting on a common woman? It's considered to be too old style, right? But look at how Deepika Padukone pulls off this look in a gorgeous manner. Slight waves towards the end and a straight middle parting right through, keep this look intact.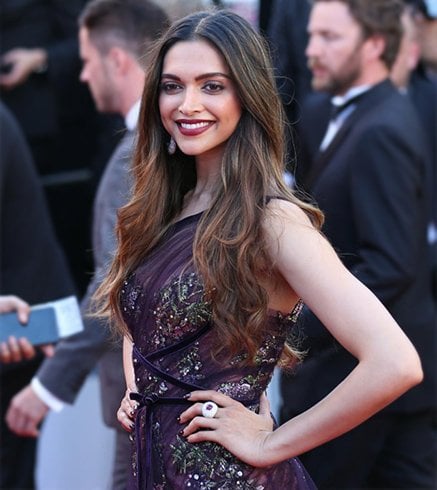 10. Soft Waves
Side parting, waves, brown streaks, smoky eyes – What a treat this lady is! Her hairdo is so retro, that we can't help love it. A sleek hairdo is Deepika's trademark and she definitely inspires us to do the same. Since the hair falls over the shoulders, a minimal accessory statement is what complements this look best.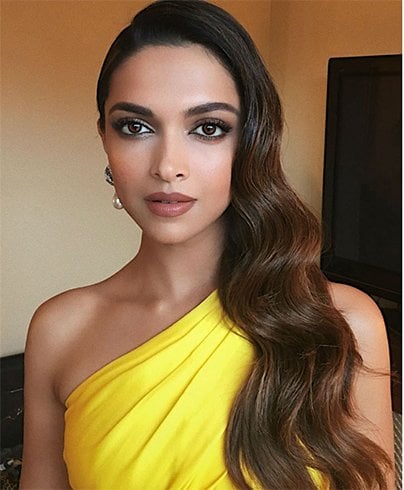 11. The Casual Puff
A day out with friends doesn't call for fancy hairdos, but something simple and classy right? Here's how to master that trick. A simple puff pinned to the back right on top. A casual hairstyle most common and popular, was Deepika the initial inspiration? I wonder.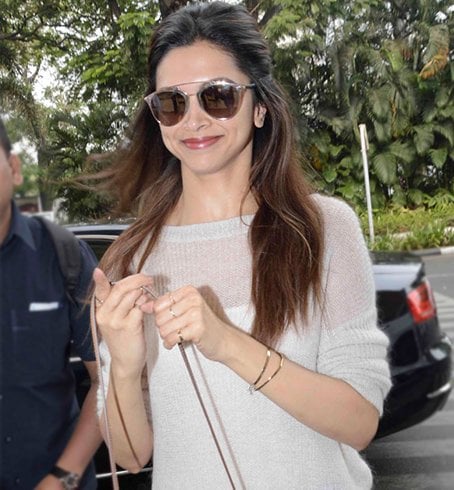 12. Upfront Braidy Waves
A normal hairdo, with just a set of flicks braided into the hair, makes a huge beautiful difference. A simple hairdo which doesn't require the assistance of an expert is what keeps it handy. Your gorgeous locks stay as they are, just two little braids in the front being pinned to the back.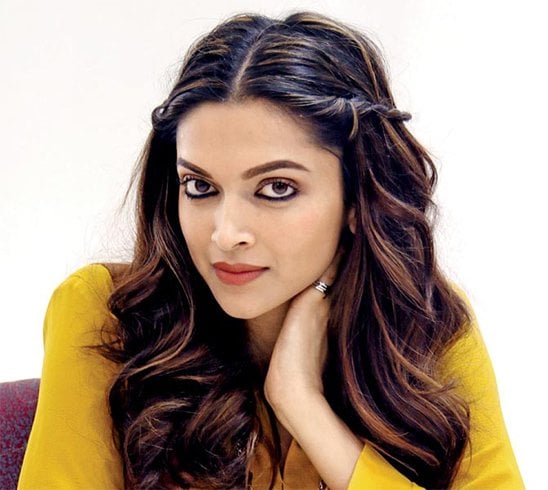 13. Fringes Effect
The fringe hairstyle has been a favorite when we were kids. Looks just as trendy and amazing even now if don't the right way. See how Deepika carries off the fringe hairstyle in the sexiest way possible. Always remember, thin hair calls for a side fringe whereas thick hair calls for upfront bangs.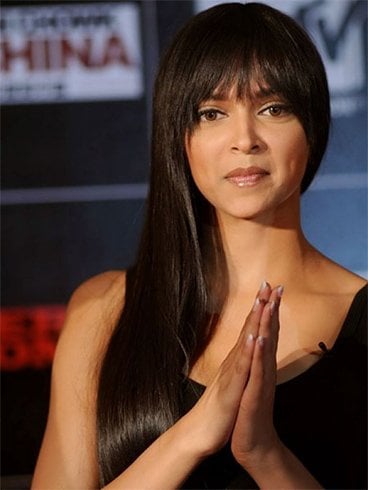 So if you want to sport some Updos, you can certainly get your inspiration from Deepika. She has got all her styles sorted out! So go ahead, take cues from her!
[Also Read: hairstyles for sarees]
Images Source: pinterest