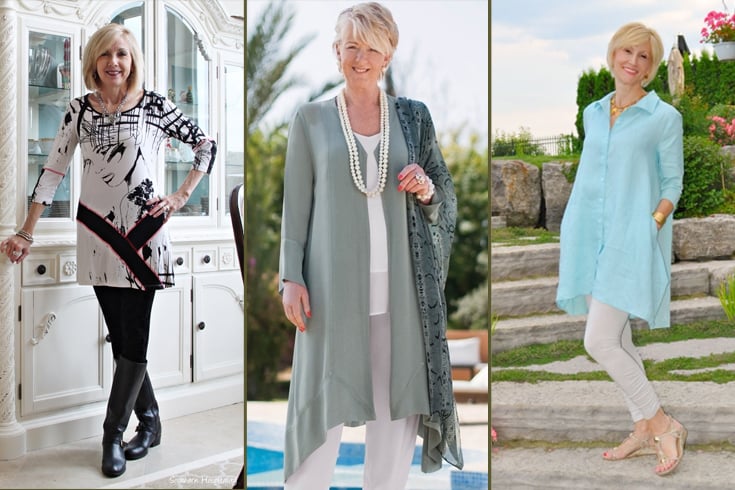 Great Style Can Happen Even If You Are Above 50!
The biggest misconception old Indian women have in this country is that 'fashion isn't for women above fifty'. But who says so? Have you not seen the timeless beauty of Bollywood biggies and Hollywood divas? To name a few, Meryl Streep, Persis Khambata, Demi Moore and our very own Lilette Dubey are the hottest mommas of this generation! Check out their style, grace, grandeur and elegance- everybody wants to be like them. And you don't have to go over-the-top in dressing up; a simple sari draped well can make you look like a queen too. So scroll down there and learn what fashion for women over 50 is all about!
Type Of Clothing For Women Over 50
Age is only a number and you are only as old as you feel you are, period. This is why, when you shop for clothes, you should be as unpredictable as you can. It is time to ditch the stereotypical grandma shawls, sweaters and scarves. Think elegant, chic, modern-day hot momma. Here are a few shopping pointers to bear in mind-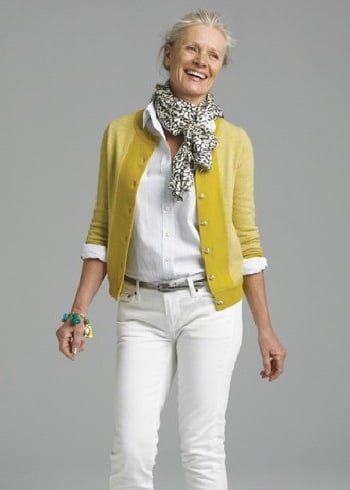 If you like solid colors, go for it and make it bold. As long as you are comfortable with it and are confident carrying it, we give you a thumbs up on this.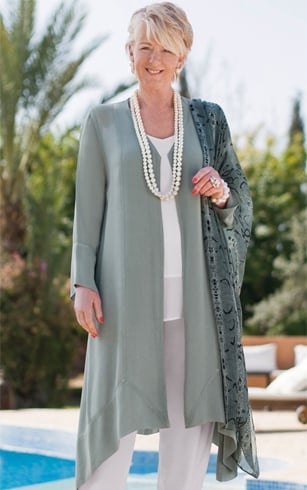 Instead of clingy clothes, try the classic cholis and drapes that accentuate your curves and your lifestyle too. For example, you can wear a lacy camisole underneath a low V-neck at fifty too. If you want to pick up wrap dresses, no one can stop you as they flatter every body type and all ages!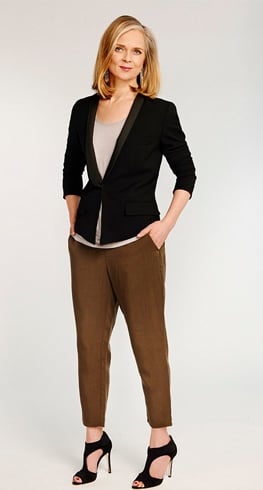 [Also Read: How To Reduce Broad Shoulders ]
Remember to pick the right inner-wear for your body type. Sadly, gravity isn't our friend as we age and hence the fit of your under clothes is very important. The bras, panties and even the shape wear you choose have to be right.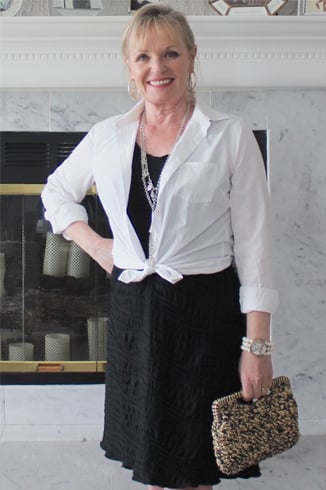 Women who love a touch of spring in their outfits can consider smaller prints. You do not have to avoid pastels and florals- remember, confidence is the key here.

If you are paying for chic fashion trends, checking for the quality is important. You don't have to splurge a great deal; we shall show you below how affordable garments picked from sale shops too can make you look like a diva.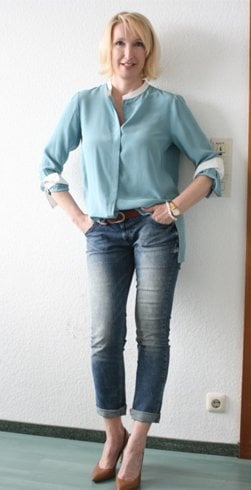 Before we give you a detailed analysis of the chic ways to dress up, let us take a look at some more tips that will help you to get the drift of dressing fashionably even at 50.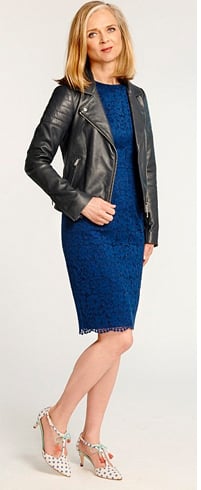 What we want you to stash upon are items such as:
Classic blazers that can be paired with a sari or a western outfit
A tunic to add elegance to your style
A black ensemble- salwar or western outfit or a pant suit
Denim- a well-fitted pair is a must-have
The right shoes and accessories

Our aim here is to bring more attention to the right features on you, which you should bear in mind while shopping for prêt a porter ensembles. For example, should you not want to flaunt your legs; skirts that are long and flowy with a cropped top and a jacket is a safe combination to go with. Dark leggings with over-sized shirts can help bring down the emphasis on the heavy waist and bust lines. Even a patterned or a textured top with stretchy pants is a good option. Let's take a look at more fashion ideas and examples, shall we?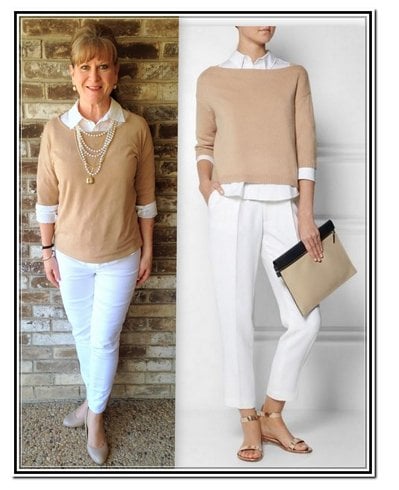 Type Of Jeans For Women Over 50
The right pair of denim can do wonders to your flair. These fashion ideas will help you understand what would suit your body type best.
If you opt for jeggings, you can wear them with long shirts and free flowing printed blouses.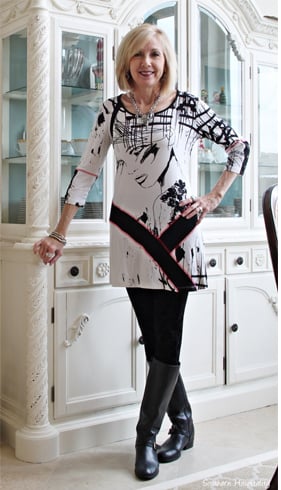 Skinnies would look best if your waist is slimmer and balanced. Skinnies are advised for slimmer women.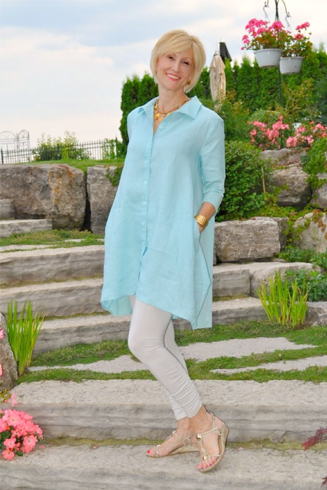 If you cannot get into skinnies, opt for slim fits for a narrow look. The waist and the thigh wouldn't be over accentuated and a balanced look comes through.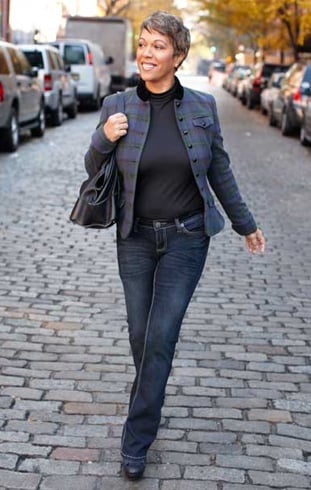 Straight fits are relaxed and very comfortable to wear. They begin at the hip and as the name suggests, they fall straight too. This type of jeans works well for all body shapes and sizes.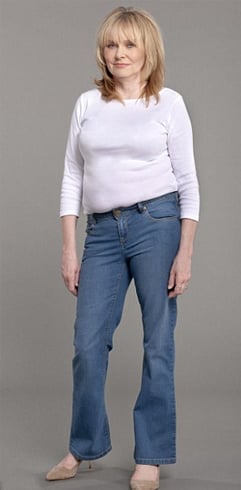 Boot cuts like the one worn by pop singer Madonna usually are high and can come with a low rise or a normal rise too. This fit comes about as slim. If you have a curvy waist with very chubby legs, it are advised to avoid these jeans.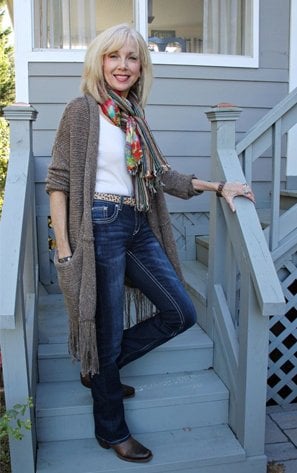 Tapered jeans are those that are full at the hip. This will best suit petite women who want volume and an hour glass figure.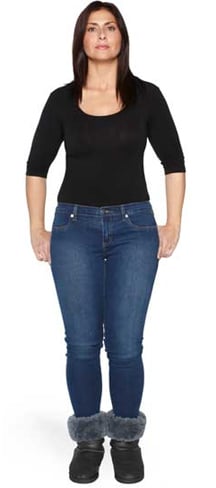 Stone-washed jeans are rough and perfect for the adventurous mommas/grandmommas who have the swag and the confidence to carry it.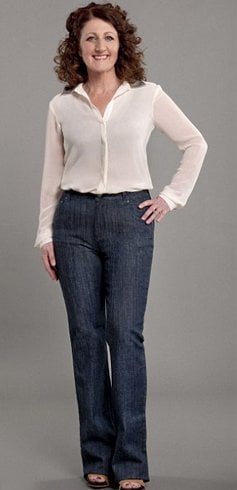 Worn in jeans are usually with scathing on the thighs of the jeans and the knees. This can be worn by women with slim to curvy body shapes, and with chic tops and halter necks too.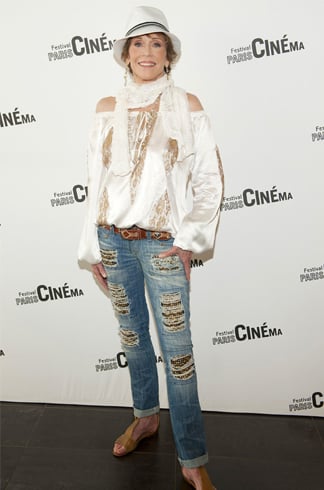 Rail tracks are faded jeans that have the outer seams of the denim faded. This pair can be worn for very casual moments with shirts and tops.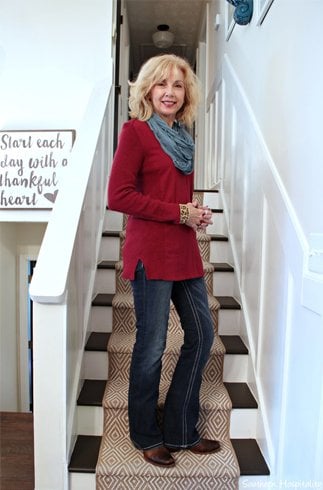 Vintage jeans, as the name suggests are dark and bluish; can be worn on Fridays to work or for semi-formal moments with crisp shirts.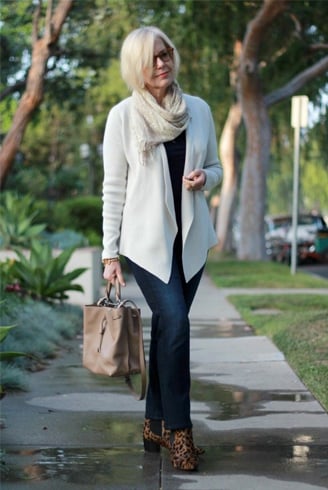 Types Of Casual Outfits For 50-Year-Old Woman
Casual outfits for mature women are available in plenty. You don't have to only stick to saris and salwar. Remember, your sassy outlook of life should be portrayed in what you wear, which is why we have a couple of styles for you to ponder over and consider. Take a look:
For a day out with the girls or shopping, you can make heads turn in a white top, a light cardigan and a pair of vintage denim. Complete the look with minimal accessories and a pair of tan boots for the feet.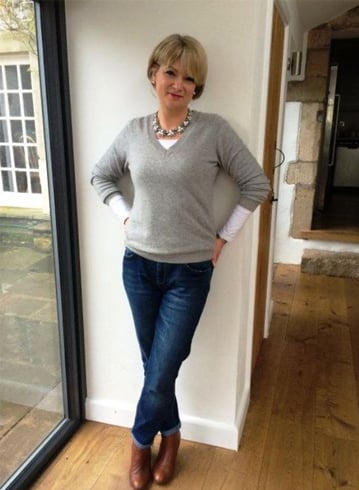 For Friday dressing, show your colleagues at work what a touch of wild prints can do with a pop of colors. A white shirt worn under a bright colored summer coat and accessorized with a printed scarf can do wonders. Straight fit denim completes the look.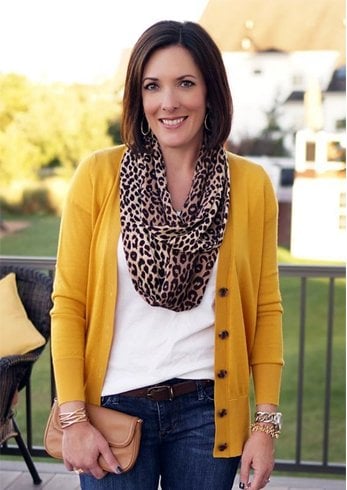 For a casual touch on Monday, play with monotone neutral shades and nudes all the way. Neutral dark shoes for the feet, coupled with neutral-toned top and a summer coat, with a pair of dark brown linen dress pants would be perfect. A chunky statement neck-piece will amp up the look.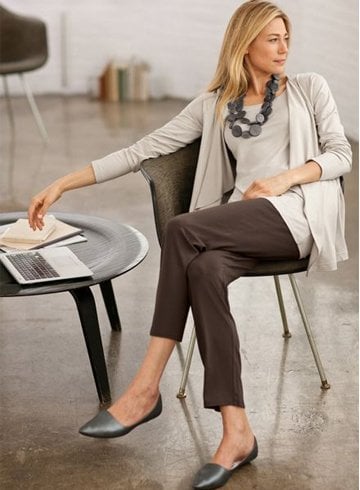 Bring back the flower power seventies with a touch of batik and tie and dye for tunic tops and short kurtis. Pair them up with solid shaded palazzo pants or dress pants and right shoes for an evening out to the movies.

The secret to flaunting your boxy body shape is to wear loose tops and especially those that have peplum sleeves. Prints would take the attention away from the boxy shape, and when paired with jeggings or leggings and tan boots, you turn into a diva for the day.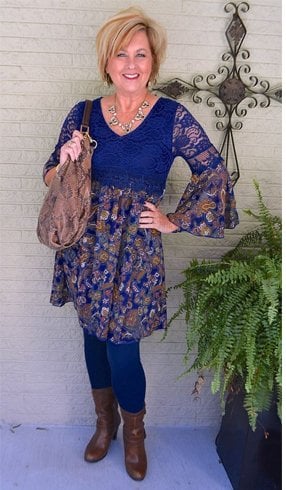 Ruffle tops, since it is the summers would be an ideal way to be coolest dressed on the block. With a pair of black pants or leggings, open-toed flats and a chunky neck-piece, you can stop yourself at nothing but making heads turn.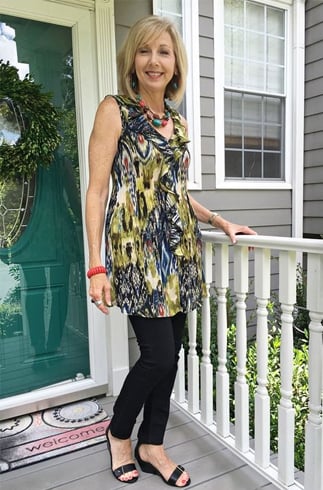 Wrap dresses with a cropped poncho top are ideal for semi-casual meets and events or for a fun dinner night out with the girls. Pair the same with a long beaded accessory for the neck and cute tan chunky heels for the feet.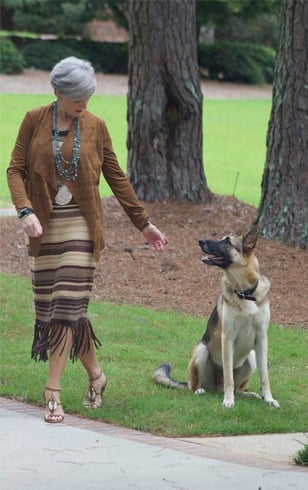 Types Stylish Shoes For Older Women
Now that we have provided you with a couple of styles in jeans and casual outfits to wear while the summers are on; here is a list of shoe styles to choose from. Heels to boots, flats to ballerinas, and more- there's no stopping when you want to put the best foot forward every day. Take a look at what to wear on your feet like a diva!
Stunning Heels
May we remind you, you are still hot and sexy. That said, you need to have a pair of stunning high heels. It is a myth that women in their golden ages aren't supposed to wear heels. Meet the Bollywood diva Zeenat Aman and SATC fame Kim Cattrall who flaunt high heels like no one's business. Invest in a pair to match up with all the statement ensembles you have.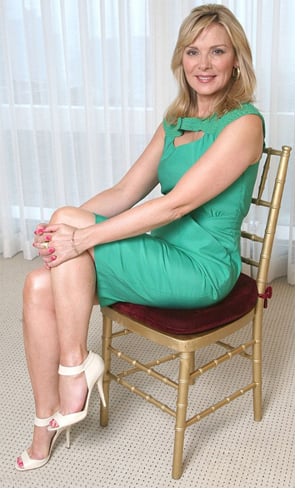 A Pair Of Runners
You shouldn't stop moving around just because they say you have aged- let us debunk that for you and ask you to pick a pair of runners. Go out there for your brisk walk and jog in style; improve your physical fitness which is the best anti-ageing advice we can give you. Explore and chase your dreams like never before.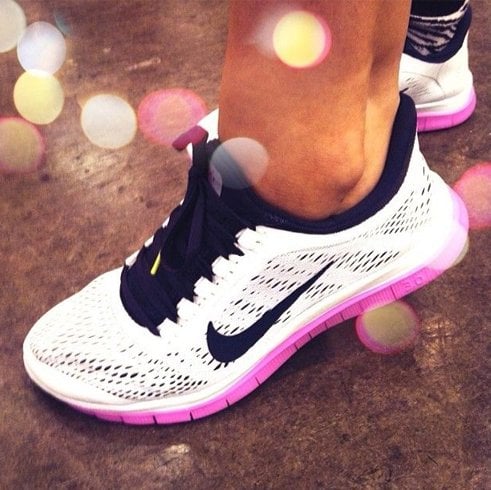 A Pair Of Booties
Booties for the feet are a must and you shouldn't withdraw from having them as a part of your fashionable foot wear collection. Booties talk about your enthusiasm for being adventurous. Pick up tans to neutral shades or dark ones to match with semi-casual and casual outfits.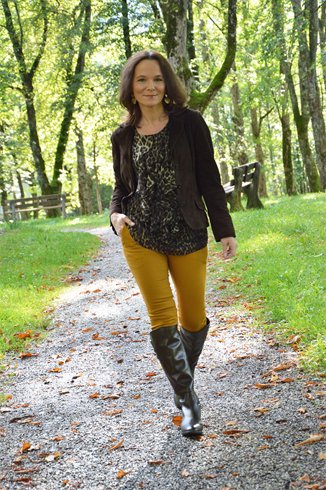 Flats For The Day
For an eventful day, opt for heels if you have to; but flats work wonders to move around in. Minimalistic and chic for sure, they can be your best friend comfort wise. Juttis, Khussas and Kohlapuris are the best bet to pick, including  ballerina flats.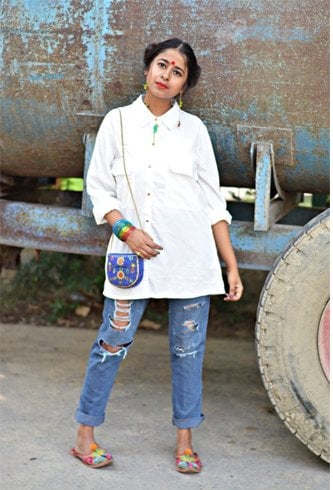 Comfortable Shoes For You
Since you may tire off at times, wearing heels and large soled boots aren't always advisable. This is why for daily needs, a good pair of comfortable shoes should be invested in. They would never gather dust and are your handy puppies that won't let you run into a dull moment.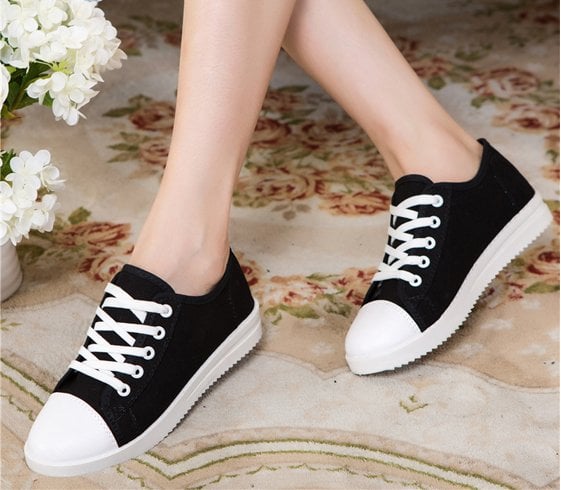 Types Swimwear For Women Over 50
Stop hiding under long caftans and beachwear when you can actually look super hot in the right swimwear for women your age.  Here are a couple of chic styles for you to wear to the beach this summer, and have fun in them too. Check out these fashionable swimwear options!
Opt For Bathing Suits
Check for boyleg bathing suits. Boylegs are very classy and have a retro touch to them. They can be very modest while flaunting your sexiness. They strengthen the area around the waist and drapes the bulge quite nicely, which makes the body look tight and in shape.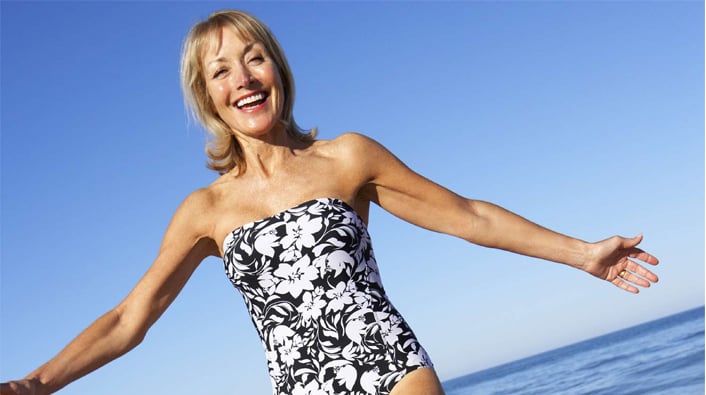 Look For Rash Vests
Rash vests help protect your skin from the harsh rays of the sun apart from bringing out your sexiness. If you love swimming at this age as well, a thumbs up from us.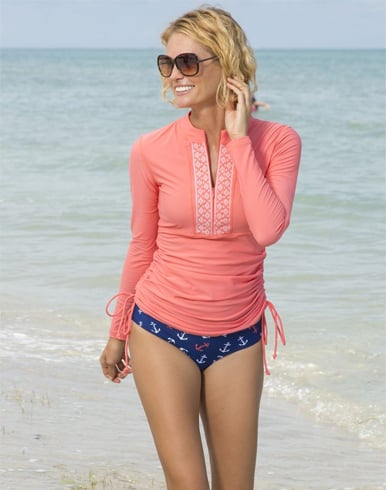 The All-Time Favorite Bikinis
You can go snorkeling in them, cruise on a boat, laze around or just sunbathe. This bikini is the best beachwear for a toned body. You can choose a high brief too.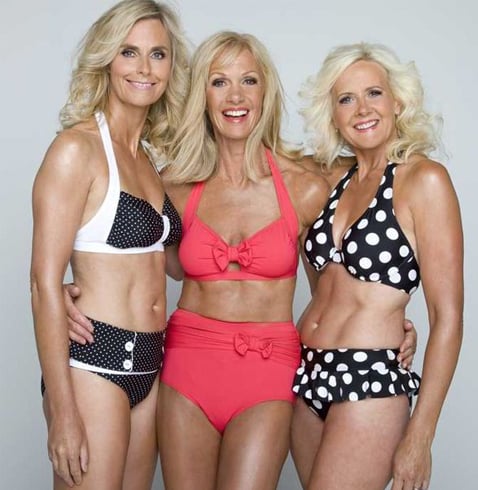 Take Cover Ups
Gorgeous cover-ups are nice to wear as swimwear essentials, should you be vacationing this season in places like Goa, Mandarmani, Seychelles or Maldives.  The tunic styled long cover-ups are available in various shapes, sizes, lengths, styles and designs too!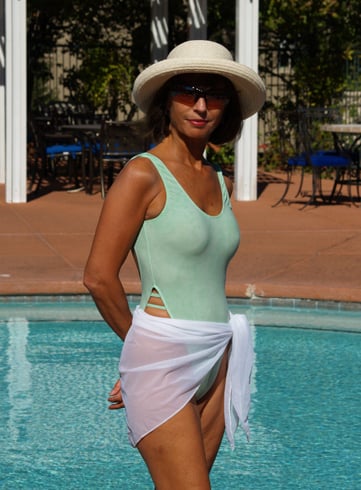 One Piece Florals
Bring a little spring along with you to the beaches and the swimming areas this time with floral one piece bikinis and swimwear. Not all of us would have a figure like the B-town and Hollywood divas at 50, but that doesn't mean we shouldn't flaunt our sassiness around.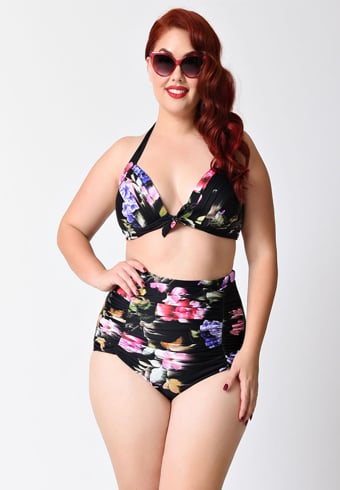 Hot Mom Bikinis
If you've worked really hard to keep yourself in shape the it is time for you to flaunt that sophisticated curves and body- do that with a skirt-styled swimwear, which makes your body look fabulous.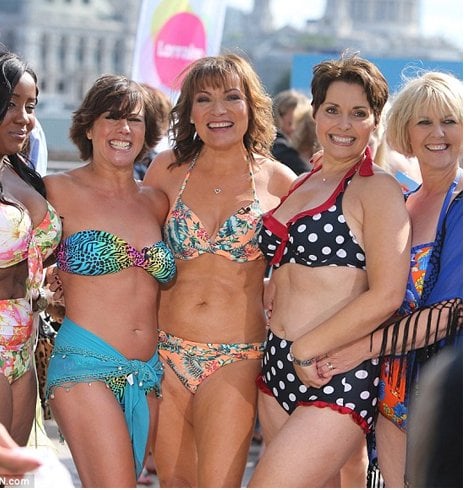 Heard Of The Tankinis?
Tankinis are chic to wear to beach or pool parties. They bring in the best of both- a tank and a bikini. They are easy to wear, comfortable to roam about in, great coverage and are stylish too.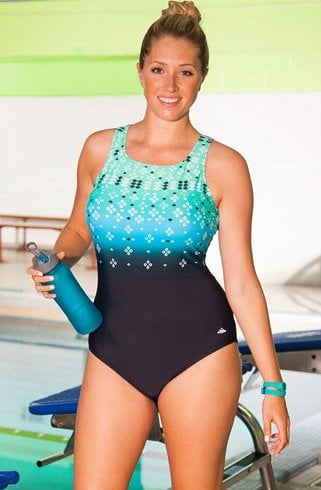 Patterns And Prints
For the plus-sized momma and grandma above fifty, there's no stopping you from partying this summer at the beaches; wearing printed and patterned one piece swimsuits. This hides the areas you don't want to flaunt, and makes you look super sexy and tall too.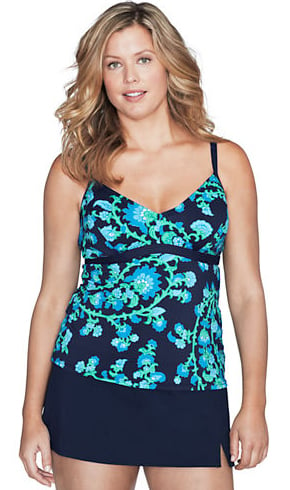 Stylish Female Actresses Over 50
While we have given you the dough on what you can and cannot wear once you reach the golden age of fifty, we would like to further motivate you into taking inspiration from the divas of Hollywood. Take a look at some of these gorgeous women!
Barbara Hershey
Having played a variety of roles in her 50 years, she has always managed to keep her style edgy. Keeping up with the trends is her way to do it, I guess.
[sc:mediad]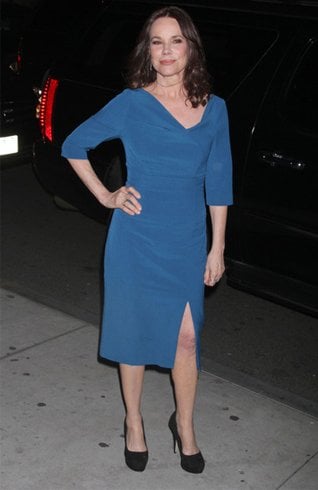 Goldie Hawn
This multi-talented lady has so many feathers under her hat, an actor, producer, writer, what not. While keeping so busy, how does she have the time to still look like a bombshell is the question.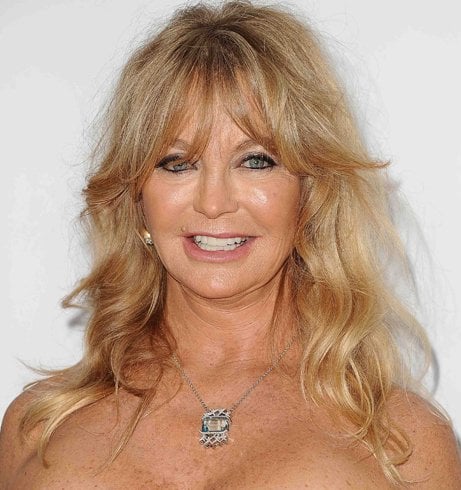 Geena Davis
A former fashion model, Geena shows how age has nothing to do with how your outlook. How we wish 60 looked this good on us!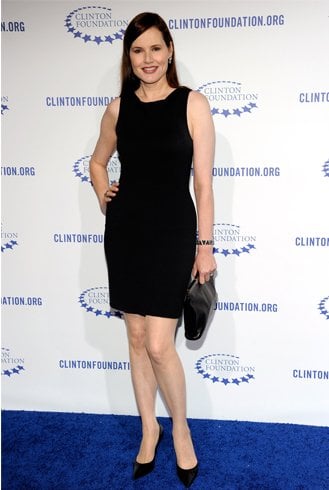 Helen Mirren
Her top notch acting has deserved all the credit all the years, think it's high time we appreciate her stylish attire and glowing face all round the year?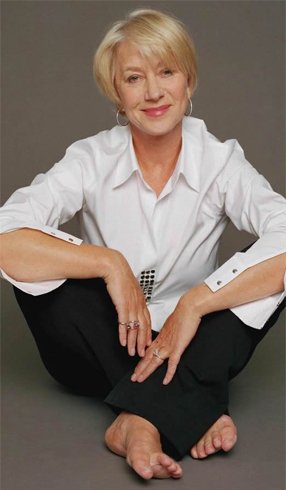 Gloria Estefan
The Cuban-American singer knows how to team a buttoned down shirt to the perfect style. There's no denying that.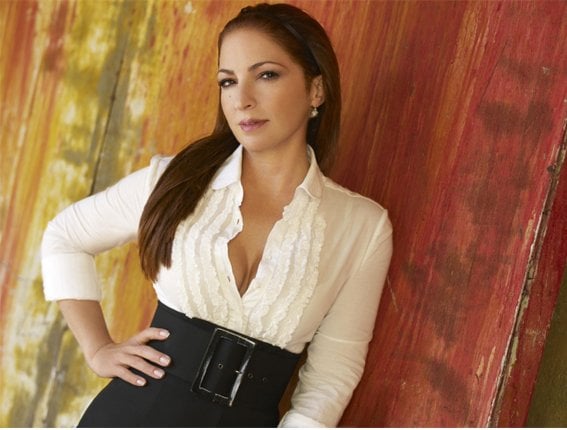 Susan Sarandon
Susan Sarandon's style evolution knows no bounds, from the makeup to the styling to the outfits, everything is just picture perfect.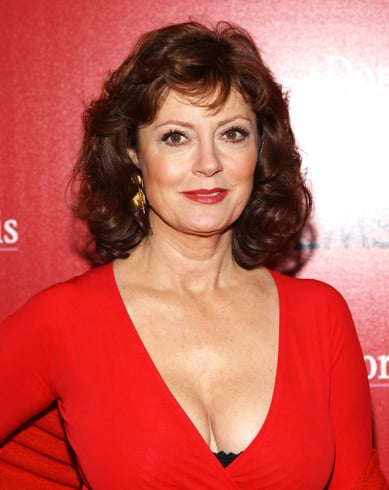 Oprah Winfrey
The most lovable woman, Oprah has won a million hearts. Her body positivity and embracing herself is something she has always taught women and we love her more.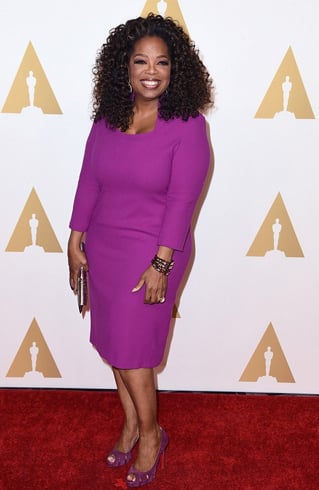 Jerry Hall
This supermodel has had iconic moments in fashion, and she's not going to give that title away anytime soon. Wearing clothes that keep up with her age, yet looking classy is what she's been subtly portraying through her outfits.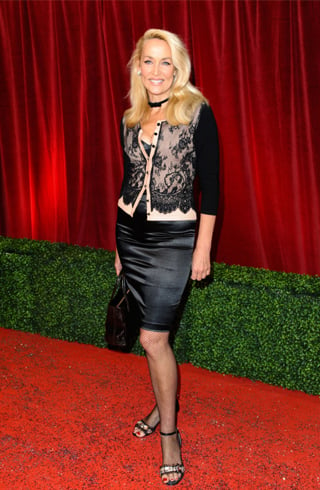 Jamie Lee Curtis
What a cool chick! This is the first line that could hit your head when you see Jamie.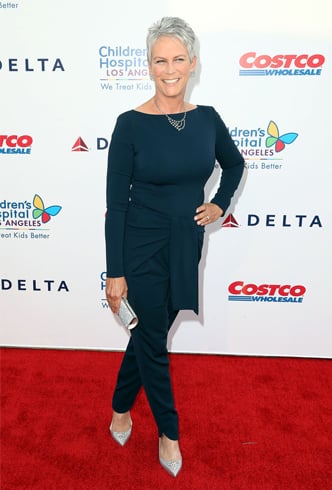 Cher
Her outrageous outfits have always grabbed attention. The bodycon suit she is donned in is an example of how gorgeous this lady is.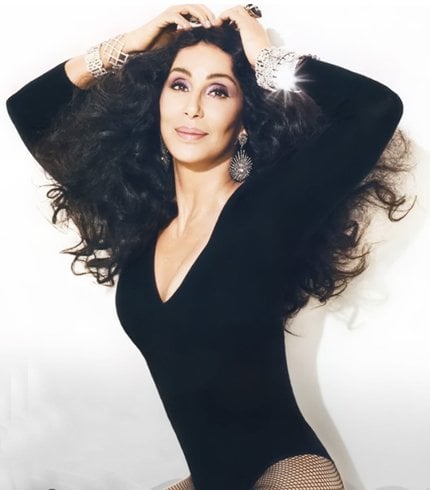 Ellen DeGeneres
Who said tomboys aren't stylish? Ellen is the perfect example.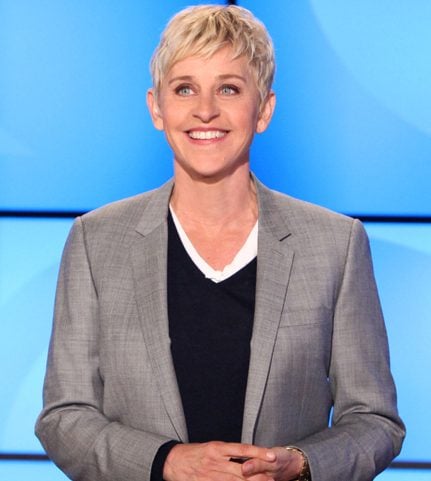 Kim Cattrall
Kim Cattrall's sexy looks have been the covers of magazines. Her toned figures give major goals to fitness freaks and her outfits are always nailing the occasion.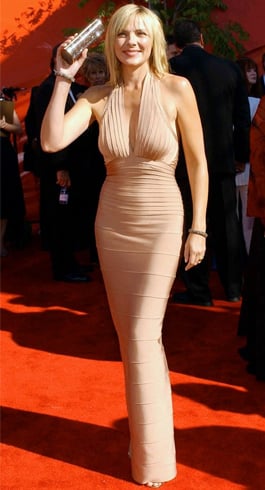 Andie MacDowell
Andie's classic hairdo of loose hair and soft curls is her trademark. Her dress giving depicting an all-season outfit feel, who thinks this woman is fit to be in her 30s? Yes, I do.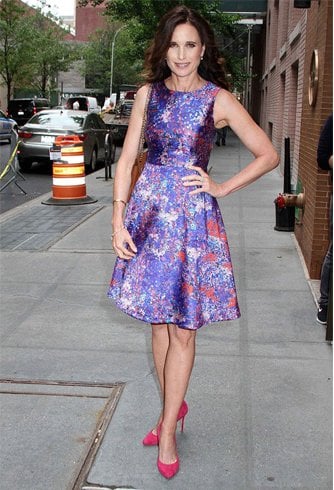 Julianne Moore
Fashion tips are what you need to take from Julianne Moore.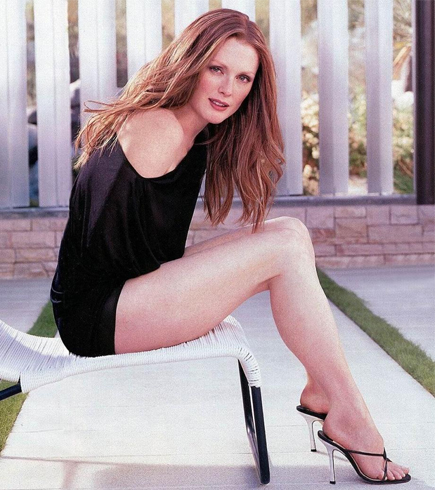 Cheryl Ladd
With flying hair that is overly perfect and a tank top teamed with shorts, this lady defines sass.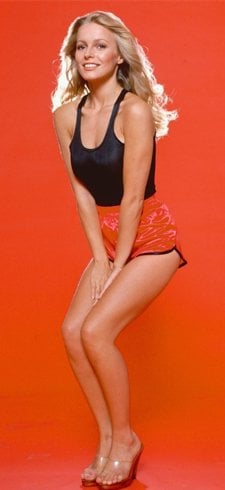 Amy Grant
With such a pretty face like hers, we can't even move from where we started. Amy Grant keeps her style chic and feminine.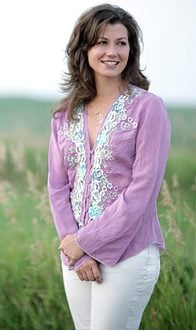 Bo Derek
Okaaayyy, why are these ladies giving the youngsters such a hard competition? Her exquisite body deserves an award right away.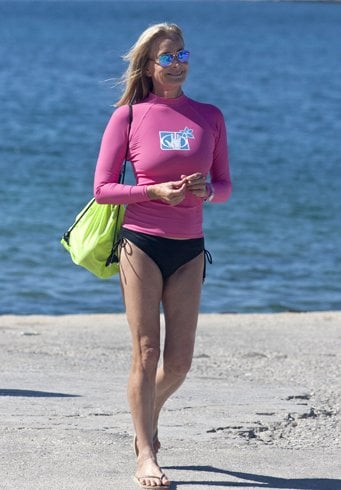 Olivia Newton John
A timeless beauty is Olivia Newton John. She knows the secret to staying ageless, I'm sure.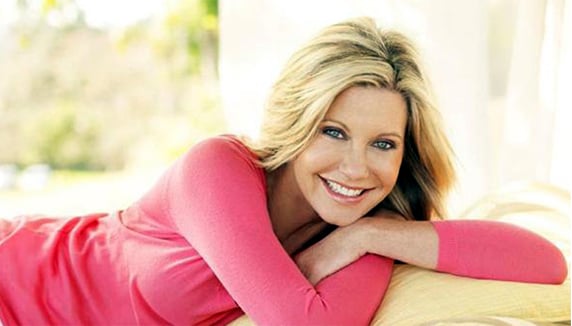 Beverly Johnson
Having been the first ever black model to appear on American Vogue, that in itself speaks volumes about this lady.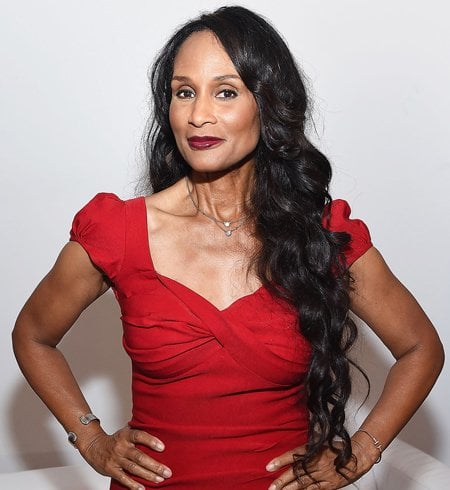 Madonna
Slaying the music scene with her sexy legs, Madonna has reinvented her fashion image with consistency and creativity.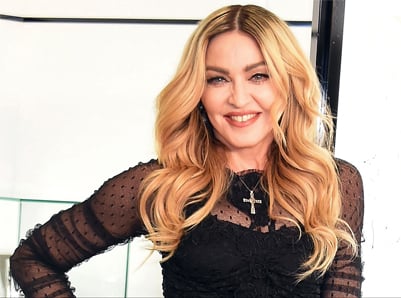 Meryl Streep
Ah, 'The Devil Wears Prada' role of Meryl Streep suited her best. A high-end fashionista who knows defines every letter of stylish, in reel and real life.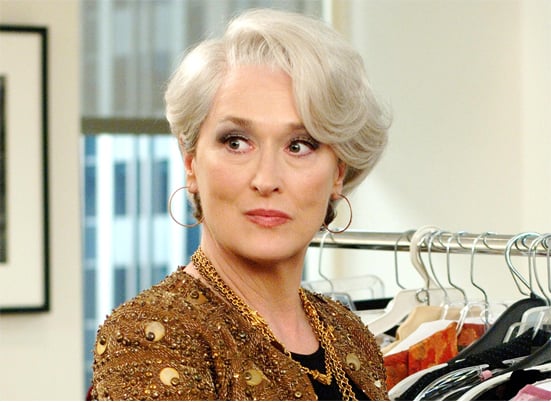 Demi Moore
Demi Moore's fashion sense is very personal, simple and appealing.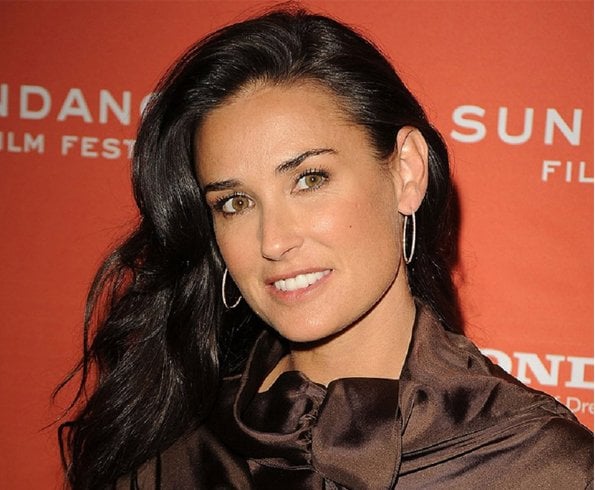 Kim Basinger
Since decades, having heads turn on the red carpet once she makes an entry, Kim Basinger hasn't changed a bit till date.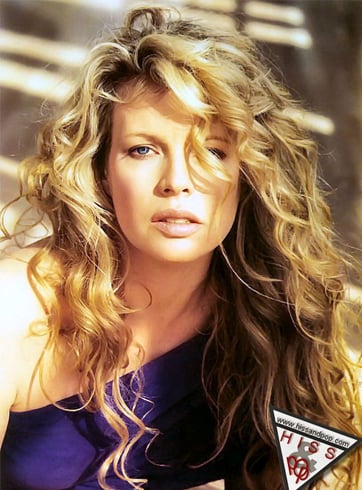 Jaclyn Smith
This uber-stylish woman has come up with her own fashion line. It's going to be a definite hit, even you'd think so seeing her style.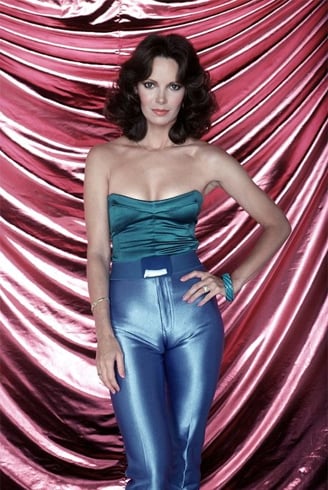 Sela Ward
A warm and genuine soul, Sela is an eternal beauty flaunting halter dresses like a boss.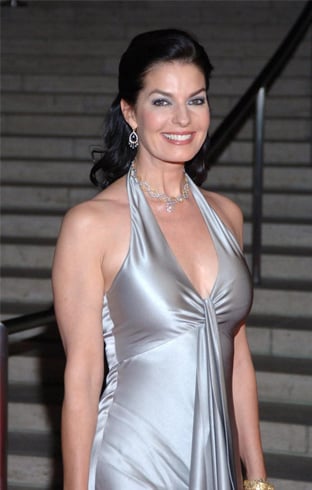 Raquel Welch
This 74-yr old rocks the blazer, skinny jeans, bodycon dresses, red carpet dresses like a pro. Cannot imagine anyone at this age do it better than her.
Michelle Pfeiffer
A fashion-forward standout. Michelle makes surprising and welcoming appearances which are everything to love.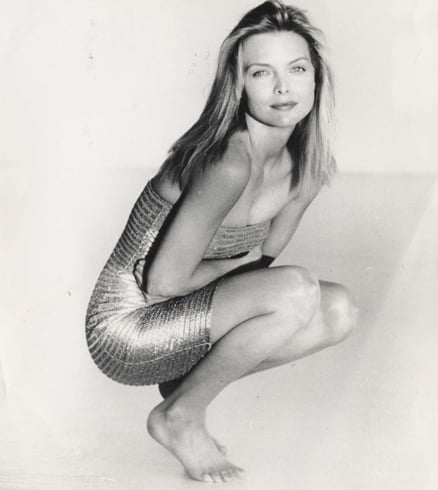 Sharon Stone
This woman is full of fashion and style and yet is underrated in the fashion world. Deserves more credit for her impeccable fashion timing.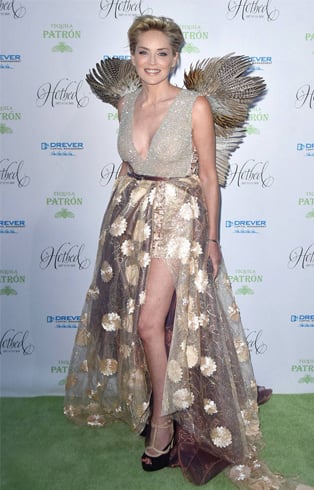 Monica Belluci
Steal her style and you'd be a diva. Staying true to her style with her signature looks.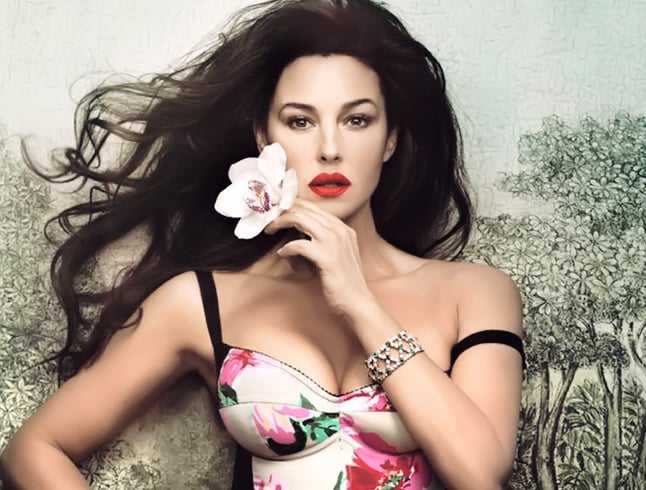 Elizabeth Taylor
This woman is remembered for her numerous talents, but to us, she's a fashion icon. Having selected personally so many gorgeous outfits for various actresses, Elizabeth's taste of style is amazing.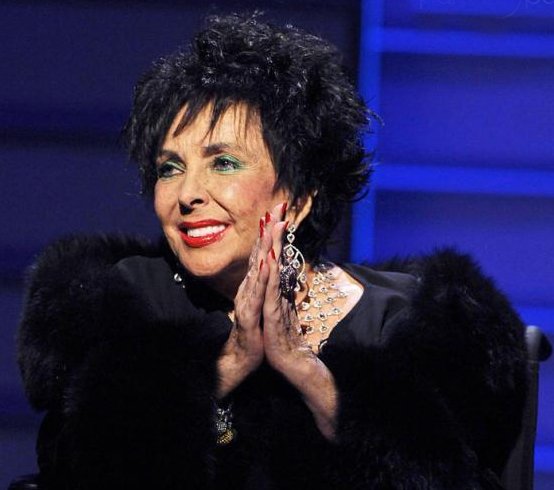 Just because you are fifty, it doesn't mean that you give up on the joys of fashion. It is time to break the stereotypes and opt out of the boring ways to dress. You've come so far as a diva in your life, so why stop now? We want you to step out there and make a fashionable difference; for yourself and for the sisterhood of women over fifties!
Have fun gorgeous!
Images Source: pinterest
Recommended Articles:
How To Dress In Your 30s
Embroidery Stitches To Craft Wonders
How To Design A Plain Saree
Broad Shoulder Women
Dresses To Hide Tummy And Hips