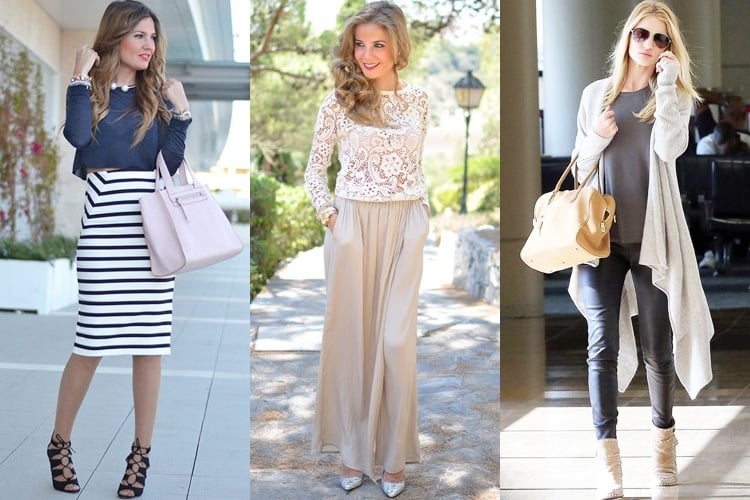 They say age is nothing but a number, however, style does inevitably change with your age. On turning 30, it's time to revamp your wardrobe with some classy and edgy clothing. Opt for some tailored outfits that will flatter your body and style. It definitely doesn't mean you have to let go of chic and playful fashion trends, but it's is all about how you carry and maturely style the ensemble. Do remember, dressing "young" actually makes your look older.
[Also Read: High Street Fashion]
As you revamp your wardrobe, you will come across few wardrobe pieces you obdurately never want to let go, give yourself a nudge and discard them to make room for more refined outfits.
What not to wear once you are in your 30's fashion
Mini skirt and shorts: Ditch those mini skirts and shorts and opt for something more elegant and ladylike.
Low rise jeans: As we ladies mature, our bodies too. Put low-rise jeans away and go for a pair of well-fitted high waist jeans.
Off-shoulder: Refrain from off-shoulder, unless you are exceptionally confident about carrying it with elegance.
Skorts: There should be no place for a pair of skort in a grownup's wardrobe.
Graphic tees: Keep away from graphic tees, especially those with funky cartoon prints on it.
Overalls: It's better to wear something age appropriate. Just say no to overalls. Period!
Gone are the days when you have to experiment with your style. When you hit the 30s bracket, you probably would have an idea on how to dress to present your best. It's time to indulge yourself with high-end investment pieces.
Here, we have highlighted 10 outfit ideas as fashion for the 30s. Consider it as your wardrobe checklist too!
Fashion Tips For Women In Their 30s
1. High-End Blouses with Ankle Length Pants
You need to add high quality outfits in your 30's wardrobe. A high-end blouse with ankle length pants and a good handbag will truly make you look elegant and stylish.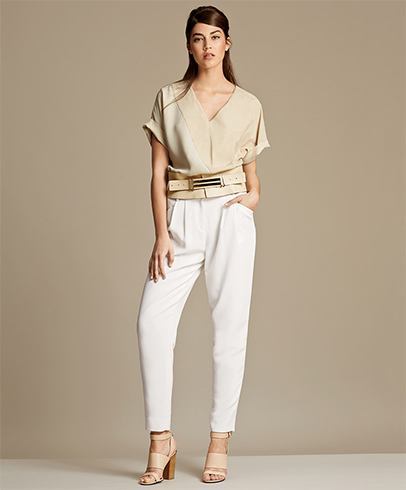 2. Structured Blazers with Fitted Jeans
Blazers are your best friends. Add to your wardrobe few chic pieces of structured blazers in different hues. Team it up with a great pair of jeans for the effortless look, while the smart add-ons further enhance the ensemble.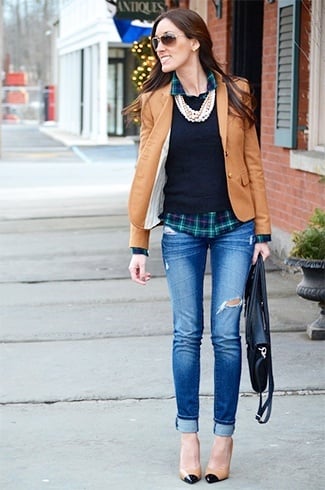 3. Long Cover-ups
Complete your look with long versatile cover-ups like capes, duster coats etc. to add a dash of sophistication and trend in a single go. You can find them in stores like Zara, Mango and many.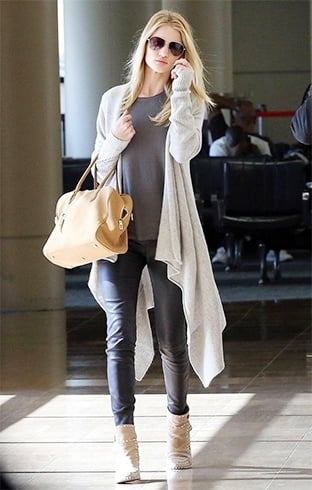 4. Neutral Coloured Tops with Printed Trousers
After investing in fitted jeans, get your hands on printed trousers for a casual look. You can choose from various options such as vibrant tropical print or simple striped or trendy tribal print. Team it with a top in a neutral hue to harmonize the look. You can also go the another way round, printed tunic teamed with a neutral colored trouser.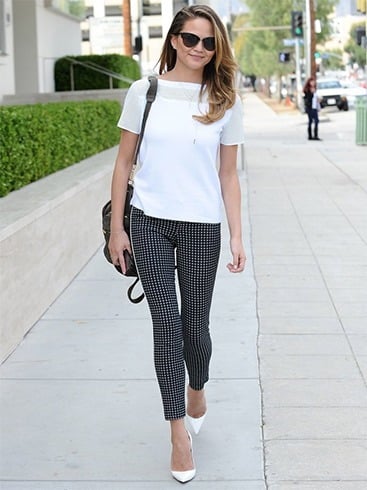 5. The White Blazer
A classic and a must-have essential for your wardrobe, feel free to pair up a streamlined white blazer with any outfit. It instantly calls for sophistication and trendy appeal. Plus, a white blazer is an all-time favorite; you can carry it in every season.
[Also Read: Styling White Blazer]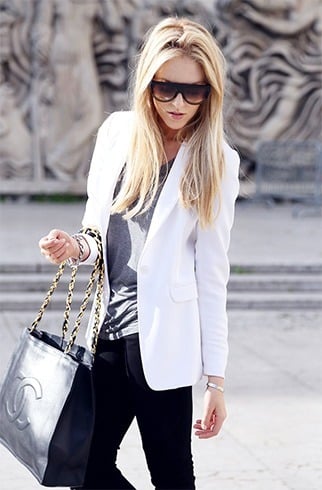 6. Fitted Top with Pencil Midi Skirt
If you are stepping between office and home, then a pencil skirt with a fitted top is all you need. The simple, yet chic ensemble is absolutely classic; you can have it for seasons to come.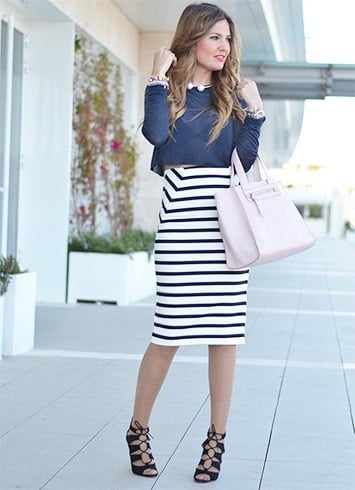 7. Sheath Dress
From date night to formal meetings, a sheath dress simply flatters your curve and makes you feel confident. Pull off the ensemble with élan and elegance to set many hearts beating.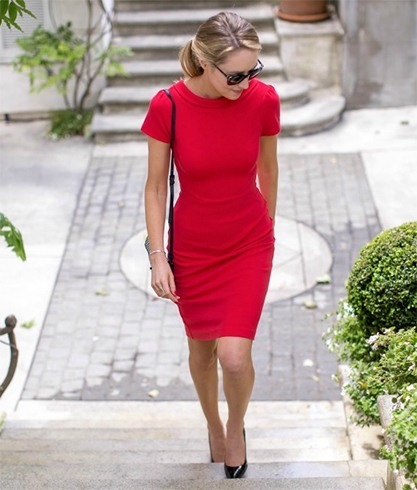 8. Button-Down Shirt with Maxi Skirt
How about a timeless button down shirt with a pleated maxi skirt? Other than a chic appeal, the ensemble also happens to accentuate the slimmest part of your waist.
[sc:mediad]
9. Kaftans
Outfits for women in their 30s fashion include the kaftans too. No longer just a beach outfit, kaftans have become more functional and contemporary option for work and home. The most versatile aspect about kaftans is that it suits all body types.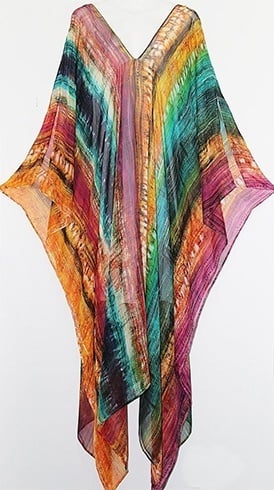 10. Lace or Lightweight Tops with Palazzo Pants
Clothes for women in their 30s need not have to be boring. These incredibly comfortable and lightweight palazzo pants are trending back this season. They look extremely fresh and chic when styled fashionably with lace or lightweight tops.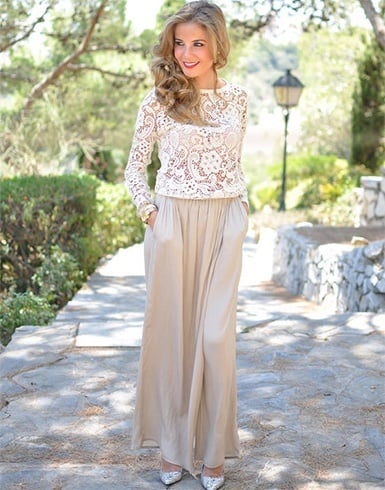 11. Jumpsuits
It is important for women in their 30's to dress classy yet sassy. They must conceal their age but also play smart with their choices. Dancing around the corner of this fashion are the jumpsuit styles. A non-creasy, smooth finish, well-tailored jumpsuit would be a perfect pick for any occasion. Accessorize it to the best of your abilities and nail the look with a killer attitude.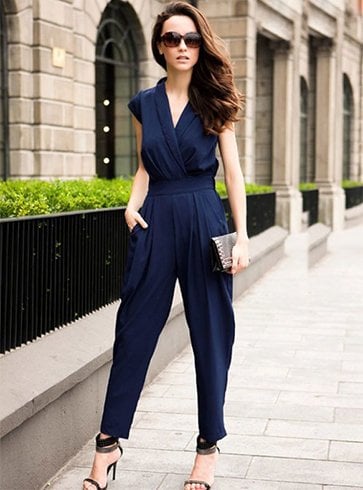 12. Culottes
Though age is just a number when it comes to living by your mind and heart, but age could be a factor for you to make changes to your closet. This doesn't mean you have to make your choices boring and bland, but add some stance to it. Like a pair of culottes can make you look trendy and smart. Colors like black, nudes, browns would be excellent for work wear whereas pastel shades or color-blocking will make the right party wear.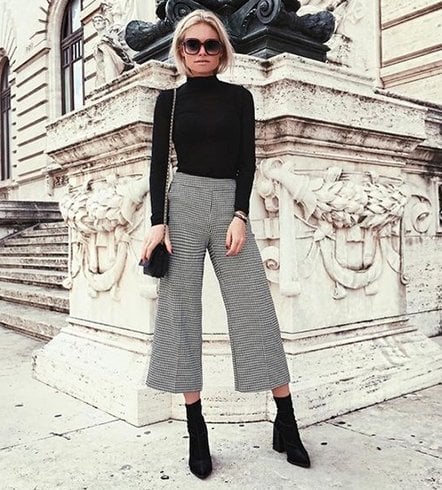 13. Maxi Dress
If you haven't got the legs to flaunt, or you are hesitant about the skin show, switch from miniskirts to maxi dresses. Long and easy, they add a charm to your look and style. Add a jean blazer or a street-style leather jacket to spice it up further.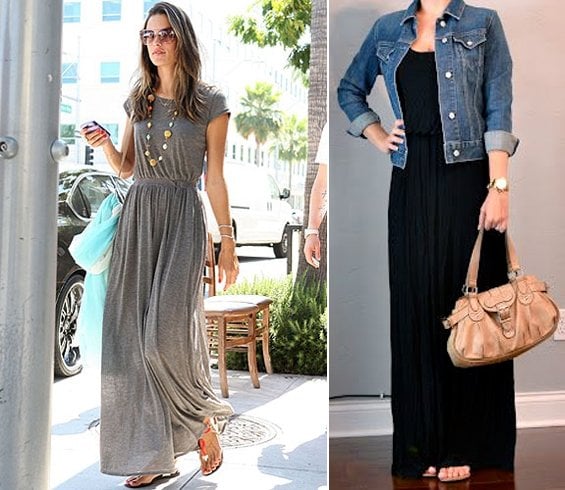 14. Boyfriend Jeans
So far, we have seen classy and work wear styles. Here is one suggestion for a casual outing. Pick the most comfortable of your boyfriend jeans and turn it into a stunning style with a sheer top. Pair it with sneakers, a sling bag for the street style, casual look. Or pair it with a classy handbag and nice pair of loafers or boots to rock the elegant way.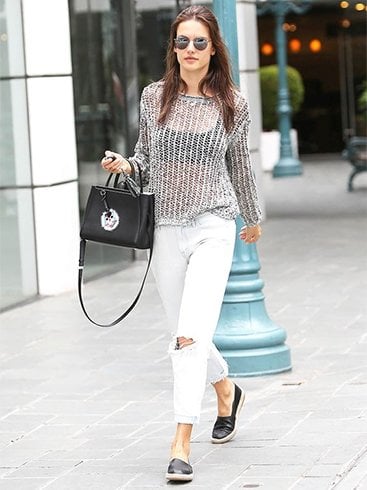 15. Trench Dress
Startle your peers with solid colored trench coat dress styles. If there is a work party around the corner and you wish to make a remarkable appearance, then you just have to add the trench dress with right pair of stockings.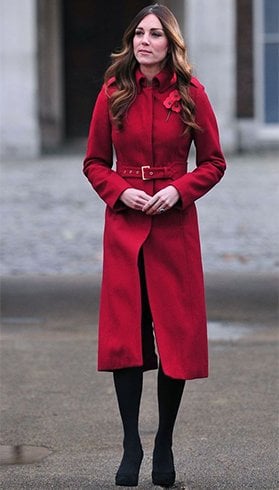 Hope this article helps you to dress your age. Do share your valuable comments with us.
Images Source: pinterest
Recommended Articles:
Fashion For Women Over 50
Embroidery Stitches To Craft Wonders
How To Design A Plain Saree
Broad Shoulder Women
Dresses To Hide Tummy And Hips