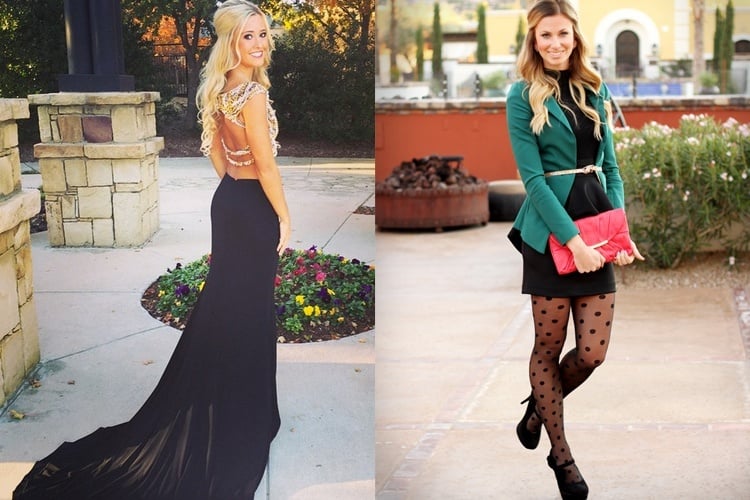 So, you are going to meet him for the first time. Wow!! You're thrilled like never before! But at the same time, your nerves are completely wracked!
Well, let me guess.
Are you flustered about how to dress up on that very special day for a killer first impression? Not to worry. We are here with some amazing tips to help you amp up your blind date dressing game. Check them out:
Jazz It Up with Exotic Pairs
A blind date outfit should be an exotic mix of both casual and stylish elements. Whether you are going for a movie or just planning to enjoy some smoking hot coffee, your attire should be enough to prove that you can be pulled together. But how to do it in an unfussy manner? Let us show the way out with some cool out-of-the-box pairs:
Combo 1:
Check out these pure white tees with cap sleeves and leather sleeves. You may go for the solid ones or add a zing by choosing the semi-sheer versions. For the bottom half, we simply love a denim pencil skirt with high waist or studs tucked into it. A dark or medium wash will be just perfect.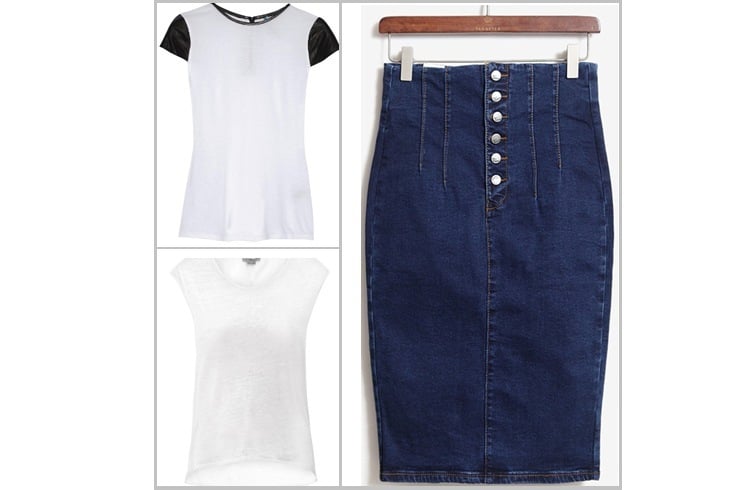 Combo 2:
Look a bit more chic and comfy in a shorter denim skirt and an oversized upper-wear. A loose mint-green button-up blouse or a long black-n-white striped top paired with a short denim skirt in light wash will pep up your appearance dramatically. For some extra dose of style, opt for a jumbo denim blouse and wear it with long sleeves rolled.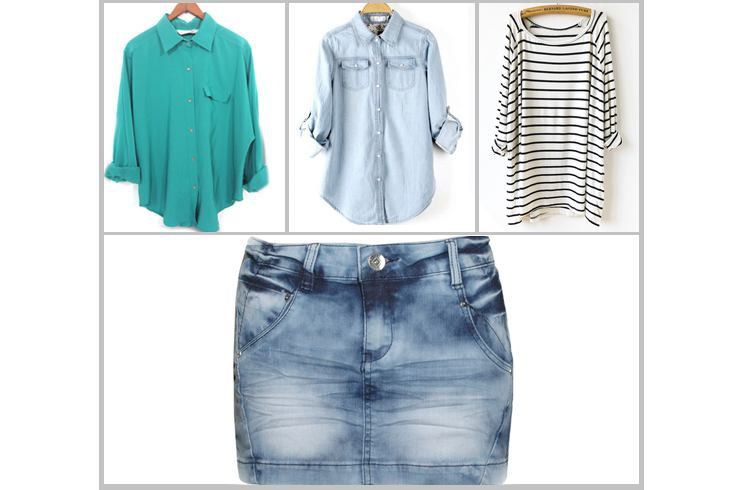 Combo 3:
Want to get a sweet and sporty look? How about a white sleeveless blouse with a leather midi skirt? You can either go for a slim pencil skirt in red or burgundy or choose a pleated leather skirt in classic black. A pure white blouse with a collar and a flared end will complement the look perfectly.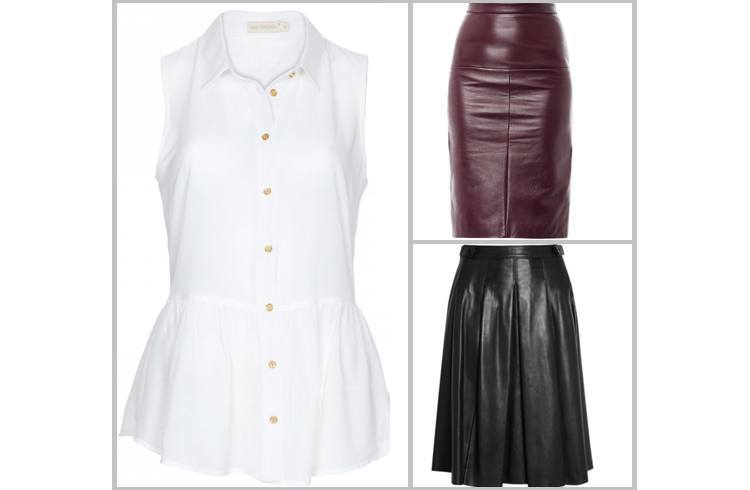 Combo 4:
When it comes to getting a simple still oh-so-edgy look, nothing can beat this casual but amazingly stylish combo. Start with a pair of dark blue skinny jeans or just select something influenced by a biker's style. Now, amp up your fashion quotient with a cute graphic tee and finish off the look with a bright casual blazer.
[Also Read: How to Sport Bright Color Blazers]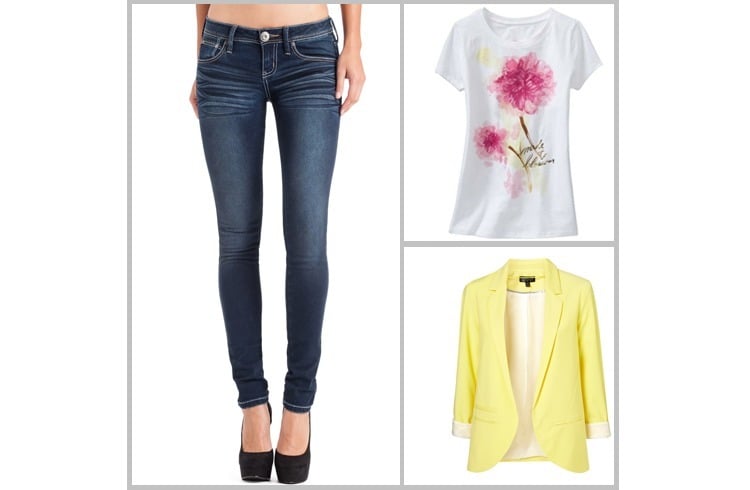 Combo 5:
What can be more feminine than a pretty bodycon dress for a blind date? We suggest you to go for something like this pretty pink short-sleeved mesh bodycon dress or the mint-green sleeveless scuba ruffle one. Finally, spice up your look with a smart denim jacket. Significantly different, no?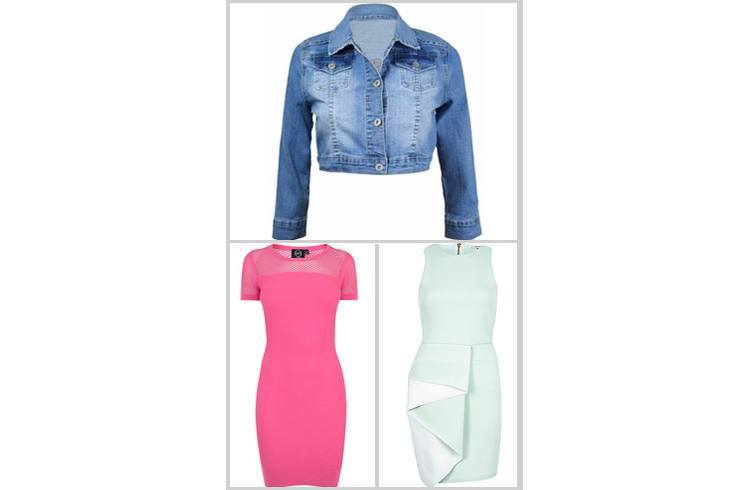 Show Your LBD Love
A little black dress (LBD) and a blind date are almost synonymous. If you are going to meet at a swanky spot, you have to choose something classic yet cute; sophisticated yet sleek. And LBDs are made exactly for such purposes. Style it up with some eye-catching detail and right accessories.
Go Flirty with Cute Floral Prints
The appeal of florals is just undeniable, especially if it is a mysterious first date. A sweet and flirty swing dress with large floral prints can make you look approachable in minutes. To add some more cheeky elements to your appearance, try out one with pleats and halter neck.
Embrace Cool Leather Pants
Leather pants are in vogue now. If you are planning for an uber-stylish date look, you have to switch to these from your favorite pair of denims. A sensational red, a chic olive or a classic black pair of skinny leather pants will work like magic and give you a fashionably elegant look.
[Also Read: Innovative Ways to Style Leather Pants]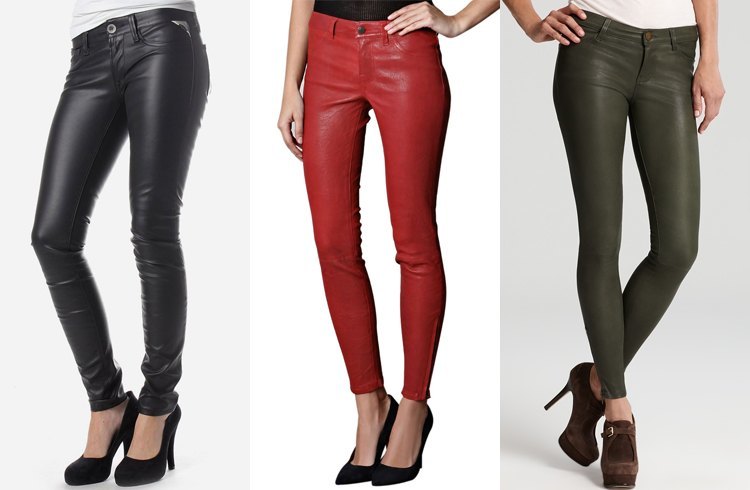 Look Relaxed in Graphic Pullover
Who says that dress up for a blind date always needs to be formal and well-put together? Keep it cool and relaxed with a stylish graphic pullover. It will add easily to your fashion forward look and make you ready for that exciting day in no time.
Add Edge with Smart Moto Jacket
Wondering how to go unique on your blind date? Opt for a true rocker-chic look by wearing an ultra-smart moto jacket. It can be a leather or faux leather one in black, brown, chocolate brown or any other similar shade. Small details like quilted shoulder, etc. will make the look even more downtown-esque.
[sc:mediad]
Impress with Statement Heels
A dazzling pair of black strappy heels can turn out to be your fashion statement for the blind date night. How about choosing something like the below one? We are totally loving it. Are you?
Wear Smart Low-Heeled Booties
If you are not a high heel person and flats seem too boring an option for you, show up in these elegant low-heeled booties. They are super trendy and can give your confidence an instant boost.
The success of a blind date dress up game lies in how classy, comfortable and confident you look. So, make sure that you choose exclusive as well as comfy outfit and accessorize it the right way.
Bingo!