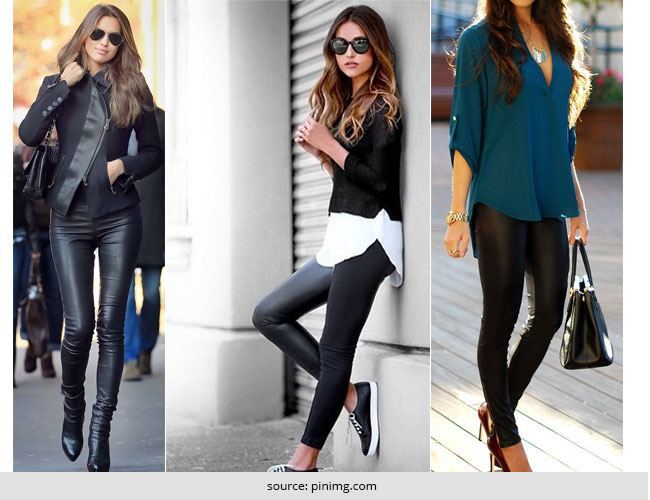 This Spring, Summer and Fall, right into 2015 winters too and beyond – leather pants are meant for all. Searching for the right pair of leather pants, even a decade back was like hunting for the Holy Grail.
Thankfully, those days are gone and eminent brands and fashion designers across the globe have dappled with leather in more ways than one – coming up with a 'perfect pair' to suit everyone's likes and tastes.
Without much ado, here are a few ways you could wear the sexiest leather pants and flaunt those lovely legs too. Totally inspired by runway and street style – fashion with its magical touch teaches you 8 unexpected ways to doll up in every budget!
Loose fun
Women across the world with humid climes would love this – wearing them loose. So whoever said leather pants have to be tight and skin-hugging got it all wrong. The casual cool vibe is what you'd love to flaunt when the winds turn warm! A simple white tee and those peep-toed heels – voila!
Colour the leather
Says who again that leather pants have to be in black? Colour works like magic and with what we've seen across the globe; the trend is to splurge on colours. Gorgeous rustic colours or you could think of the jewel toned ones; the choice is yours.
Legging style
Love your leggings, but worn too much of them last year – pick up a pair of ultra-skinny leather pants and while the winter months are still on – doll up the legs as though the pants were leggings, you're good to go girl. Perfect for a girls night out, a dance at the local club or even a dinner party with family!
Biker chick so chic
Edgy, wild, sexy, dapper and someone who says "Don't mess with me" – the biker chick now looks ultra-chic. Transform the leather pants with the help of moto-inspired cuts, tartan clothing and metal zippers; with a sleek-masculine jacket or blazer – no one's going to mess with you anymore!
Cozy me up
A date tonight and you want to let out a hint to get all cozy with him – leather pants will tell him your story, when worn with a fluffy woollen top and boots; perfect for the late-evening rendezvous over wine and a bike ride!
[sc:mediad]
Sporty chick
Make it all sporty and hot; such an approach not only makes you the centre of attention, but a diva in statement sneakers who knows how to walk her talk too. The cozy sports luxe look can work wonders for office wear and casual dates; very versatile isn't it?
Denim and leather
Fancy a marriage of two different textures to create a fashion statement; skinny leather pants with a denim shirt let loose on the top, and heels to make a mark, why not? If you fancy flat shoes or ballerinas, bring on the style that epitomises strength and feminity in one shot!
Spring tales
Spring will be here and soon; time to bring out the best wear from the closet, isn't it? Team up your skinny leather pants with floral tops – chiffon, georgette, crepe or cotton – the choice is yours. Don't forget the black heels, or get a little more adventurous and bring in more colours on the feet – quirky colourful shoes!
Very versatile and ultra-feminine to wear; leather pants have sure stolen the hearts of many PYTs across the globe. In hope that you've loved reading the 8 unexpected ways to wear your leather pants – have fun dolling up and let us know your style statement too!