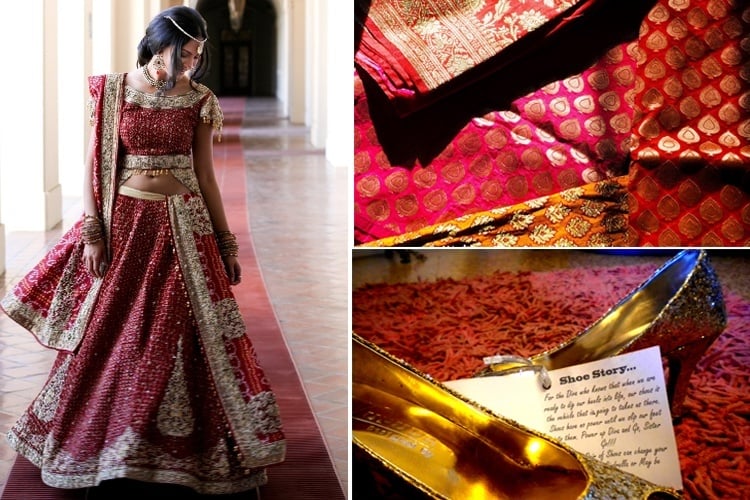 Shaadi is the most eagerly looked forward to event in a girl's life. So trousseau shopping becomes a must for her in order to look magnificent and awesome on her D-day. But there are few items that the to-be bride doesn't have experience on and needs guidance so that her shopping spree goes smoothly.
[Also Read: Where to Buy Wedding Trousseau in Chandni Chowk]
There a few basics that make every girl's trousseau – clothes, accessories, hair accessories, footwear, handbags and purses, footwear, jewellery, toiletries, makeup. Sometimes, it becomes easy to lose track of what exactly is needed. Here are few handy tips that will help you do your bridal shopping in the best possible way.
1. Colour Saris
In the Indian context, red and black are two classic colours that never go out of style. So make it a point to keep both in your wardrobe. Plain chiffons would look nice and striking with heavy embroidery on the border. Wear them for post-wedding dinner parties and you will leave an outstanding impression.
Silks are the promising thing in a bridal trousseau. They look regal and choicest on every bride. Since they last for a longer time, you need to maintain them well, so that you can happily pass them on to your children. If you are living in a summer climate, buy only 3 to 4 silk saris that you can wear to parties and get-togethers which keep on happening after the wedding gets over.
2. Sari Blouses
Black, silver and golden are the universal colours in blouses that can be worn. And yes, a multicoloured brocade blouse is like the icing in the cake. These are the common colours that can team up with most of your saris. When you have these blouses with you, you can wear them to endless functions. The blouse fabric, for all you know, can be plain, or with self-work on it. Not to forget, the sequins that will make the blouse look jazzy and distinctive. But keep it in mind not to add a second colour to your blouses, in the form of coloured piping. If that is done, it will reduce the number of saris with which you can pair your blouse with.
3. Party Clutches
Once again, it's black, silver and golden. Black will look good with western wear, whereas silver and golden can go well with any Indian costume you wear. When going for a party, you can look all the more dapper with colourful potlis in hand. That is something most Bollywood celebs wear to award functions and ribbon-cutting ceremonies of the stores they launch.
[Also Read: Tips to Keep in Mind while Shopping for Handbags]
4. Neutral bags
Pick a tote bag or hobo in neutral shades such as blush pink, brown or for that matter anything nude. They will go with most of your day-based outings and will complement them well.
5. Solitaire earrings
Diamonds are a woman's best friend. Make the most of it by choosing mid-sized solitaire tops that will look nice and subtle for Indian and western post-marriage parties. Whether your clothes are silver or golden in colour, solitaires will rock for sure.
[sc:mediad]
6. Heels
Golden heels are the quintessential footwear for just-married girls. And so are black pumps!
Without batting an eyelid, go for these colours to make your feet look the next best thing in the world after your face.
7. Flat Sandals
Don't be under the impression that flats are meant for desi behenjis. Even a newly-wed girl can look good in flats, with a bit of bling on it. Rest assured the blingy sandals will look great and feet-flattering whether you are dressed in casual or semi-formal outfit.
8. Coloured Churidars
Whether it is salwars or patialas, don't hesitate in buying bright churidars. They can help you mix and match them with various kurtis and keep you looking fresh the whole year.
9. Powder and Blush
Few essentials are necessary for a bride, such as a basic makeup kit to make her look pretty and stunning. Invest in a couple of lipstick and nail paint shades, tinted moisturiser, lip balm, blush, kajal, mascara and eyeliner for that aaj ki bahu look.
[Also Read: Wedding Makeup Looks every bride must try]
10. Little Things
Keeping small things such as nail cutter, safety pins, cotton wipes, bathroom slippers, toothbrush, sanitary napkins ready and intact make all the difference as these are daily items you would be needing most often.
Get these life-savers and fashionable basics in your trousseau before you step into a new world of married life. It will help save you from the usual chaos that happens in wedding preparations.