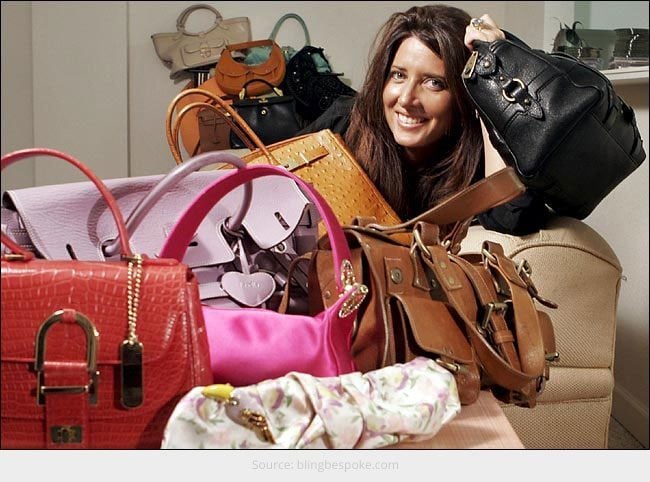 The world of handbags is exciting and confusing as well. Buying your first, designer handbag can be a tricky experience if you don't know the tips and tricks to make the best purchase. Handbags can be the trendiest accessory for your look. With a single bag you can change your look from glam to casual. There are hundreds of different kinds of bags-totes, cross body, boho bags, satchels, clutches and many more.
A wrong bag can draw attention from your fabulous outfit. But don't worry, we've got you covered. Read this handy guide to know the best kind of bag to carry for every occasion. And for those with a flair for designer bags, read on to know more on how to spot a fake one!
[Also Read: Trendy Fall Bags]
Here are some wardrobe essentials that every fashionable woman should have in her cupboard:
1. Size Does Matter
'Don't go by the size' is perhaps the worst advice ever! While buying handbags, you have to decide on what size you would prefer. Your ensemble and your utility depend on this. So, if you are planning to have a bag which will fit all, then you will have to go for variants like backpacks and sling backs or cross body bags. But just because you have to fit in a lot of stuff doesn't mean that you have to buy only basics. Carryalls can be very fancy and versatile indeed. Keep your eyes open while shopping and you can literally 'bag' the best deals. Overstuffed bags can kill your vibe and look. So if you have to stuff in a lot of items, always buy a bigger bag. Stash a smaller bag inside it if you want to change your look.
2. Versatility is the key
A true fashionista knows that versatility is the key. You should be able to transform your look with your bag from a casual to an evening look without much ado. So, when you are buying handbags, choose colours and materials which will go with almost everything. Neutrals and black and brown are versatile colours.
[Also Read: How To Stop Shopping Addiction]
3. Design corresponds to your body size as well
The shape of the bag you choose will depend on your body shape as well. So, if you are busty woman, you should select bags which will narrow down your upper body or shift focus from there. Cross body bags, messenger bags are a perfect choice for such body shapes.
[sc:mediad]
Now, for women with pear shaped bodies, it is always good to carry a shoulder bag which ends on your midriff. They will add volume to the upper half of your body. For shorter and petite women, longer straps look flattering on their bodies.
4. Colour Dilemma
This is one of the biggest dilemmas that women face. Choosing a colour which doesn't make them look like a rainbow is hard. But it is also important to note that sometimes a bright colour can really make an outfit bloom. For instance, a red clutch with a black outfit can really look rad.
[Also Read: How To Match Handbag With Outfit]
5. Spot the fake!
In today's world, a fake Louis Vuitton is too hard to spot! It looks as good as the real deal! So, how do you not get ripped off? Here are some telltale signs which will help you to spot the fake:
6. Misspellings: The biggest giveaway. Most counterfeit bags have misspellings of your favourite brands and this is the best way to find out whether it's the real deal or not.
7. Place of Manufacture: While most designer bags are 'Made in France', it is never late too actually check on their website, the actual place of manufacture. Not all Louis Vuitton chains are made in France.
8. Workmanship: The best designer bags have not even one thread awry. The finishing is perfect and when it comes to counterfeit ones, you can actually see the shoddy workmanship.
Shopping for Handbags for any outfit or occasion is not rocket science, but it's always good to have a few tricks up your sleeve to make the best purchase.