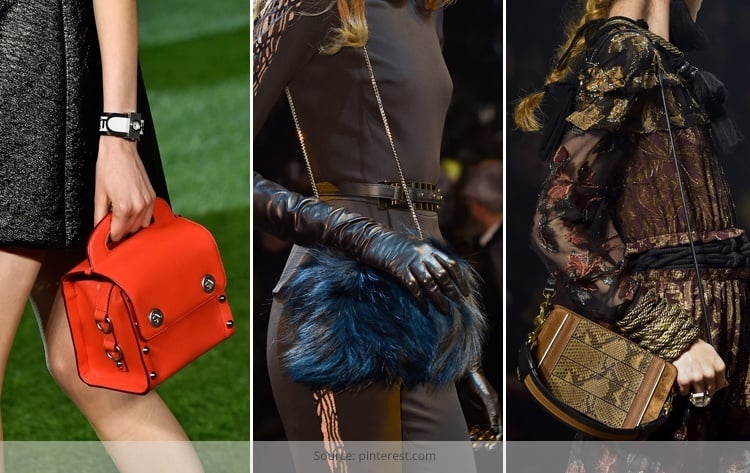 Fashion is always on the fast forward mode with cool new styles and fresh trends. This is one reason why runways can never be simple and boring. So trying and experimenting new things on the fashion block is a must if you want to survive in the haute race.
[Also Read: Tips For Designer Handbags to Last a Lifetime]
Take for example, handbags. Forget the grain used, even the straps are going for a groovy shift. Remember, handbags need to be matched with your recently bought dress too. Now stop worrying or looking glum as we take you through some fashion-ready trendy bags 2015 – perfect for fall.
Only thing you need to look into while holding or shouldering these bags is putting on a bit of attitude (loads of it), some deo sprays (Elizabeth Arden, Chanel or your desi brand), hair left loose but in shape and a pair of young stilettos. Sounds interesting, so let us begin.
These Trendy Bags For Fall 2015 Are What You Need In Your Life Right Now
Box-Shaped
It's time to give your boring bags a big break. This Fall go in for square-shaped handbags with structured style that are creating a formal impact even on the mundane days. You will look a cool new businesswoman by carrying such a piece in hand.
Straps (Slip-through)
Carrying a good clutch is the first thing that comes to mind when stepping out. No harm sporting a handbag with a handle. It is more practical types, doesn't look slouchy with a well-placed strap and is wide enough to slip a wrist through. So much is its acceptance that a slip-through bag is showing up on runways this season.
[Also Read: Summer Bags That Will Complement Your Summer Dresses]
Furry
Fluffier fur bags will be the center of attention at the Fall this year. Size doesn't matter much. It's the texture that will make you walk the appreciation. Carry cool-looking poufs to shaggy prints to hairy layers. All these are good material to make this season shine on you with furry purses in hand.
[Also Read: Handmade Embroidered Bags]
Chain Straps Oversized
You might be used to carrying delicate chain straps in handbags. But try out chain straps types, made of plastic. It will give a cool edge to your standard bag. Invest in bold colours and prints and thicker chains – if you want to make a bold and loud statement this Fall.
[sc:mediad]
Fringe
Go back to the '70s-style and you will find impressions of it in Fall 2015. This autumn, you will not only find jackets, skirts, and boots, but fringed accessories too.
[Also Read: Fringe Bags for the Boho Look that Add Luxury]
It will be nice to carry full fringe bags, or perhaps those with fringed tassels. Both ways, you will be looking cool and bohemian.
Matchy Look
Fashion decorum needs that you should stay away from matching your shoes with your handbag. But for Fall 2015, go ahead and match your red handbag with your red dress, or any other colour you find to your taste. It's not important to have exact colour matches to go with the Fall. Even fabrication and texture make the matchy thing work out.
Snakeskin
This is what stuffs are made of. Meet timeless handbag styles in a bold way for Fall. Real or imitation, different types of snakeskin is showing up on bags in natural tones and saturated shades.
[Also Read: Best Leather Travel Bags]
Neon
Get a pop of sunlight in the dark winter days by including neon colour hues in handbags. They will be a cool thing to make you feel fashion savvy.
Unique
If you want to shout out an absolutely individualistic look, go with the Fall trend by sporting unique handbags. Take a look at this piano-inspired bag and you will know what we mean.
[Also Read: Leather Office Bags]
Now that you know what's brewing this Fall on handbags, have a blast buying and flaunting them on the fashion runway and occasions that demand it.