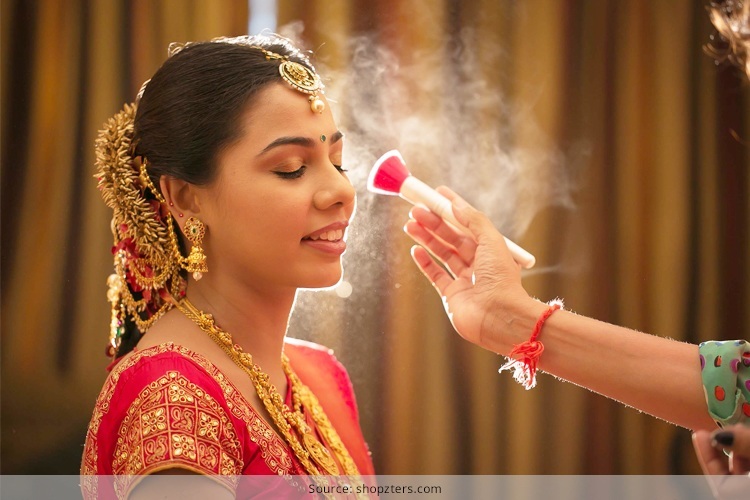 Congratulations on your wedding to be, and since the date is nearing there would a lot of preparations happening. But do not lose out on precious sleep while all that is on, or else you would regret looking at the wedding photos life long.
Your Wedding Day
The D-Day is when you would be the fashionista every eye at the reception would be watching. And you have to care enough about the fabulous flawless look to flaunt when learning how to do bridal makeup, making history starts from now.
Flashing your look isn't about the right pose to flaunt or the chic designer wear to show off only, because the bridal beauty look has to be skin deep too. This is why we say, sleep well, eat healthy and drink a lot of water from now. When the internals are flushed off the toxins, you would glow on D-Day for sure.
Wedding Makeup Tips For The Bride-To-Be
Bridal mehndi designs on the hand and feet would be the norm at Indian weddings for the brides, but what if it is an Indian Christian wedding or one wear the bride chooses minimal motifs? Would you want the hand not to glow at your wedding? If you opt not to use foundation to cover the hand and the palms, use a tablespoon of baking soda and a tablespoon of lime concentrate to exfoliate and wash the skin; tan removal DIY and a glow comes through!
Go Matte
While the Indian bride is always seen in shimmer and shine, the new-age PYT prefers matte as her BFF to tag along with. Flash photography is the norm at Indian weddings, and that is why using illumination foundation is not advised. Focus with a highlighter on the brows, the cheekbones and near the collarbone for the sensual matte touch, eye shadows in matte look superb when caught on film as well.
Contouring Done Right
When contouring is done, focus on the cheekbones should you get the pre-wedding or the wedding photos in black and white. Suck your cheeks in and fill the hollows with powder, and focus the highlighter on the cheekbones tips. Blush should be swept through the roundness of your cheeks, all the way to the temple zone
[Also Read: Natural Wedding Makeup]
Weddings Done Outdoor
Most Indian weddings these days are done outdoors and during the day, which means you have to doll up accordingly, using au naturale makeup. Neutral tones for the eyes, from champagne to taupe, light pinks to peaches and apricots would be awesome to wear. Don't wear dark shades on the eyes or else you'd be a gothic bride at your own wedding while the sun shines!
[Also Read: Beach Wedding Makeup]
[sc:mediad]
Fill In The Brows
Empower the sisters above your eyes, and have them shaped or filled in well using a professional's help ( a week in advance).
Pearly White Smiles
If you've been having a little too much of coffee or maybe a smoke or two, there would be stained yellow teeth to flaunt- which you would not want at your wedding! Fix this from now by brushing your teeth with charcoal based toothpaste or salt based toothpaste. Alternatively you could also have lemon and baking soda (1 tsp: 1 pinch) added to the regular toothpaste you use, and brush with it every morning. Watch how your smile steals the show!
Pout Those Lips
Make those lips appear full and pouty, like Marilyn Monroe,, at your wedding with a touch of peppermint oil and translucent powder added to the lip shade you would be using. Use a brush to blend them well within the lip liner used
Makeup Disasters Be Gone
While dolling up at the wedding, trial and demo was a great idea, and you loved the look too, the same may or may not manifest on your D-Day- ask the one's who married before you and they would tell you how disappointed they were. So what do you do?
[Also Read: Bride's Dos and Don'ts on Bridal Makeup, Bridal-Wear & Bridal Jewellery]
Never disturb the best bridal makeup artist, they know their job well
The look you see on silver screens, magazines and the ramps are 'made up', photo shopped and touched up!
Use sheer powder and bronzer for the matte-shimmer touch if you so want to look like a shining object (mild touches only)
Sleep well, at least for eight hours!
Have a cup of green tea, healthy salads, plenty of dark fruits for their antioxidants and also focus on deep breathing to calm the nerves from all the running around, stress and tension.
So here were the wedding makeup tips and hacks for you to know, and we wish you a lovely journey to a blissful wedding and a gorgeous married life ahead!