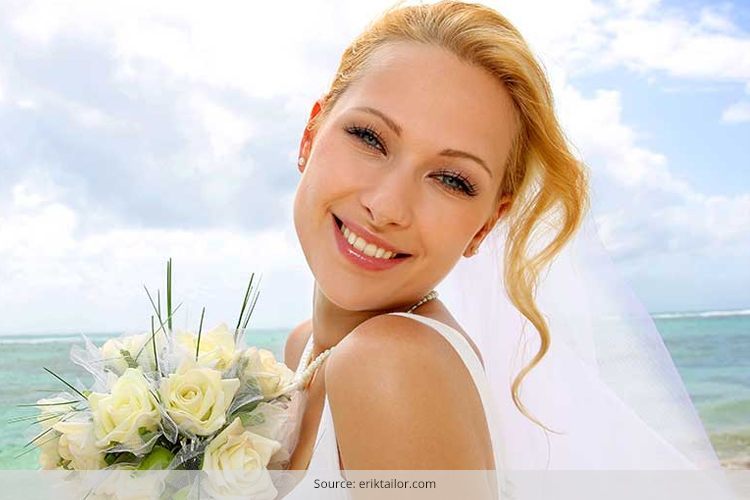 Come winters and beach weddings are the hottest in trends! More than getting beach wedding makeup done, its lasting tendencies really matter when you are exposed to sea, sand and sun all together, especially if it's your special day. We advise you to keep the makeup minimal and natural to shine out. Experiment more with hair, the colour of lips and eye makeup instead of caking up cheeks with heavy foundation and blushes. Here are more makeup tips for beach wedding.
[Also Read: Color Wheel Makeup Chart]
makeup tips for beach wedding
1. Keep Your Makeup Light
In beach areas where tropical weather is permanent, heavy makeup should be avoided as it can at spell disaster anytime and if it happens in the middle of your wedding, it may ruin all your special moments. Hence, say no to thick foundation and heavy concealer. Ask your makeup artist to use a lightweight primer and concealer followed by matte light to medium coverage foundation for beach wedding makeup. It is best to use orange-based concealer for eyes for the beach wedding makeup looks.
[Also Read: Colorful Sarongs For The Beaches]
2. Waterproof Your Eye Makeup
Beach wedding can bring surprise of water splashes, hence ensure to get your waterproof topcoat done on your lashes and beach wedding makeup. Also, always keep with you a waterproof makeup remover to remove eye makeup easily at any time.
[Also Read: Makeup Tips For Older Women]
3. Brush Bright Pink Blush
Where sun is shining bright, pink blushing cheeks flush out a glow only a bride can have. One of the best beach wedding makeup looks would be to apply a coral blush on your cheekbones' and pair this up with rose coloured or pink lips. Don't be surprised to get your first kiss while you dance with your partner.
[sc:mediad]
4. Apply Dollops Of Sunscreen
You are more likely to get tanned during beach wedding due to prolong skin exposure to direct sun. You must apply broad-spectrum sunscreen before your beach wedding makeup to avoid any redness, skin burn or tanning. If you still experience the redness, just massage a skin soothing cream for 10 to 15 minutes at night or apply rose water on your skin. You can also apply any redness-relief soothing cream with SPF over 25 as it will cover the redness on the skin while acting as a hydrating primer.
[Also Read: Beach Wedding Ideas]
5. Look Simple, Glowing And Gorgeous
Did you know that heavy and dark makeup on beaches look caked on cameras? Hence, keep your makeup texture light and natural while focussing more on eyes and lips with lighter shades. Focus more on embellishments like wearing flowers as accessories on hair or textured or tousled hair waves.
[Also Read: Easy Makeup Tips]
With these simplest and awesome beach wedding makeup tips, you can have frolicking time in sea and sand, celebrating the moments of lifetime.