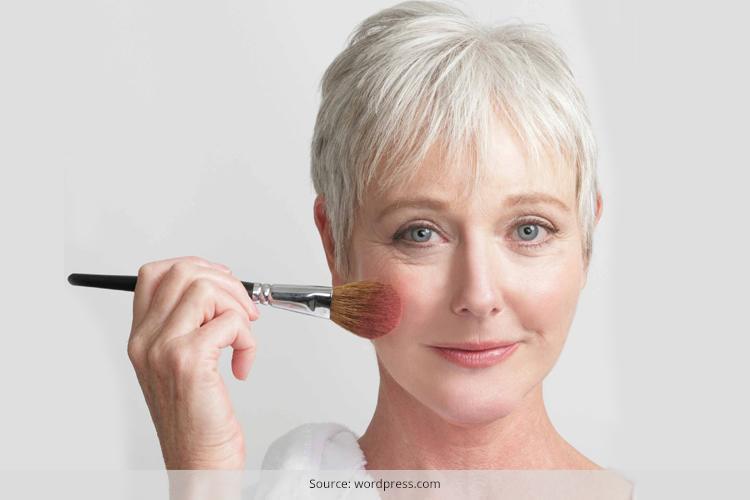 Let's face it, as we age we want to hold onto the youthful glow and vigor and some of us don't look at makeup for an answer. But if you do use makeup and are a woman in her late 40s and early 50s or more than that, here are some tips on applying the best makeup for older women.
[Also Read: Easy Makeup Tips]
We tend to make a lot of mistakes using makeup, which is why even the best makeup for older women, can make you look years older than what you are. Makeup is meant to adorn and flatter the facial features, and not the reverse. So, let's pledge along to use these five tips on how to use the best makeup for older women.
OLDER WOMEN MAKEUP TIPS
1. Choose The Right Blush
It is very important to know which shade of blush should be bought when buying best makeup for older women. The aim is to bring about a vibrancy to the face and definition too, using blush. However, when you choose the wrong blush colour, your face would turn, muddy and dull, and looks as though someone just made the blush sit on your face.
[Also Read: Concealer Makeup Tips]
How do you find the right shade?
Pinch your cheeks – what color or shade does it blush into? That's the color of blush you should buy. Begin by applying the blush from the apple of the cheek to the temple and blend it into the skin all the way back. This is one of the best and most important Older Women Makeup tips we can give.
2. Choose The Right Foundation Color
Just as we spoke about the blush color to choose and use, the same would be for the foundation color too. We don't want your face to look as a floating mask, wearing the wrong foundation color that is miles away from the color tone of your neck. Mature women are beautiful ladies and hence should stick to natural shades for foundation. Tap a drop of the foundation on the jawline or the top of your nose, do not blend but simply gently spread it on the area. This would tell you if the foundation color is the closest to your skin tone or not.
[sc:mediad]
3. Eyes Have To Say A Lot As Well
Why do you only line the bottom lash line or the lids, as you age? Why? You should line the upper and lower lids or lash line, which would make the eyes stand out bright and nice. When you apply eyeliner, you should choose a product that is closest to the hue and tone of your lash line color. This would then make it look as though your eyelashes have a natural extension. From the outer corner you should start, going all the way into the mid section and then the inner corner, giving it two to three strokes for the intense look.
[Also Read: Styling For Women Over 50]
4. Lipstick Colours And Shades To Choose
Another of the most important makeup tips for Women Over 50 would be choosing lipstick shades that gel well with your age and personality. Your lips need more definition as you age, and fullness too which can never come by with dark colours. Start by using a pencil to outline the lips and focus on the cupid's bow. Now apply a little shimmery light yellow or closest to your light lipstick – a powder for the pouty effect, inside the pencil line. Next you should use a light pink peach or a light shaded red lipstick inside the lines, over which you may add lip balm for the glossy touch to come through. Shimmery lips are okay for the evenings and nights out, while mattes rule the daytime look.
5. Define Your Brows With Color
Eyebrows thin away and get discolored once we start ageing, and if you pluck them too much, you may end up with lesser brow hair. Use the brow palette in shades closest to your natural hair color, or use a shade darker or lighter for fun – but use some color or else the face and the eyebrows would look dead and dull. From soft grays to silvers and browns to blacks, mix in a little red matte eye shadow too – your brows would be defined and you would look younger. One of the best Make-up Look for Mature Skin tips we could give.
[Also Read: Classy Hairstyles For Women Over 50]
Love yourself and doll up right – the world wants to see the vintage diva on the roads flaunting her beauty!