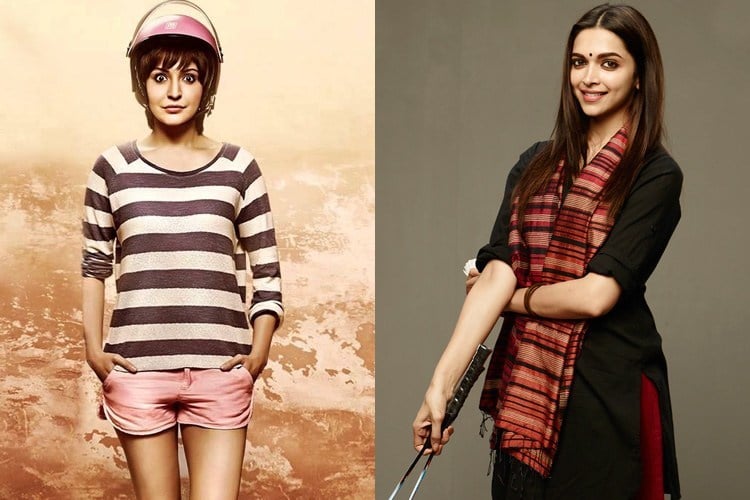 Cinema and religion are two things that dictate Indian society. They can't be separated, but also end up confusing most of us. Like when they are used in place of the other, when it comes to dressing or leading our lives.
While religion teaches women how to dress down, it is the cinema that teaches the modern contemporary woman how to dress up for the workplace.
[Also Read: Stylish Winter Office Wear For Women In India]
We take you through five such Bollywood films that inspire dressing at the workplace. You will surely love the attempt made by these movies to make work wear goals a top priority at the workplace.
Piku
Deepika Padukone very much deserved the Best Actress award for the film Piku. Not just for the role scripted for her by director Shoojit Sircar, but her sense of styling in the movie.
If you recall the film Piku, Deepika Padukone played the role of an architect who ran her own firm. This didn't mean she was dressed in expensive power suits one sees in corporate corridors but smart looking kurtas that gave her the feminine and edgy look.
Chic she looked in almost every frame of the movie, when she headed to office in kurtas paired with interesting bottoms.
And there was no high profiled couture designer here, but a lady called Veera Kapur who did the costume designing. There was every bit of smartness and power in Deepika's culottes-and-kurta look.
All in all, Piku was clap worthy since it almost triggered a sense of achievement in women wearing Indian wear to work place.
PK
Sporty short hair made Anushka Sharma play the role of a journalist in the blockbuster film 'PK' effortlessly.
With the help of two costume designers Manoshi Nath and Rushi Sharma, the androgynous look of 'Jagat Janani' played by Anushka came across as a welcome breeze in Bollywood films.
Which is why it is difficult to forget Anushka dressed in boyfriend jeans, and buttoned-up shirts. Leave aside her shirt she came across as extremely sassy and stylish in the film. In short, it would be a nice idea to wear something what Anushka wore, in organisations where corporate dressing allows a bit of flexibility, creative and attitude.
Vicky Donor
If wearing western wear or corporate attire is not your cup of tea, then Yami Gautam in the film 'Vicky Donor' shows you the perfect way out.
Playing a bank employee, Yami in the role of Ashima Roy looked every bit an Indian at heart and dressing by wearing classy-looking sarees. Once again, Veera Kapur did a good job when it came to costume designing for the film.
As for the makeup, there weren't loads and loads of pancake thrust upon Yami, just subtle nude makeup and understated accessories.
[sc:mediad]
2 States
As a corporate sector employee, Ananya played by Alia Bhatt put on her Indian look extremely well. Chic kurtas designed by India's Pied Piper in couture designing Manish Malhotra very much enhanced the feminine side of Alia, while keeping her sense of freedom in corporate dressing intact.
The kurtas worn by Alia in the movie were more on the subtle side, which gave her a smart and chic persona, not the 'behenji' look.
Inkaar
It's nice to see Bollywood heroines experimenting with roles and attire in films. One such piece of delight was Chitrangada Singh who plays an advertising professional in the film Inkaar.
Chitrangada's costumes were designed by Rick Roy and Niharika Khan. What made it unique was that they were a mix between smart office dressing and edgy styling. That is why, Chitrangada surely rocked in her chic midi dresses, fashionable heels and edgy accessories that nearly formed the soul of the movie. Am sure, there could be no Inkaar to the compliments that came her way.
[Also Read: Women's Work Wear Fashion Decoded]
So this was an attempt to take you through power dressing that is an expression of power games in the corporate and media world.
We do hope you loved the way work wear goals are making an interesting shift today. It is something that gives you the freedom to wear and express your body language in clear cut terms.
Tell us which movie listed above is the best one to give workwear goals to the Indian woman.