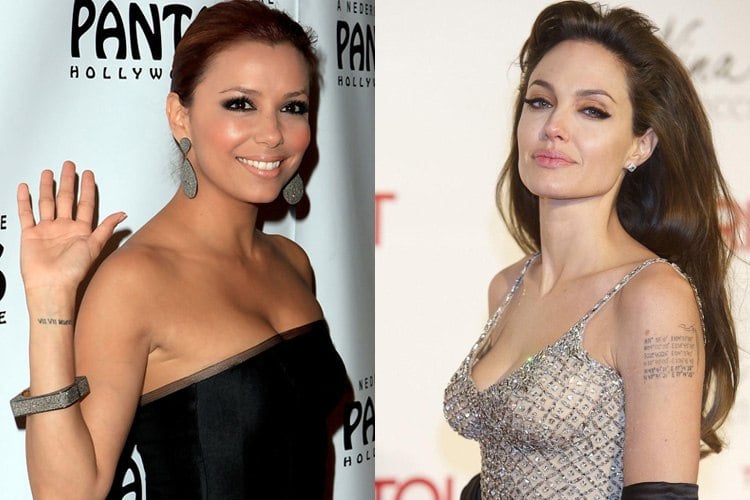 In a fast changing world of fashion and goods, even relationships are constantly changing. Some changes are bright and much awaited, whereas some are sad and regretful. Same thing is with break-ups, which are so common today among Hollywood and Bollywood stars, it's as easy as changing a diaper. And this is no pun, but a harsh reality.
Interestingly, what is making the celebs regret more than the 'loss of love' is getting inked with their partner's name, only to land up in a broken affair one fine day. This is sad because the tattoo will keep reminding the celebs of their ex-flame, making it tough for them to move on.
I now take you through some of the leading celebrities who regret having tattoos of their ex's. Don't you think they need a bunch of tissues to wipe away tears, or are there tears at all?
Sussanne Roshan
As you know it all, Sussanne has parted ways with Hrithik Roshan who rose to fame with his debut film Kaho Naa…Pyaar Hai. But the one thing that is worth admiring is that Hrithik has still kept up with the tattoo inked below his wrist. Whereas Sussanne has got the tattoo changed it to 'Follow your sunshine'.
Whose sunshine is it anyway when Bollywood's most smart and happening couple have gone their ways? So much for a tattoo, isn't it?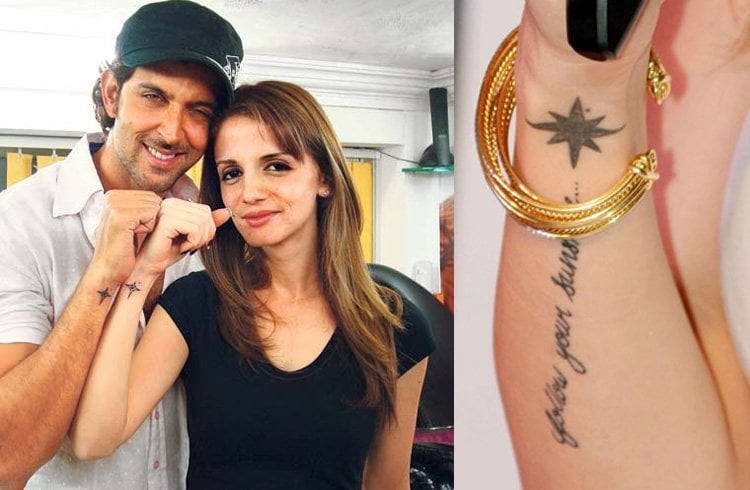 Deepika Padukone
Once upon a time Ranbir Kapoor and Deepika Padukone were a dream couple. Their dreams and aspirations reflected in the movies Tamasha and Yeh Jawaani Hai Deewani where they were co-stars. Such was the love quotient that Deepika went ahead and got Ranbir's initials done on her as a tattoo.
Then one fine day, it was all over between them. Is Deepika sporting the tattoo still? Yes. But, who knows she could be sporting a new tattoo of Ranveer Singh sometime soon.
[Also Read: Deepika Padukone Tattoo]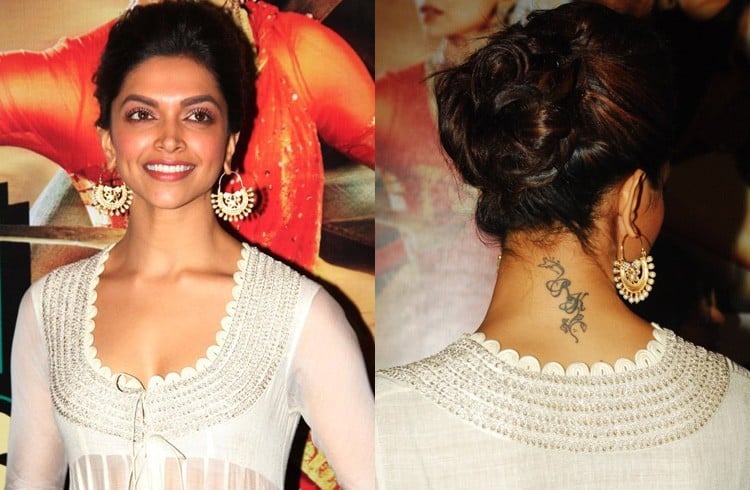 Kaley Cuoco
She is the big star of The Big Bang Theory, who made the shutterbugs go crazy with her wedding date tattooed on her back. But it seems she wasn't happy for long. We will have to ask Kaley if she regretted her break up, but the most thing she felt bad for was getting a tattoo done of her marriage date. Call it imagination or whatever, Kaley went ahead and got her wedding date tattoo covered with a moth tattoo. We will have to give full marks to Cuoco for having been so creative and bird-friendly.
[Also Read: Dry Skin Tattoo]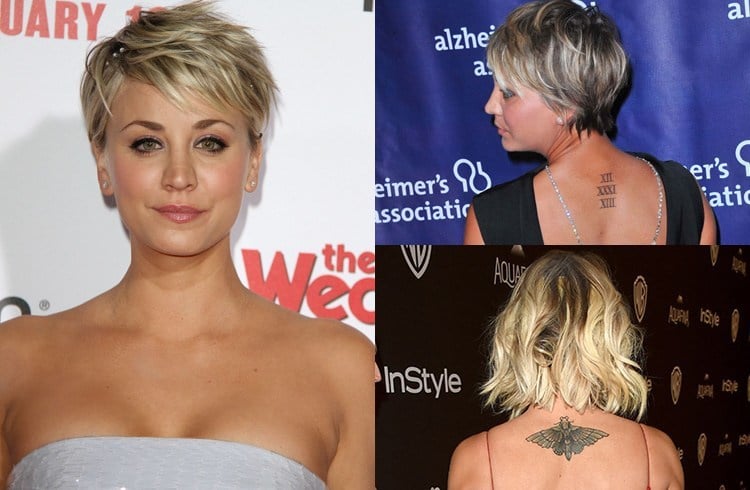 Angelina Jolie
Now she is an actress who looks sexy and beautiful. She has a number of tattoos on her body, but the most popular one was of Billy Bob Thorton, her ex-husband. Angelina it seems could not digest the fact of a tattoo going by ex-husband's name. One fine day she got them replaced by getting fresh tattoos mentioning the names of the birth places of her children.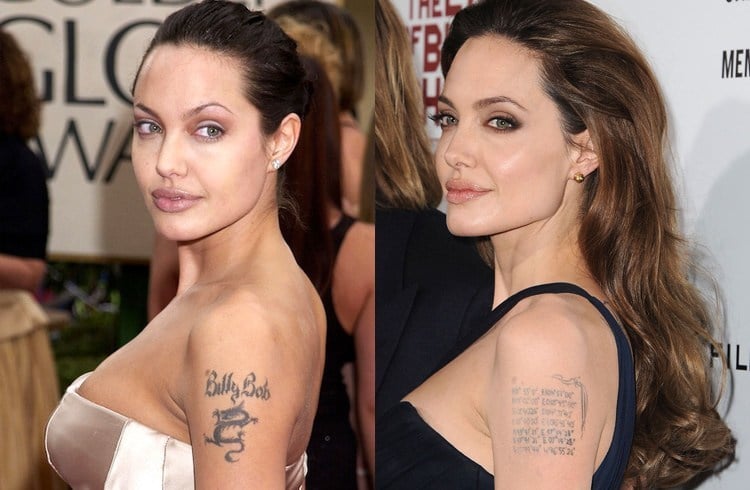 Amy Jackson
Look around you in tinsel town and you can find love even in your co-star. That's what happened to the blue-eyed beauty Amy Jackson who found love in her co-star Prateik Babbar. So tremendous were her feelings that she got a huge tattoo done on her forearm which read 'Mera Pyaar Mera Prateik'. Sadly enough, the relationship didn't last long. Chances are she would be thinking of removing the tattoo, and getting a new one done for her new-found love.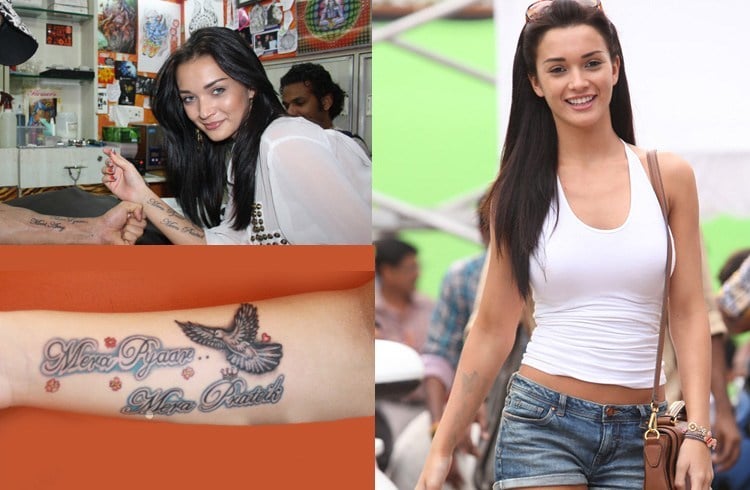 [sc:mediad]
Denise Richards
See the tattoo on the ankle of Denise Richards? It was the name of her ex-husband Charlie Sheen tattooed. All was hunky dory between them till one fine day they broke up. As happens after marriages break, Denise got the tattoo removed from her ankle and covered up with a small little fairy.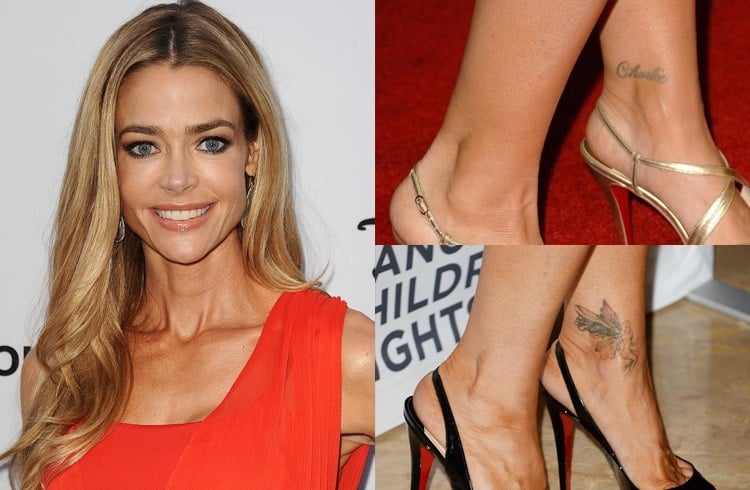 [Also Read: Wrist Tattoos For Girls]
Eva Longoria
Not one, but Eva had three tattoos in honor of her ex-husband Tony Parker. And what were these three tattoos like?
The first one was on the back of her neck named 'nine' since that happened to be Parker's number. The second tattoo was on her wrist that symbolised the date of their marriage. The third tattoo which had the initials of Tony was hidden somewhere on Eva's body.
It so happened that after two years of their divorce, Eva got all the three tattoos removed.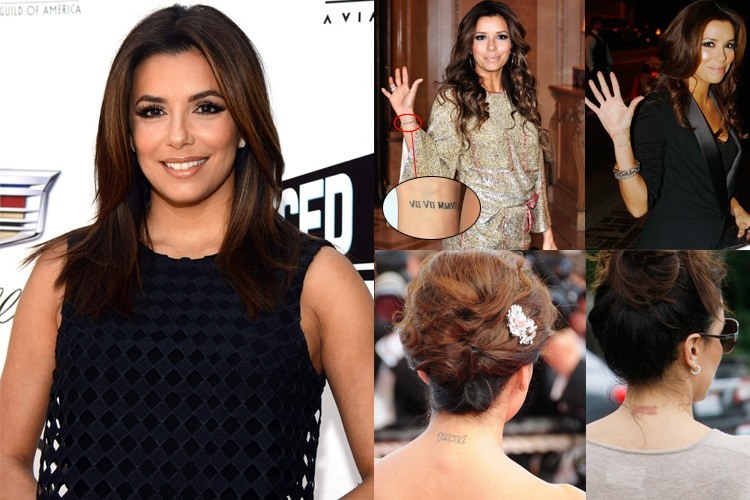 Drop us a line what do you feel of celebs' tattoo removal of their ex's names. Is it right, wrong or can be avoided?