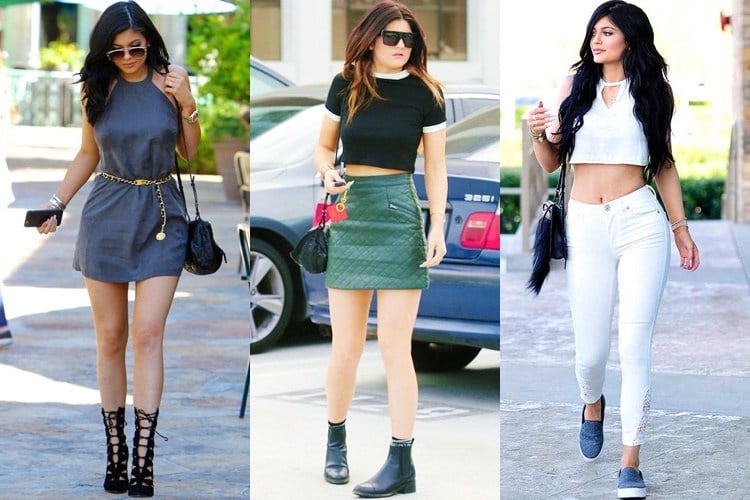 The youngest of the Kardashian-Jenner clan has been all over in the news lately, sometimes for filling up her lips, sometimes for her on-again-off-again relationship with Tyga, sometimes for offensive magazine photoshoots and sometimes for her lip kit. But when the Jenner brat is not busy making headlines, she is busy turning heads.
[Also Read: Kendall Jenner's Street Style]
Check out how Kylie Jenner dresses up for the street and you will know who is to be blamed for all those accidents.
Rips And Cuts
You can never be simpler on the street than this. She is wearing a graffiti cut-sleeved tee with some real well- fitted ripped denims. The ankle high black boots blended perfectly with the sunny mood of the look. A bunch of bracelets and a back pack to carry the essentials, that's all she needed to keep the streets of Malibu busy clicking her snaps.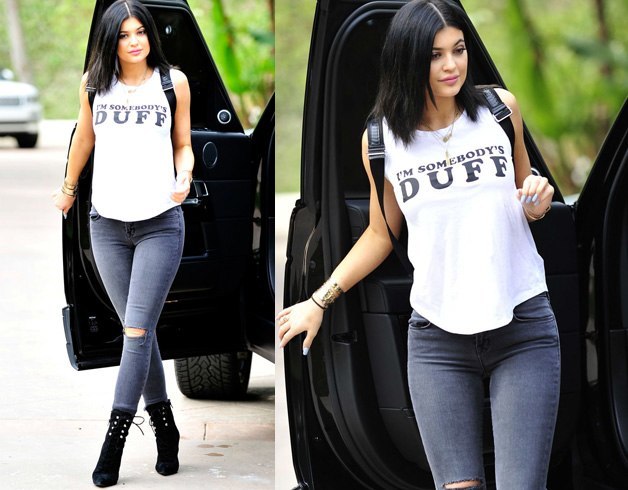 Minis
This grey mini dress sat so effortlessly on the Jenner princess, like she picked it up with eyes closed from the closet. And I really mean effortless, because, hey, she didn't even bother to get a belt for the dress. She just picked up a luggage chain lying somewhere at the corner of the room and boom – she was ready to hit the street. But I really love how the length of the bag catches up with the length of the halter neck dress. She sticks to wearing a bunch of bracelets again, wonder if that's her staple. And don't you dare miss to check out the strappy cross tying sandals.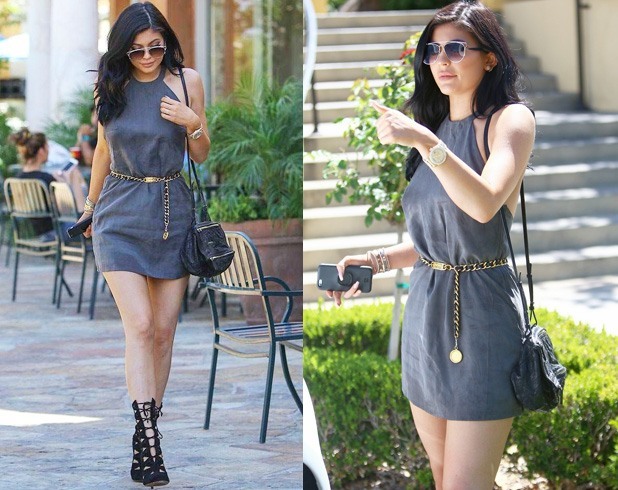 Dungarees
No dungaree has ever looked half as hot as this one on Kylie. The tan dungaree, which she styled with a casual white tee certainly found itself a spot on a number of fashion magazine, when the fashion icon herself donned it. Don't miss those super sexy gold pumps that she matches with her gold bangle. Somehow I feel even the bleached locks match the theme of this look.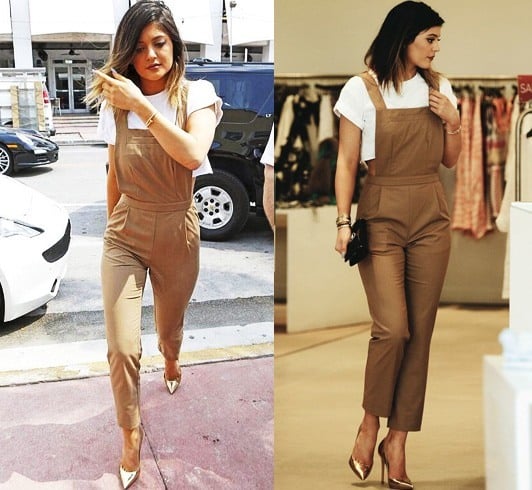 Love For Leather
Now, we know that this one is a real old click. How we know it? Guys, check out her lips – see how I did the math there? But the existence of this pic proves that the little missy never had any less style than model sis Kendall. Something as simple as a plain black tee can be thrown on a leather short skirt to mix of two worlds together. The shorter hem of the skirt puts those legs on display while the closed shoes protect the feet from contacting the dusty ground – Clever, princess. She added a very interesting pair of shades there. Do you notice that gold bangle, btw? Isn't it the same piece she wore in the above pic? Eureka! Rich people repeat stuff too, they are human, just like us!
[Also Read: Kylie Jenner Hair]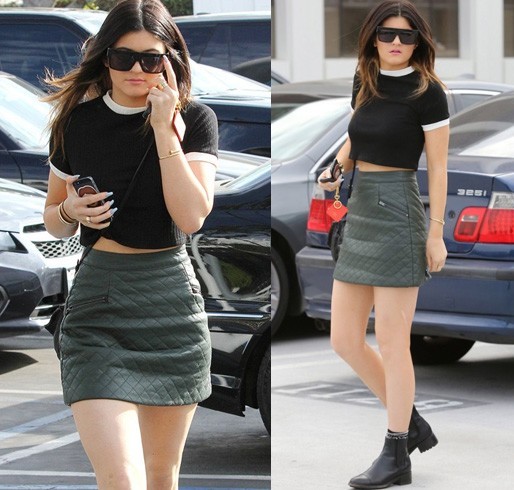 Denim On Denim
If you thought that the patent of denim on denim belonged to Britney and Justin, drink some coffee people. And wake up wide to glare at Kim's lil sister. That is one look we all can try – may be today. Knot up daddy's denim shirt over an old denim skirt from the last decade gathering fungus at the back of the closet. And you are very much in 2016, because Kylie Jenner wore it, okay? And I am sure we all have a pair of black boots like those. Don't miss the shades, protect your eyes from the sun, or hiding a dark under eye.
[Also Read: Gigi Hadid Street Style]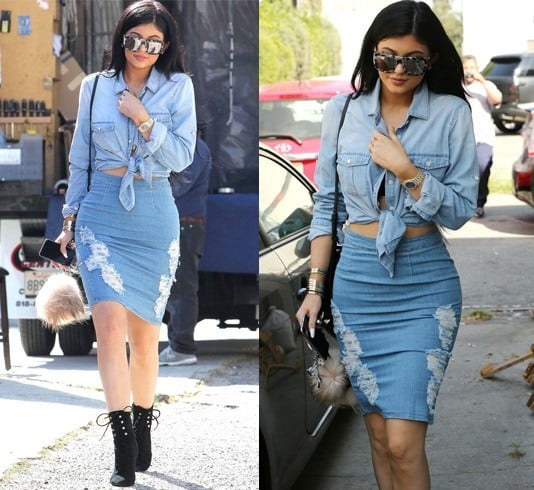 [sc:mediad]
Oversized To The Tee
Apparently, I am not going to believe that these rich people don't have money to by pants. The thing is they, at times, get too busy to wear them. But if you can style an oversized t-shirt like Kylie you would rather leave the jeans at home. Here is what she did, she simply slipped into the cutest Disney t-shirt ever, the over about 10 times her size, knotted it at a corner and there we have a dress. The knee-high fishnet boots made up for the absence of pants too.
Sugar Coated
The teen was caught on the street looking like an absolute diva. The blue and black plaid smock coat by Houghton made her look like a painter tackling some serious interview. And did you notice the pleated detailing at the cuff? The knee high boots from Sergio Rossi added another stoke of high-end fashion to the appearance. The essential Dior glasses couldn't have been absent anyway.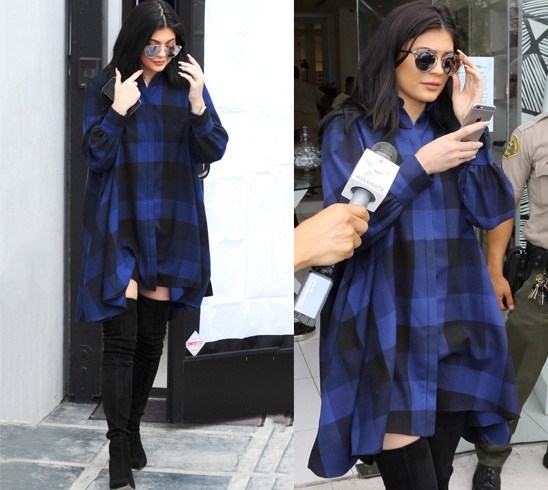 Trained by the royalties of fashion magazines, chances for getting the style sense wrong was never an option for Kylie. Being the youngest of the clan, she has spread her wings out pretty early and boasts a line of Lip Kit already. No wonder she is gravitated to fashion, which, by the way comes surreally naturally to her.