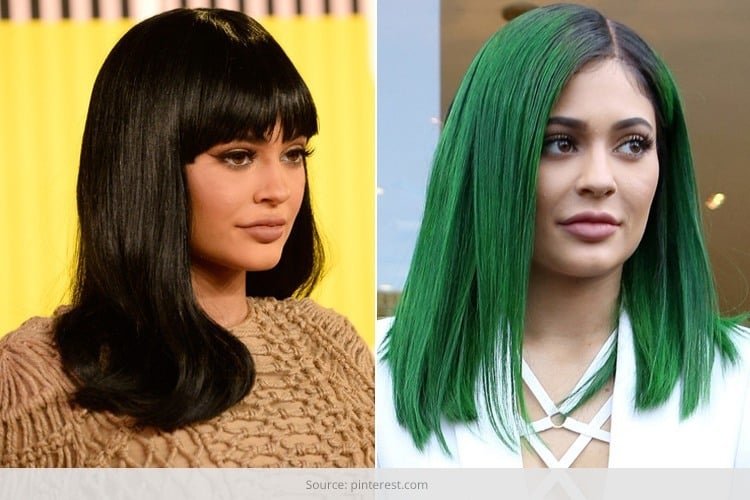 If there is one celebrity who is adventurous with her hair, it is Kylie Jenner. Popularly labeled as the hair chameleon, she grown to be an Instagram star and the ultimate Kardashian beauty. She has not only nailed the casual as well as the red-carpet hairstyles but has also mastered the alternative punky style. Having experimented with just about everything, she has dazzled in all. Below, is created a gallery of the Kylie Jenner hair in few styles to get the inspiration ideas overflowing.
[Also Read: Penelope Cruz Hairstyles You Could Steal]
Kylie Jenner Short Hair And Medium Hair Styles
Of all her hairstyles, many believe that Kylie presents her best look in short hair. What do you think?
1. Blunt Bob
While most celebrities adorn textured or heavily layered bib, Kylie Jenner's short hair stunned all with its edgy blunt bob style at Balmain x H&M event In NYC.
2. Wavy Bob
The wavy bob in a side part and carefully styled with plenty of gloss makes Kyle look no less than a female fatale. One of the hottest Kylie Jenner black hair look!
3. Short Hair With Bangs
This Kylie Jenner short hair style with bangs makes her look utterly cute and adorable yet feisty. The charm exuded by this Kylie Jenner haircut is simply irresistible.
4. The Flip
At the MTV VMAs, Kylie gave the flip hairstyle, her own sexy version and looked quite a bombshell with sheer ease!
5. Kylie Jenner Short Bob
Kylie Jenner's short hair looks are definitely an inspiration for all those girls who are looking at chopping their tresses. Here is one of the Kylie Jenner hairstyles to try out this summer.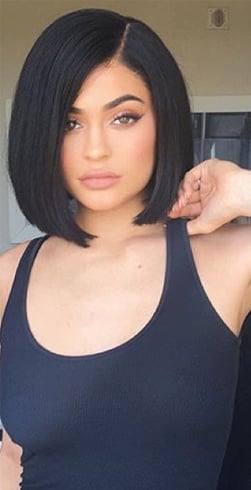 Kyle Jenner's Wild Splash With Color
Whether it's is normal range of accepted colors or the funky and perky ones, Kyle Jenner hair colors have successfully pulled each one off with equal aplomb. Check it out:
6. The Mint Greeny-Blue Hue Bob
Giving her bob the unique minty greeny-blue hue from the tips, Kyle oozed out an icy blue vibes with the warmth of black peeking through. A statement style Kyle Jenner short hair pulled off perfectly!
7. The Blonde Layers
Going all blonde with dark roots for the Cosmopolitan's 50th birthday celebration, Kyle was sensuality and elegance personified with her side part and tresses flowing freely.
[Also Read: Anne Hathaway Hairstyles]
8. The Candy Floss Pink Hue
For her Valentine's Day Romantic rendezvous with her boyfriend Tyagi, Kylie Jennifer hair color was candy floss pink. With a cute side part, bangs falling over the eyes and hair flowing freely about, she looked very sensual and lovable.
9. The Blond Ombre
The gradient style ombre adorned in spring 2014 is one of the best Kylie Jenner ombre hair style which look equally chic for both red carpet as well as casual events.
10. Kyle Jenner Green Hair
Of all the green hues adopted, Kyle's hair stood out in shocking deep green hue, especially against her all white ensemble. With just a simple side part, Kyle made quite a statement at the launch of her eagerly awaited lip kit in November 2015 with the bold jade hue.
11. The Blonde Hair Emoji
Kylie Jenner blonde hair with honey hues which Kylie rocked for one evening in October 2015 was actually a wig but few could pinpoint it. Undoubtedly she looked rocking!
[sc:mediad]
12. Long Turquoise Wavy Locks
At the launch of her hair extension line, Kyle sported the new turquoise extension on her tresses tossed into waves. If there was ever a knee weakening Kylie Jenner blue hair style, it is this.
13. The Mermaid- Esque Green
While Kyle had donned many hues of blues and turquoises but her opting for an all out mermaid-esque green shade was a complete stunner at the opening of the Sugar Factory American Brasserie in NYC 2015.
14. Kylie Jenner Blue Hair
Nobody can beat Kylie when it comes to experimenting with their hair colors. Here is another colored hair look which she has totally rocked.
15. Kylie Jenner Pink Hair
We girls love our various shades of pink, don't we? Well, looks like Kylie loves it too as she colored her beautiful tresses pink.
16. Kylie Jenner Red Hair
Kylie went bold and beautiful on her 19th birthday with a red fiery cornrows braided hairstyle. Don't you think the color and style looks perfect on her?
17. Kylie Jenner Purple Hair
Just when we thought that she couldn't top her red hair colored look, she went ahead and colored it purple and we must say she once again nailed the hair color.
18. Kylie Jenner Bleached Hair
On one of her shopping sprees, we saw Kylie sporting a unique hair style. She had tied up her hair in a top know which revealed a bleached section on the back side. Take a look at this Kylie Jenner blond hair look below.
Kylie Jenner Long Hair Styles
While Kylie looked sexy and cool in short hair styles, she looks equally glamorous and sensual in her varied long hair styles. Few of them are
19 The Classic Bun
For the InStyle and Warner Brothers Golden Globes after party, Kylie Jenner long hair was pulled back into a high bun and looked super elegant and sophisticated.
20. Long Straight Cut
Attending her presentation as the brand ambassador for Nip + Fab, Kylie sported the most iconic beautiful looks with an unusual long sleek straight style with a mid-part. The sheer simplicity and sensual aura exuded was mesmerizing.
21. Loose Ponytail
With her hair swept back and tied into a loose ponytail and few strands hanging about, Kyle's AMAs beauty look was stylishly chic yet ultra feminine.
22. Long Wavy Cut And Bangs
Kylie graced the MTV VMAs with her long tresses beautifully ironed with wavy ends. With rounded bangs covering her forehead, she was elegance personified and looked a real ace.
23. Ombre Hairstyle With Extensions
For the 2014 Halloween Party 2014, Kylie styles her hair in grey ombre which were made all the more alluring and mesmerizing with super long extensions. This Kyle Jenner haircut and hair extensions mesmerizing look, still make many hearts skip a beat.
24. The Curly Touch
Kylie Jenner curly hair is a standing testament of her mastery over hair styles. Giving volume and extra bounce to her long tresses with brown highlights, she looked drop dead gorgeous at the 'After Earth' premiere.
25. The Layered Cut
The layered cut look totally edgy and fun filled with Kyle adorning it at the Hollywood premiere of 'Ender's Game.' The side-part and the free unruly flow gave her the carefree beauty and a healthy dose of glamour.
[Also Read: Popular Jennifer Aniston Hairstyles]
26. The Punky Vibes
Hanging out at Coachella, Kyle uses a black floral garland to perfection to ooze off punky vibes. She pulls off the look very stylishly, looking pure ace.
Whether its Kylie Jenner's straight hair or Kylie Jenner's curly hair or Kylie Jenner's turquoise hair, this ultimate beauty chameleon gives tough competition to the Kardashian stars and carried all her hairstyles with such ease that it's hard not to fall into her spell. What do you think?