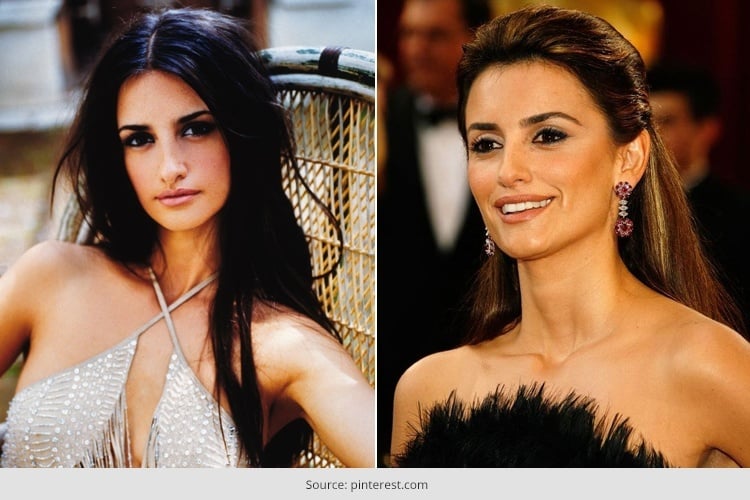 Penelope Cruz is a leading fashion icon for beauty, makeup and hairstyles industry. Penelope Cruz hails from Hollywood, has a style that is totally inspiring and worth checking out. She, with her perfect Disney-princess like long, dark hair looks beautiful in almost all her hairstyles. She gives hairstyles that extra edge with her beautifully distinctive facial features and perfect round face shape.
[Also Read: Popular Jennifer Aniston Hairstyles]
In this article, we are bringing you the top 25 Penelope Cruz hairstyles that your favorite Vanilla Sky actress has sported down the years. Read On…
Penelope Cruz Loves Taking The Long Route.
1. The Side Part
The Pirates of the Caribbean actress keep her hair parted to one side, with the other side tightly help up. An elegant look overall.
2. Sexy Braids
Penelope Cruz looks ravishing in the casual messy braids that are left without a tie, giving a rustic look to the Spanish actress.
3. Exquisite
Cruz is seen wearing her hair straight and mid-parted. Her hair here looks silky, shiny and lustrous, giving her an exquisite look.
4. Edgy
At a photo shoot, Penelope was seen to sport a vintage look with her signature bangs and long messy tresses.
5. Highlights
Penelope Cruz was seen in long, highlighted hair at 'The Counselor' Screening in London.
6. Layered
Here you can see Penelope sporting a signature Hollywood celebrities' hairstyle, long, layered and sexy.
7. Ravishing
Known for her sense of style, Penelope Cruz rocks the charts with extremely gorgeous side part that give volume to her hair and keeps the focus on her beautiful face.
8. Formal
Penelope Cruz looks classy, elegant and dainty with this simple mid-parted straight hair. Perfect for the office goers and even the evening parties.
9. Sleek
In this sleek straight hairstyle, Penelope Cruz looks like a Porcelain doll from an expensive collectibles store.
10. A Beautiful Mess
Penelope Cruz has rocked the looked a simple yet beautiful country girl here. Her hair styled in soft messy curls give her that ever innocent look.
Penelope Cruz Keeps It Peppy
11. Shoulder Curls
Curls on her slightly highlighted brown hair complimented her olive skin tone and full face well.
12. Wavy
Cruz was spotted at the airport with her wavy brown mane with locks to draw her face.
[sc:mediad]
13. Ombre
At a Mango event, Cruz sported Ombre highlighted tresses, which came as a welcome breather from the other typical Penelope Cruz Hairstyles
[Also Read: Hottest Ombre Hair Trend]
14. Blown Out
Penelope Cruz hair looks gorgeous in this recent photo shoot, Blown out on top and wavy in the end her burgundy hair does justice to her skin tone.
15. Sexy
Looks like these on our favorite Zoolander actress, makes fans wonder about Penelope Cruz hair secrets. The way she wears her hair here does justice to absolute style icon name that she has earned.
16. Ponytail
The Counselor actress looks pretty as a pixie in this Penelope Cruz new haircut, she could almost pass for a real life Disney princess with that cute ponytail clubbed with medium bangs.
17. Classic Bun Hairstyle
Elegant is how you define this hairstyle. The classic bun hairstyle looks gorgeous on her and we love how it gives off a very royal vibe. Penelope Cruz's dark hair looks stunning tied up in a classic bun.
18. Bun With Bangs
Adding a twist to her hairstyles is nothing new for Penelope. She once again rocked a classic bun hairstyle but she also added some bangs to it which instantly added a fun element to her overall look. Penelope Cruz's long hair is ideal for trying out such fun hairstyles.
19. Deep Side Part Straight Hair
Penelope wowed us all when she made an appearance with a deep side part straight hair. A very easy to achieve look, you should definitely try this Penelope Cruz straight hair look.
20. Ombre Hair Style
What do you think of this Penelope Cruz ombre hair style? We are totally crushing it and we think she looks just gorgeous with her long ombre tresses.
21. Stunning Curls
For one of her photoshoots, her hair was styled in to curls and we must say she took our breath away! Don't believe us? Take a look at the below Penelope Cruz curly hair style.
Penelope Cruz Wears Short Hair
22. The Retro Look
Penelope Cruz sported a retro updo at Oscars in 2012. Her nude dress and elegant jewelry do complete justice to her retro look.
23. The Bob
The Spanish actress is sporting a faux bob here, which paired with leather jacket gives her a biker-chic look.
24. Straight And Casual
Penelope Cruz is seen flaunting her signature hairstyle with bangs.
25. Updo
Penelope Cruz has her hair styled in a vintage inspired updo with bangs to add that extra oomph.
26. Standout
Penelope Cruz looks all so hot in her new short punk inspired hairstyle.
27. Chic
Penelope Cruz's hairstyle here is chic and minimalistic. A short hairstyle, with hair kept open, with her now slightly longer bangs styled to the side with a clean, small side parting.
[Also Read: Jennifer Lopez Hairstyles]
28. Pretty Updo
Here we can see Penelope Cruz sporting a very clean, sleek and sophisticated updo that all the hair off her face. From what it seems she got her basic updo done with braids instead of taking the routine route. This was a must on Penelope Cruz hairstyles list.
29. Chopped It Off
At one point of time, Penelope Cruz had also sported the punk bob. Her beauty was nothing near to cropped though.
30. Cute Updo
At a red carpet event, we saw our Favorite Penelope Cruz sporting a cute updo and an extended bunch of locks covering half of her forehead.