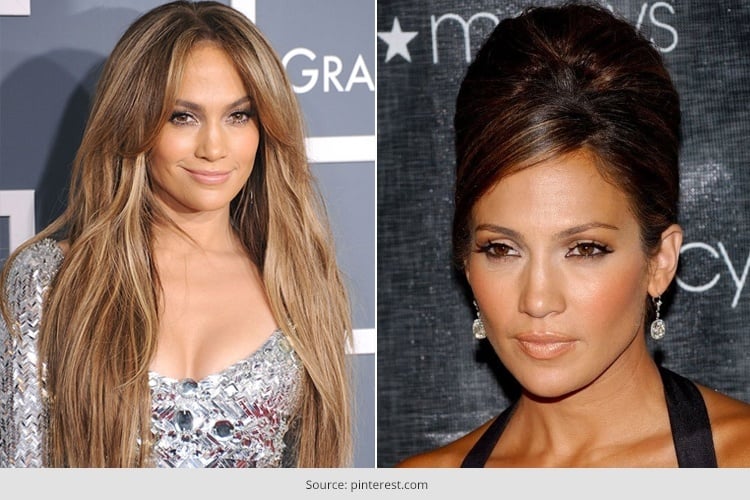 No conversation about popular global fashion icons can go complete without the mention of the sassy Latin singer and dancer Jennifer Lopez. Even after twenty years in the industry and being a mom of two kids, her persona and innovative hairstyles still makes your heart miss a beat. Exhibiting her keen sense of style and complete knowledge of what suits her face shape and skin tone, Jennifer has experimented with varied styles and updos meshing well with her signature bronzy glow. Let's check out some of the amazing Jennifer Lopez hairstyles through the years.
Jennifer Lopez Short Hair
Famed for her long tresses, Jennifer has no hesitation in adorning short hair and carries it off with great aplomb. Get inspired from the various Jennifer Lopez hair styles.
1. Voluminous Curls
For the 2002 Oscars, Jennifer gave her shoulder length hair the ultra-feminine finish with knee weakening curls and honey color highlights.
2. Short And Wavy
Here is another Jennifer Lopez haircut for short hair that you could try of you are looking for an image makeover. Do you think that's Jennifer Lopez's real hair?
3. Short Blonde
Sharp and sleek, the short blonde with brown highlights and proper styling is plain cute and perfect to beat the summer heat of 2005.
4. Side Swept With Curls
Jennifer Lopez hairstyles are a powerful inspiration to make you stand out in the crowd. This side swept curls hairstyle is as unique as the sexy Jennifer.
5. Curled Bob
At 2007 Oscars, Jennifer sported a short bob which when shaped with curls at the bottom acquired the cool edgy look. The heavy neck embellishment of the dress and the blingy studded hair brooch clinched the princess look of Jennifer Lopez short hairstyle.
Jennifer's Signature Long Hair
Finally, we list Jennifer's signature long tresses given a plethora of styles.
[Also Read: Kate Winslet Hairstyles]
6. Textured Waves
At the 2015 Golden Globes, Jennifer looked super hot with textured waves appropriately volumized. The loose flat front look with half mid parting seemed to provide a perfect balance and flaunt Jennifer's facial highlights to perfection.
7. Beachy Waves
The 2011 beachy hairstyle adorned by Jennifer made her look no less than a sultry mermaid on the red carpet.
8. Long And Straight
The long and straight tresses with layers at the 2011 Grammies with golden touch is all that Jennifer needs to mesmerize all.
[Also Read: Signature Hairstyles]
9. The Side Swept Look
The side swept long curls oozing with the honey glow and paired up with delicately smoky eyes and glossy peach lipstick shows how seducing Jennifer Lopez hairstyles are at the red carpet.
10. Thick Spirals
Giving her thick mane the spiral volumizing curls, Jennifer exuded the natural playful and naught vibes.
11. The Massive Braid
The massive stylish braid flaunted by Jennifer in the music video, 'Feel the Music' is not only an iconic style statement but also ranks amongst the best Jennifer Lopez braids.
[Also Read: Penelope Cruz Hairstyles]
Pony Dos
If you thought pony do's lack glamour and are not worthy of red carpet looks, check out Jennifer's hair styles. Pony dos may well become your ultimate style statement.
[sc:mediad]
12. Half-Up-Half-Down Ponytail
Check out her simple yet stylish half-up half-down ponytail which she adorned at the 2011 American Music awards post party. The hardly noticeable slight curl given when fixing the ponytail with the top layer is the trick for this bouncy hairstyle ideal for medium to long hair. One can easily recreate it at home and adorn as a daily hairstyle.
13. Low Ponytail
J-Lo graced the premiere of 'What to Expect When You're Expecting' with her luxe golden mane swept smoothly back into the low ponytail, made sexy with the slight curls at the tail. With the dramatic smoky0eded makeup and berry lips, Jennifer's total aura was sensuous to the core!
[Also Read: Anushka Sharma Hairstyle]
14. Loose Ponytail
At the HRC National Dinner, Jennifer made the loose ponytail look like the most fashionable hair style. The effortless looking long locks styled and let loose at the front definitely added the romantic touch. It certainly is one of the simplest yet glamorous Jennifer Lopez Hairstyles.
15. The Braided Ponytail
In 2009, the ultra long and sleek plaited ponytail looks so alluring that one can't help but look twice.
16. Long Braided Ponytail
A Jennifer Lopez haircut is your ultimate styling mantra and her hairstyles are always an excellent source of inspiration. Look at her rocking this super stylish and unique hairstyle. This Jennifer Lopez ponytail hairstyle is the perfect choice to add a touch of fun to your look.
Hair Buns
Jennifer is known to sport the 'casual look' with effortless expertise. Her long tresses allow her free experimentation with all kinds of buns. Today she had become a live education for it. Let's refresh some the most amazing Jennifer Lopez hair buns and updos.
17. Messy updo
At the MET Gala, Jennifer's messy up looked extremely casual and chic but it really required the expert skills of a stylist and of course! Attitude to carry it off!
18. Turban Roll
Flaunting the glorious volume of her long tresses, watch Jennifer adorn this bird nest type turban roll complimenting her lengthy gown at the Backup Plan Premiere. Looking like a queen with complete makeup. No wonder this statement hairstyle got the tongues wagging!
19. High Glamour Updo
At the annual academy awards 2012, this high glamour wet updo is a perfect knockout against the white gown.
20. Top Knot
I love this Jennifer Lopez top-knot styled for the AOL Build Speaker Series. The chic diamond hoops and the diamond rings ensemble complimented the top knot to the hilt.
21. Faddish Punk Style Updo
At the Met Ball, Jennifer effortlessly upped the fashion ante with her high rise punk style super quiff! With dramatic eyes, the hair style was a complete winner.
22. Bee Hive
At the 2005 Red carpet event, this bee hive looks complete chic, elegant and mesmerizing against Jennifer's perfect smooth complexion.
23. French Twist
The warrior princess tightly twisted French updo styled for the AMA performance looked ultra modern and rocking on Jennifer.
Be it any hairstyle or color, Jennifer Lopez can be trusted to come out with a winner look and enthrall all without looking loud or over the top. The best part is that most of her looks and styles can be easily adopted and adorned by many.
24. Braided Bun
Jennifer Lopez hair bun hairstyles are always on point and we are totally in love with this braided bun hairstyle. This neat and absolutely sleek braided bun is giving us major hairstyle goals.
25. Chignon Braided Updo
This Jennifer Lopez hair updo is one of the classiest updo that she has ever sported.