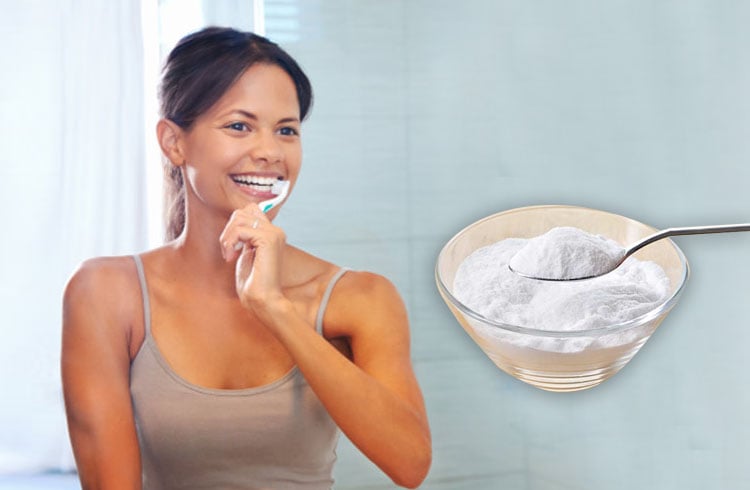 Those pearly flashes, like we see on glossy magazines and on the red carpets flaunted by our B-town girls and celebs, we all want that smile. Radiant, stain free and healthy looking. Save your time, money and energy and boost your oral health too, brighten up your smile as well; thanks to the introduction of baking soda for brushing teeth.
The homemade DIY teeth whitening recipe has been tried and tested by many across the globe. And guess what? It has proven to be a success. Here is more on the same that we have penned down for you- why use baking soda, the recipes for your teeth whitening at home and more; check them all out!
What is Baking Soda and why is it used for Brushing teeth?
From baking to odor removal, cleaning and shining stuff to putting out a small fire, baking soda or soda bicarbonate as it is known in the market has been used at home extensively in more ways than one.
In the world of dentistry, dentists opine that there is a good amount of baking soda in toothpastes, which gives us white teeth. Since it is abrasive by nature, baking soda enters the deepest parts of the gum and the teeth and cleans them all.
It is safe to use in moderation, and this is why we would like to share with you a couple of recipes on how to use baking soda as your tooth scrub at home. Please read on and be well-informed for the same.
How to Whiten Teeth with Baking Powder?
If you would like your teeth to lighten and whiten a few shades from what it is now, baking soda can help. It also remove discolorations and stains too. Moreover, baking soda is 100 percent au naturale, which means, it has nil to none side effects when you know how to use it and when you use it in moderation too.
Step-by-step
To begin with teeth whitening using baking soda at home, you would need the following.
A mixing bowl
A teaspoon of baking soda
Some water
Direction
In the mixing bowl, add the two ingredients and mix until a white paste is formed.
Now dip your toothbrush in it and then brush your teeth as you normally do.
Once the brushing is done, rinsing your mouth as you would naturally can be followed with plain cold water.
Tip:
To further enhance the whitening effect, once a week it would be okay to add a few drops of hydrogen peroxide to the fresh mix. This would enhance the natural bleaching effect.
How frequently can it be used?
Note:
Everyone wants to know if the use of baking soda is safe for the teeth whitening regime or not? So here is the lowdown on the same-
Ensure that the toothbrush is wet well and then dipped into the baking soda mix before the teeth are brushed
When the baking soda touches the teeth, grind the granules with your teeth for a couple of seconds to form a foamy paste in the mouth, and then start brushing for not more than two minutes.
If you use fluoride toothpaste, alternating the same with baking soda mix isn't advised. The former is a much healthier option for the teeth. What you could do is after using the baking soda mix, you can wash off and use fluoride toothpaste normally.
Never use baking soda if your gums bleed, you wear braces, or retainers
Small quantities are to be used when baking soda and hydrogen peroxide are in question.
With that we end the discussion on how to use baking soda to brush your teeth and whiten it too. Now let's take a look at the benefits it has in store for us.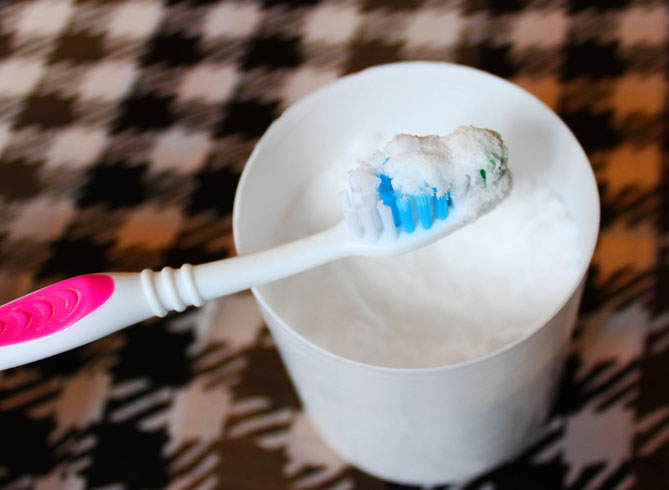 [sc:mediad]
Brushing Teeth with Baking Soda Benefits:
Baking soda for long has been used as an antidote to discoloration of the teeth and to brighten the set of teeth we have. Apart from this, medical science says there are other benefits you could have, using baking soda. Some of them are.
Your teeth are cleansed thoroughly, and very effectively.
You don't spend a bomb when using baking soda- cheap and effective
While cleaning your teeth with baking soda, you also fight bad breath because of the acid level balancing in the mouth
Gum diseases can be brought down
Swelling of the gums are brought down'
Plaque removal happens
Mouth ulcers are taken care off'
With the benefits of using baking soda understood, we now would like to share guidelines on how to use baking soda to whiten your teeth at home. Please read on!
Guidelines for Brushing Teeth with Baking Soda
Baking soda and vinegar:
Vinegar helps balance the acid levels in the mouth and helps fight plaque, bad breath and can also reduce gum swelling. Baking soda on the other hand can be a mild abrasive to remove stains and brighten the teeth.
[sc:mediad]
Ingredients:
Directions:
Add a teaspoon of vinegar to a teaspoon of baking soda.
Make a paste and dip your wet toothbrush in it.
Gently brush your teeth each morning as you would normally do.
Rinse your mouth with cold water and then follow up with brushing your teeth with fluoride toothpaste.
How frequently can it be used:
Daily once in the morning
Note:
Not more than a minute of brushing with baking soda is advised here.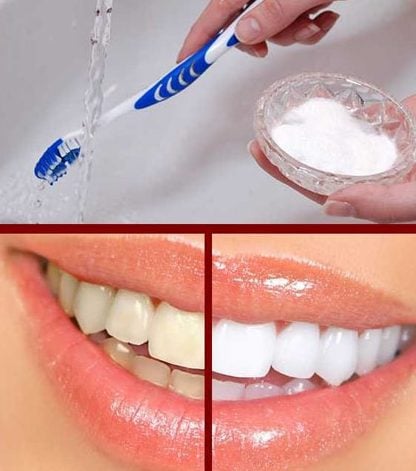 Baking soda with toothpaste:
For most of us, the thought of using baking soda alone to brush our teeth causes an icky feeling. This is normal, but since you want to whiten your teeth naturally, we have an alternative for the same. Using toothpaste and baking soda together, will be of great help. Here's how to do it.
Ingredients
Fluoride Toothpaste
Baking Soda
Directions
Wet your toothbrush and apply a dollop of your favourite fluoride toothpaste on it.
Gently dab a pinch of baking soda onto the layer of toothpaste and then start brushing your teeth gently with the same.
Not more than a minute, and then you shall stop brushing.
Rinse your mouth with cold water, and carry on for the day.
How frequently can it be used:
Once a day with baking soda dabbed on the toothpaste is more than enough.
Note:
Not to be used if you have chipped teeth.
Baking soda with strawberries:
For a sweet yummy flavour each morning to tingle thy senses and the mouth taste buds, you can add the sweetness of strawberries for the same while brushing your teeth with baking soda. In addition to caring for gum health, strawberries with its vitamins and antioxidants can care for the health of the oral cavities and the gums and teeth at large.
Ingredients
Directions
Make a paste of two strawberries, into which you shall add a teaspoon of baking soda.
Mix them well to form a pinkish paste and then dab your wet toothbrush in it.
Gently start brushing your teeth and do so for a minute.
Wash and rinse your mouth with cold water, and carry on for the day.
How frequently can it be used:
Note:
Do not brush your teeth for more than a minute.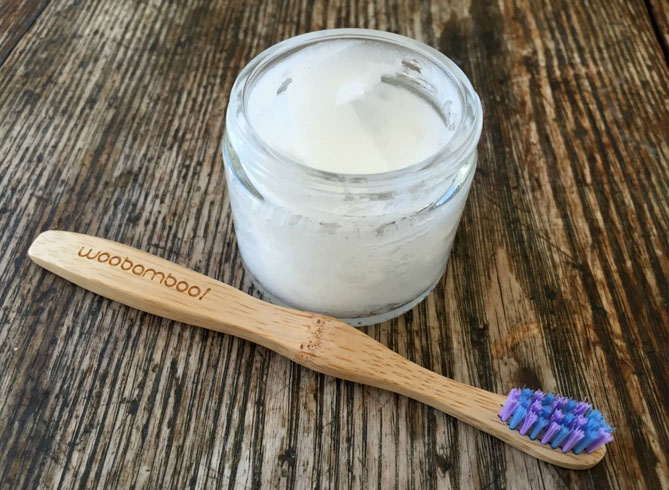 Baking soda and hydrogen peroxide:
Hydrogen peroxide helps accelerate the process of teeth whitening and brightening, and doesn't have side effects to deal with, when you use it in moderation. Moreover, this solution helps kill bacteria in the mouth too and fights bad breath.
Ingredients
Baking soda
Hydrogen Peroxide
Directions
We shall begin by mixing a tablespoon of baking soda with a few drops of hydrogen peroxide to form a paste.
The gooey paste would be white in color and placed on the toothbrush.
Gently start brushing your teeth and focus on the surface of the teeth more.
Rinse off with cold water and spit the contents out.
How frequently can it be used:
Note:
Not more than two or three drops of hydrogen peroxide should be used. Not for sensitive and chipped teeth, and not more than twice or thrice a week this recipe should be used. At all costs, do not swallow this mixture!
Since you prefer using a toothpaste and not just the powdered form of baking soda to enhance the whiteness on your teeth, here is a simple homemade DIY baking soda recipe for toothpaste to make and use at home. Please read on and try!
Baking Soda Toothpaste Recipe:
Description:
To make DIY homemade baking soda toothpaste, you don't have to run helter skelter searching for ingredients. Here is a very simple technique to make an effective home toothpaste, which would bring in the pearly flash you so desire to have. Take a look.
Ingredients:
2/3 cup baking soda
1 tsp fine sea salt
1 – 2 tsp peppermint extract
filtered water
Procedure:
In a mixing bowl, mix the entire ingredients one at a time and with gentle touches to form a gooey smooth paste.
Dab a wet toothbrush in it and gently start brushing your teeth with it.
Rinse your mouth after a minute and you are done.
Tips if Any:
If you have high blood pressure or find using salt makes the taste undesirable, don't use it.
Note if Any:
Once a day to use this paste is more than enough
We thus have told you all about how to make your own DIY toothpaste using baking soda at home. Now most of us would want to know if there are any pitfalls and side-effects using baking soda? Would it do any harm to our teeth and oral health? Let's take a look.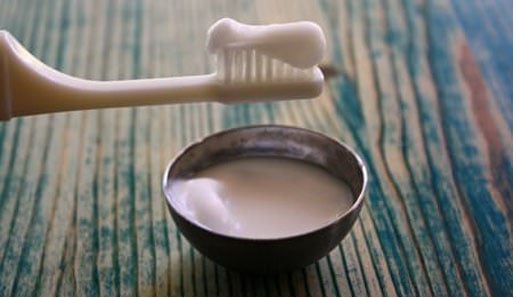 Baking Soda for Teeth Side Effects:
There are many pros to using baking soda and helping whitening your teeth; now here are the cons to be wary about.
The ADA or the American Dental Association has not approved the use of baking soda for teeth cleaning and whitening.
Since baking soda is mildly abrasive by nature, an overuse of the same can make the enamel weak, the teeth sensitive and dental cavities more vulnerable.
Minerals from the enamel of the tooth can be lost when you use baking soda, because it doesn't have fluoride content in it, and hence cavities can happen.
You may feel a tingling burning sensation in the mouth when you use baking soda
If you wear braces or retainers on your teeth, avoid the use of baking soda since it can damage the dental glue that holds the instruments in place.
It is a messy affair using baking soda as a tooth whitener or a cleaner, and not neat.
The unpleasant taste and feeling of baking soda in the mouth can be harrowing for some
So here was a mini guide on the effective uses of baking soda and how best you can use them as a DIY teeth whitening regime at home. We hope this information comes in handy for you.
Disclaimer: This is a post for informational uses only and is not a substitute to the oral regime you use daily. For further clarifications on teeth whitening and oral health, kindly check with your dentist. His or her words would take precedence over what is written here and elsewhere online.
Flash those pearly whites!
Images Source: pinterest
Recommended Articles
How To Get Rid Of Swollen Taste Buds
Toothache Home Remedies
Bleeding Gums Home Remedies
How to Cure Bad Breath Naturally