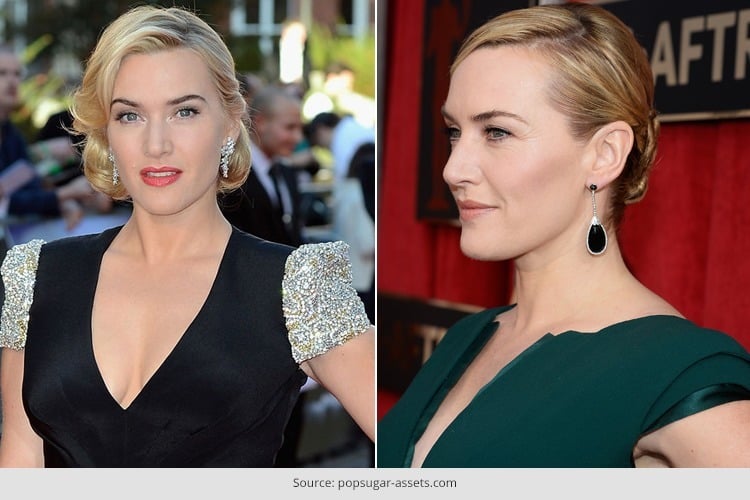 Down the revolutionary road, this Oscar winning actress and Grammy winning singer, Kate Winslet has sure upped her acting style and fashion quotient over the years to an enigmatic high. The diva does not fail to charm us with her square face frame and stunning English Rose looks even after 20 years in the industry. She sure had her platoon of primpers but over the years she honed and learned paparazzi loving looks. Her long spanning career took her to several awards, shows and places where she consistently dazzled with her looks and hair updo's. Some celebs look better with age and Kate Winslet has proved she belongs to the genre. Let's reveal some of our favourite Kate Winslet Hairstyle picks.
CELEBRITY HAIRSTYLES – KATE WINSLET
1998, Oscars
Off from the Titanic frenzy, the actress took a gothic glamorous turn, sporting russet ringlets and matching bottle-green, gold brocade Alexander McQueen gown. The chocolate brown cascade brightened her skin tone while the curled locks beautifully depicted her playful side.
[Also Read: Jennifer Aniston Hair]
1998, Kate Winslet's Wedding
Donning beautiful crimson hued locks in soft waves flowing across her shoulders over white wedding gown looked divine. Kate Winslet looked gorgeous with a crustal studded head gear and half-tied updo.
Holy Smoke, 1999 – Kate Winslet Short Hair
Kate chopped off her long tresses to play it risky and experiment with style. She was spotted sporting a punky crop with subdued highlights.
[Also Read: Signature Hairstyles]
On Sets of 'Eternal Sunshine Of The Spotless Mind', 2004
Orange, bronze hued tresses will send the punk vibes across strong and sure. But when it comes to Kate Winslet hairstyle juxtaposed with her porcelain complexion and elegant bone structure you, she looks every bit naïve and adorable.
Oscars 2005
Leaving soft tendrils cascading her face; messy curled tresses beautifully flowing over her neck nape and hovering over her shoulders, the actress looked every bit vintage exuding old world charm and glamour.
[Also Read: Best Dressed Celebs At The Oscars 2016]
Revolutionary Road Premiere, 2008
Kate manages to look effortlessly stylish when it comes to her hair. Donning scrunch dried waves in blonde the actress looks every bit a diva! We have seen many Hollywood celebrities hairstyle in this style, haven't we?
Oscars, 2009 – Retro Hairstyle
Channelling retro glamorous aura this celebrity hairstyle took inspiration from the 40's. Kate Winslet matched her old Hollywood style to her golden locks. With no hair out of place, she sported an immaculate faux bob.
[Also Read: Anne Hathaway Hair]
Venice Film Festival, 2011
At the premiere of Carnage, Kate Winslet hairstyle and dress appalled every onlooker. Sporting a curve-hugging dress and puffed ponytail, she sparkled high in a Jimmy Choo.
[sc:mediad]
Kate Winslet At Emmy Awards, 2011
Kate gave a classic hairdo a contemporary twist with wavy fringe and textured tresses. If you are looking for hairstyle with bang inspiration, it is right here in your lap. This couldn't get any better.
[Also Read: Best Dressed Celebs at the 2014 Emmy Awards]
Kate Winslet At British Vogue Cover, 2011
Kate traded her long blonde tresses for an extreme style change, she donned pixie cut in platinum, stunning the paparazzi and industry alike!
Kate Winslet At Mildred Pierce Premiere In March 2011
Donning a Stella McCartney dress with contrasting patterns juxtaposed, Kate looked stunning with her gorgeous features and retro hairdo. She pulled-back her blonde locks in loose, wavy, classic updo which looked every bit chic.
Kate Winslet at Premiere of Titanic 3D, 2012
Even after 15 years of release of Titanic, Kate stunned the paparazzi while the audience drooled over her elite choice and chic updo. She chose to keep her makeup minimal, while bring in old Hollywood Glamour with her immaculate hairdo and red pout.
Hollywood Walk Of Fame, 2014
Parted at the centre, Kate donned a sexy, tousled bun. She pinned her hair back but left some tendrils loose for a soft touch and gave her signature ringlets an elevated high.
Divergent Premiere In 2014
Kate looked casually careless with her perfect long sophisticated waves and sexy side bangs contouring her facial frame. If you are looking for an easy, playful yet classy Hollywood celebrities hairstyles inspiration – don this look.
Kate Winslet At TIFF 2015
At the 2015 Toronto International Film Festival, Kate donned a vintage, chic, centre parted updo and low messy bun.
Kate Winslet At Golden Globe Awards, 2016
She paired a perfectly stylish updo with her electric blue dress. She made a style statement with 1920's inspired voluminous updo, textured bangs and side bun.
SAG Awards, 2016
Kate looked classy in an Armani gown and slicked, classic hairdo. She had her tresses parted sideways and tied into a low-lying twisted chignon!
BAFTAS 2016
Relaxed, tousled and layered; Kate Winslet donned a casual hair-do with her blonde locks flowing down the shoulders and caressing her cheeks. She rocked the looked with cherry lips and feline flick.
Kate Winslet, now a mother of three has travelled a long way in Hollywood. If you are looking for romantic, vintage inspired, old Hollywood charmed hairstyles, Kate Winslet is your right inspiration!