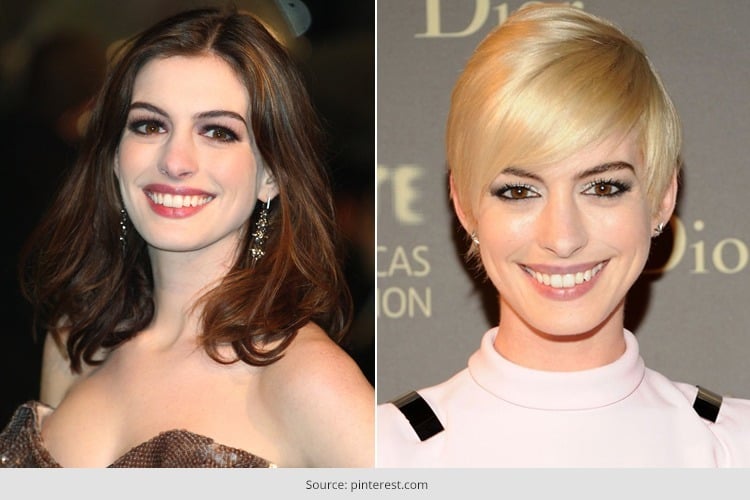 Adored by America, the beautiful actress, Anne Hathaway leaves no stones unturned in making a statement with her graces and twirls at awards and public appearances. A lot of buzz speculates around Anne Hathaway hairstyles and how she manages to pair it with outfits to perfection. It helps to have that perfect oval face with huge-expressive eyes to divide the attention. Here are some of her hairstyles that left us mesmerised through time.
ANNE HATHAWAY SHORT HAIR AND LONG HAIR STYLES
Anne Hathaway's Glorious Pixie
1. The Innocent Pixie
Anne Hathaway looks like a picture of innocence with a pixie cut that finishes off with a jagged cut and covers the front part of her head.
[Also Read: Penelope Cruz Hair]
2. The Neat Pixie
As far as Anne Hathaway haircut is concerned, this neat pixie cut had to be the most sophisticated of them all. The side parting makes her look smart, clean and matured.
3. Dark Brunette Pixie
Anne Hathaway short hair mastery is very well reflected in this pixie cut with bangs lending a soft look to her face. She dazzled all at the 70th Annual Golden Globe Awards with her feminine charm.
[Also Read: hairstyles for pixie cuts]
4. Pixie With Casual Bangs
Be inspired with this Anne Hathaway, short haircut looking free and casual with fine short layers covering her forehead. The brown colour highlight ups the glamour quotient.
5. Startling Blonde Pixie
No words are enough to compliment Anne Hathaway's blonde pixie hairstyle at this appearance. She looks ripe and ethereal with the glossy, clean and smooth covering of hair.
[Also Read: Black and White Hairstyles]
6. Swept Pixie
Anne Hathaway styles her pixie haircuts quite differently at most times. At the 19th Annual screen Actors Guild Awards, she swept her front layers back with panache.
[Also Read: Anushka Sharma Hairstyle]
7. Jazzing Up The Pixie
Anne took up her hair in waves and pinned the strands to keep the look assembled. This might've taken her styling mousse and spray to handle, but was totally worth the stir.
8. Short And Asymmetrical
As we can see, it is mostly pixie style with Anne Hathaway when it comes to short hair. But once a while, she would pleasantly surprise us with her altering hairdos, one being an asymmetrical slightly wavy haircut.
9. Wishful Waves
Waves hair do never fails, be it short hair or long hair. Anne took this style with her short hair and left us spellbound. Parting her hair midway and giving her tresses hard intact waves, she added volume to her look.
10. Soft Bob Style
This soft bob Anne Hathaway hairstyle is the perfect hairdo for any business talk or affair. It adds the matured and sophisticated look to her, don't you agree? A classy finish is what this Anne Hathaway short hair style is going to give to elevate the look.
The Fuss-Free Shoulder Length Hair Of Anne Hathaway
[Also Read: Hair Styler App]
11. Medium Wavy From The Bottom
Anne looks ravishing and fresh as she flaunts mocha coloured locks which enhances her eyes as she waltzes into the after party of the Valentino: The Last Emperor premiere.
12. Straight And Simple
Showcasing her penchant for fuss-free hairstyles, Anne makes an impact by carrying off her straight medium length hair with grace.
13. Cute Waves
At the 15th Annual Screen Awards, Anne looks perfectly stylish with soft waves of mocha coloured shoulder length hair. The tinted highlights added an edge to the hairstyle.
[sc:mediad]
14. The Retro Side Parting
Anne aced the retro, classy dress up with a glorious hairstyle to set it apart. The deep side part ending in generous curls makes for an amazing treat to the eyes.
[Also Read: Hairstyles For Shoulder Length Hair]
15. Puffed From The Front
This shoulder length hairstyle looked stunning on Anne at the costume gala. The bouffant was sheer retro and was set off nicely with the curls at the bottom.
16. Curls With A Tiara
Anne Hathaway blonde hair, tamed or untamed, is a treat to the eyes. She looked like a princess with free flowing curls and a crystal tiara fitted around her head.
17. Highlighted
Anne sports the simplest of haircuts and makes it look glamorous with the bronze highlights and a dress to match.
Goddess Of The Buns – Anne Hathaway
18. Loose Bun
As the host of the 2011 Academy Awards, Anne chose to sport a loose bun with smooth tendrils falling onto her face. She looked delicately feminine with the bun ending up at the nape of her neck.
19. Dark Retro Updo
Anne Hathaway's retro hairstyle in this picture reminds us of Audrey Hepburn in so many pleasant ways. Kudos to her ever versatile nature for pulling it off with flying colours!
20. Bun In A French Twist
For an unusual dramatic look, Anne pairs her low French twisted bun with an unusual volumized twist to her bangs. This gave height and substance to her look.
21. High Braided Bun
For one of the Oscars event, the pretty lady dressed up like a princess and wore her hair in a tight high bun. The bun totally gave her the perfect fairytale look and she carried it flawlessly.
22. Chignon Bun
It's amazing how she handles her hairdos. If you notice, Anne Hathaway hair colors are ever altering and her glowing complexion raises no objection to it. Giving herself a vintage aura, Anne Hathaway pinned her medium hair into a swirled bun and clipped in a brooch to it.
23. Side Braided Band
Be it a pixie haircut or medium hair or long, Anne Hathaway managed to go bun style with interesting braid bands. Here is an image of the gorgeous beauty that elaborates the side braided headband woven into a bun. Interesting, isn't it?
24. Half Bun
The way Anne Hathaway plays with her hair is a joy to watch. So far, we have seen her with pixie cuts, bob style, with bangs, wavy hairdos, curls and swirls and even buns, and yet she manages to puzzle us with her playful spirit. Here is a half bun look that she carries with the same panache that she carries any other style.
Long Hairstyles Worthy Of Hathaway
25. The Casual Middle Parting
Sporting the 70s look, Anne looks sexy and gorgeous with long tresses given a deep middle part and abundant copper highlights and finished off with the sensual waves at the lower half.
[Also Read: Easy Hairstyles For Long Hair]
26. With The Headband
Anne Hathway long hair aces the cute schoolgirl look with the puffed, headband adorned look. The sleek and straight dark hair falling perfectly styled gives an edgy sophisticated finish.
27. Perms
Anne is the picture of casual perfection in this picture with her long perms falling free on her shoulders.
Equally famous like all these hair styles is the Anne Hathaway Les Miserables hair and Anne Hathaway cat woman hair. Check it out here:
Anne Hathaway carries all hairstyles with easy grace and confidence. If you shy away from experimenting, copy one of her looks for starters.