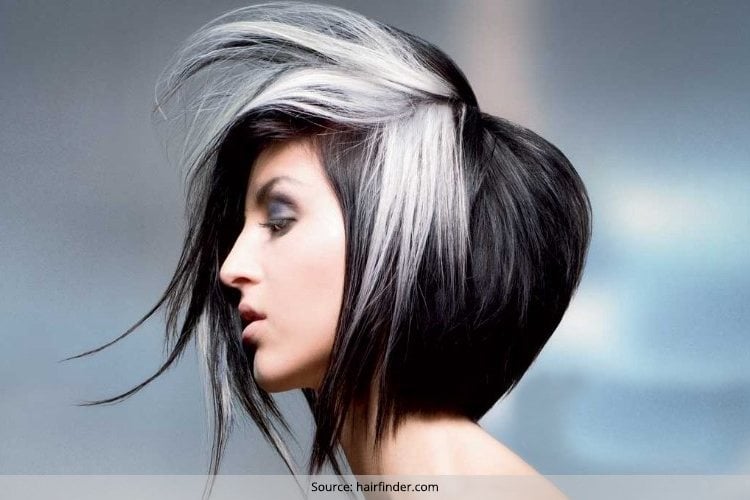 The contrast black and white hair color trend has got us gaping in awe and shock. If you've been searching for unique and eye-catching Hair Color Ideas, then you should definitely consider this.
[Also Read: Red and Black Hairstyles]
Black and white hairstyles caught our interest, thanks to all the amazing pictures that we've seen of this super cool trend.
Black And White Hair Styles
Here are some really awesome black and white hairstyles that we want you to see! How about you take a look to see if the black and white hair is a hit or miss for you?
1. Black To White Ombre
Belive it or not, black to white ombre is one of the tamer ways to rock the black and white hair color trend. You need to make sure the transition from black to white looks blended and that there are no harsh lines to disrupt the ombre effect.
2. White Bangs
If you've got bangs, then this hairstyle is prefect for you. All you need to do is to color the front of your hair (bangs and a little of the front section) white and color the rest a stark black color. Edgy, cool, black and white hair color anyone?
[sc:mediad]
3. A Dash Of Black
If you are not a fan of the dramatic black and white hairstyles, then take a look at this subtle version. Here, all the hair is white with just a small section towards the front end being black. Of course you need to have a nice short bob to carry off this look.
4. Color The Roots Black
This one is similar to the ombre look, but just that it looks more like your hair has grown out and you haven't touched up your roots. So your hair is black at the roots and then gradually turns into a soft white color. Not an easy hairstyle to achieve but results in an awesome look.
[Also Read: Best Black Hair Dye]
5. Black Underlay With White Overlay
As the name suggests, this involves coloring the top (visible) layer of the hair white and coloring the bottom (less visible) layer black. This black and white hairstyle results in a nice subtle salt and pepper look.
[Also Read: Black Hair Growth Secrets]
6. Split Dyeing
If you are up for an edgy black and white look, then this split dyed effect will work for you. Part your hair in the middle, color one half black and one half white.
7. The "Oh, Hell No!" Black And White Hairstyles
So now that we've taken a look at some of the cool black and white hairstyles, here are a couple of hairstyles that will have you cringing at how horrid and uncool they are.
Sure highlights are great when they are done well. But when they are done like this, they are just a nightmare inducing mess that will give you sleepless nights.
"Oh my god! No!" is what most women say when they see this black and white horror. The thick white streaks at both sides with the rest of the stark black hair manage to successfully scare even the most courageous of women.
8. Alternate Dye Game
If asymmetry is your game style, then play the same theme in black and white with your hair. Part your hair mid way and ease out from white to black on one half of the hair and vice verse on the other half. Usually it goes great with curls as you can see.
9. Borders And Contours
This is a style that can be easily adapted. It looks very polished and definitely doesn't scare the hell out of people. It is like drawing an outline to a feature. Give yourself a neat defined haircut and just dip the tips of the hair all along the haircut in black dye to get this killer look.
10. Spark In The Night
If you are not comfortable doing a major white shade on your hair, go the sparkle style. To your all black hair, along the haircut, just highlight the front portion. This black hair with white ends will bring out the sparkle of your eyes and highlight your features.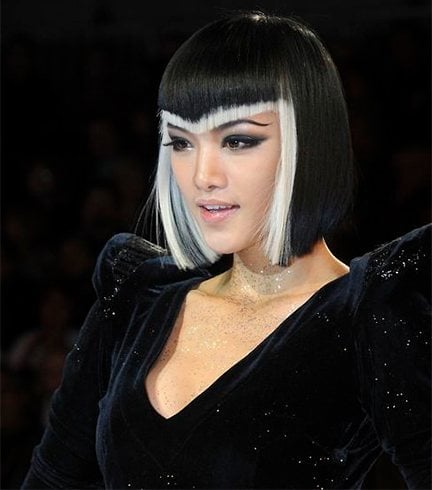 11. Patchwork
One black and white hair color styles that you can try for a Halloween party is the lightning or patchwork pattern. Give your all white hair jolts of black dye in horizontal lines and finish the look creating an air of mystique.
12. Spirals
So far we have looked at either the horizontal lines of dyeing or the vertical, and now we have the mind swirling spiral pattern. It's a work of art and definitely needs expert hands at work. Starting from the top of the head, create spirals all along the hair in symmetry to achieve this look.
13. Streaked
Very common is the streak style and you are familiar with the hide and seek streaks all along the hair, but this subtle brush of black dye on the white is unique and trending.
14. Matrix
Here is one more of the black and white hair color ideas that anyone can boldly try. It's more like a code printed on a black screen, don't you think? With a touch of white going high on one side and low on the other, this is a eye-catchy style.
15. Dashed Lines
Looking for a more modest form of black and white hair color style, then try this one out. Like continuous dashed lines, this style is bound to get you all the attention you seek. A perfect party style to rock!!
So yeah, as cool as black and white hair can be. It can also go seriously wrong if you don't know what you're doing. So go to a hair coloring expert or do your own coloring after watching tutorials and stuff.
This trend is definitely not for everyone, especially because it might be too risqué for your liking or your workplace might frown upon that kind of thing. But if you are up for it and circumstances are in your favor, then you can give one of the above hairstyles a try.