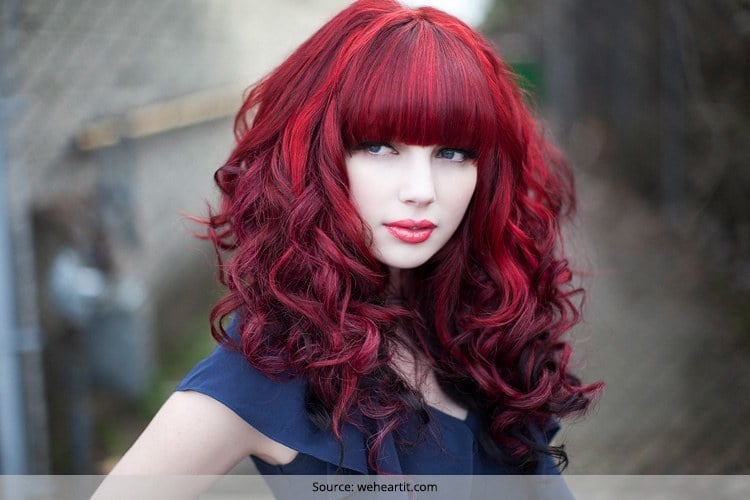 Okay, so the red and black hairstyles or rather color combination is nothing new. The trend has been hot ever since hair colors became an 'in' thing. So why do we love this trend? Well, simply put, the red and black hair color combo is like the LBD, it just never goes out of fashion.
Red And Black Hair Color Ideas
If you love the combo as much as we do, then check out these cool red and black hair color ideas. You can always do the much loved, and done, red and black highlights. But if you want a little twist to your hair, then you should take a look at our favorite red and black hairstyles listed here.
[Also Read: Hair Colour Ideas For Indian Skin]
1. Top Hair Red and Bottom Hair Black
Say hello to this awesome red and black hairstyle people! You start off by parting your hair into two sections – top and bottom. Then you color the top part a nice vibrant red and the bottom half black. The end result is a really cool, dare-to-be different look. The black hair peeks out from all the red on top to create a fun red and black combo look.
[Also Read: Natural Black Hairstyles]
2. Frame Your Face With Hot Red Flames
Frame your face with red hot flames! This is one of our absolute favorites of all the red and black hairstyles out there. It involves coloring the ends of your bangs and the rest of your hair red to nicely frame your face with bright red color. Paired with black hair, this is a very trendy look that gets our nod of approval.
[sc:mediad]
3. Top Hair Black and Bottom Hair Red
Flip the Top Hair Red and Bottom Hair Black hairstyle to end up with this look. Here, the black will be on top and so look prominent, while the red on bottom will give a peek-a-boo effect, resulting in a unique but still subtle red and black look.
[Also Read: Pretty Haircuts For Long Hair]
4. Chunky Red
This is the easiest and safest option if you are not sure about the red and black look. Just take a couple of chunky sections of your hair from the bottom front section and color it red. By doing this, not only will you give your hair a fun burst of red, but you won't have to color all of your hair. Saves time, effort, and money. That's a win-win-win situation in our books!
4. Half Red And Black Hair
If you are a daredevil who loves to experiment with shocking hair color trends, then this one is right up your alley. Half red and half black hair is exactly as the name suggests. One half of your head is black and the other half red. Totally an "OMG" look, that's for sure!
You need to be really sure about this red and black hair idea because it is definitely a bold look and may also be frowned upon at certain places like your workplace. If you are dead set on trying it out then how about trying it out at your next Halloween party?
6. Dark Red Black Hair
Flaunting a red and black hair is not everyone's cup of tea so you need to make sure that you are comfortable before you try out something like this dark red black hair.
The emphasis is more on the color red with little hints of black. This would be a definite hit with those who love the color red.
7. Ombre Red And Black
The ombre trend is in full swing so why not try it with red and black hair ideas? The ombre red and black is the perfect choice for those who don't want their red and black hair to look too fancy and gaudy.
8. Black Layer And Red Bangs
Here is another option that you can try out while looking for red hair ideas. Instead of coloring your entire hair in red, how about you leave the layers in black and just highlight your bangs with a deep red?
Wouldn't that make you look like a total bombshell?
9. Red And Black Razor Cut
There are umpteen choices for short haired girls to choose from while searching for red and black hair ideas. One of the trendiest looks that you can sport with red and black hair is the razor cut.
Those red and black fringes are sure to give you an edge over the others.
10. Streaks Of Red Through Black
It's time to give your long black tresses some streaks of curly red hair. Sounds like a good red and black hair idea but wondering how you would look? Just check out the below image and you will get the idea.
Hair Color Tip: The one problem with coloring your hair red is that red color tends to fade much faster than other colors. So using a color protecting shampoo and conditioner is of utmost importance to ensure that your color lasts and looks vibrant for as long as possible. Use some deep conditioning mask to keep frizz and dryness at bay.
Cool Tip: If you don't want to commit to coloring your hair red, why not try out how it looks with some hair coloring chalk or temporary hair spray?
We saw, we loved, and we wanted to share these awesome red and black hairstyles with you! If you love these looks and have been inspired by these cool new ideas for the red and black hair color trend, then our work here is done.