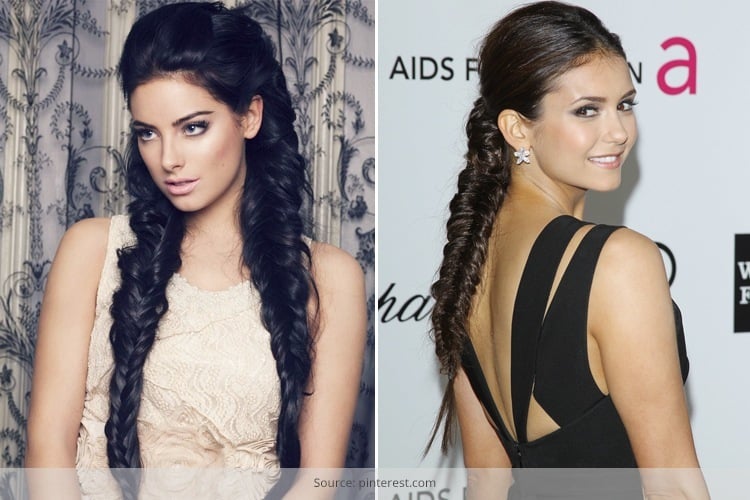 If you have gorgeous, naturally black hair then it is a sin to not show it off. There are so many natural black hairstyles that you can try out that will make your hair look awesome. Whether you want to put your hair in the spotlight or let it take a backseat and just complement your makeup and dress, we've got a hairstyle for it all.
[Also Read: Stylish Hairstyles For Oval Face]
Take A Look At Some Gorgeous Black Hairstyles
Here are some really cool black hairstyles for your perusal. While some work well on straight hair, some others work well on curly hair. The only thing common with all these hairstyles is that they look great on black hair.
The French Gal Bob
If you are looking for chic black haircut styles, then this a great option. It is characterized by a thick fringe in the front and a sharp bob that reaches just till your chin. This is a very dramatic haircut. If you are someone who likes to be a little adventurous with your hair, then this could be just the one for you.
The Sophisticated Socialite
This is a very understated yet elegant hairstyle. Perfect for when you want your hair to frame your face but still want it in an updo. All you need to do is twist up the hair at the nape of your neck and secure it. Leave a few tendrils loose at the front to soften the look. You might want to tease your hair before you twist it into an updo if you want a little more volume at the top. This hairstyle will go really well with evening gowns and are a great choice for dinner parties and other such formal events.
[Also Read: Red and Black Hairstyles]
The Kim Kardashian Pony
With how often Kim wears her hair like this, we thought it was only fair to name the hairstyle after her. The Kim Kardashian Pony is a slicked back high ponytail. The trick is to use some hair gel or spray to ensure that there are no fly-aways. You hair needs to be pulled tight into a high pony and secured with a scrunchie. You then take a small section of your hair from the bottom of your pony and wound it over the scrunchie, to cover it up, and pin it. This is a great hairstyle when you are short on time. This hairstyle looks exceptionally good on black hair.
[sc:mediad]
The Crowned Princess
If you're looking for black hairstyles for party, then this one could work for you. The Crowned Princess has a cute braid placed on your hair like a hair band. This hairstyle is simple enough that you can do it yourself but fancy enough that it looks really well with party wear and dresses. The braid gives your hair some texture and more dimension, putting your black hair in focus.
The Girl Next Door
If you're looking for an easy-maintenance hairstyle that you can wear every day, then the Girl Next Door is your best bet. If you have long hair, then getting it cut, giving it lots and lots of layers, will make your hair look bouncy and give it an illusion of more volume.
The Fishtail Braid
If you have long, natural black hair, then you just have to know a couple of braids. Braided black hair looks gorgeous and is a total treat to the eyes. We particularly love the fishtail braid. It may look complicated, but we promise you that it is quite simple once you get the hang of it.
Do you like our list of black hairstyles for women? Which one is your absolute favorite?