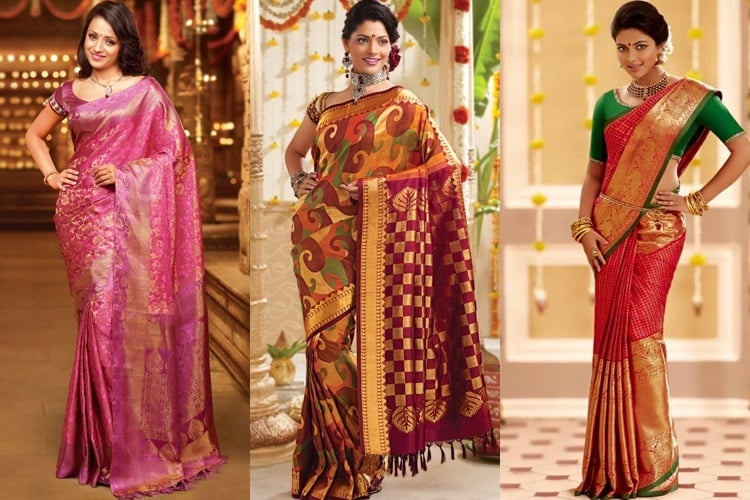 No other outfit is more beautiful and gorgeous on an Indian lady as a Silk Saree. And your complexion, personality or height has least of all to do with it. Whether it is a formal occasion, dinner do, kitty party or a wedding night, silk saree is the epitome of elegance.
[Also Read: Different Ways To Use Your Mom's Old Silk Saree]
Silk saree is no doubt magnificent-looking with embroidery, sequins, lace work, stone work, zari work, etc done on it. But how to maintain silk saree can get to be more time consuming than the hours spent in shopping for it.
Sometimes, the sheer joy of wearing a silk saree gets lost thinking of its upkeep. Worry not. Here is a detailed check-list on silk saree care that will prove to be beneficial for you and your wardrobe.
How To Wash Silk Saree At Home – Tips On Silk Saree Maintenance
The maintenance of a silk saree is not a costly affair. You only need a bit of patience and intelligence in keeping a silk saree look evergreen year after year. Wondering how to wash silk saree at home? Here are a few tips.
Using plain cold water is the ideal way. Avoid using soap on your silk saree for the first three washes.
In case of tea, coffee or gravy stains, either dry clean your saree or wash the stained portion with petrol and brush.
If you want to preserve the true nature of your silk saree, then wash silk sarees at home with protein shampoo.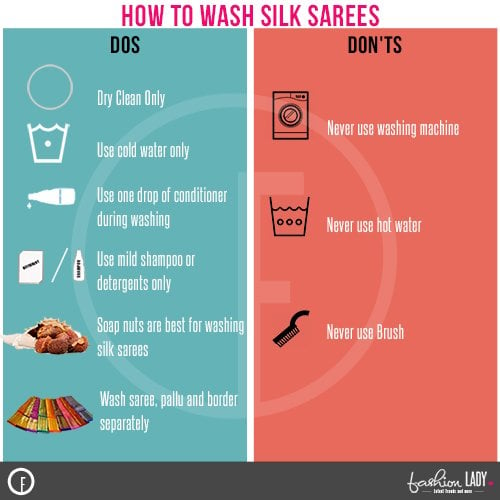 When washing or rinsing your silk saree, never make the mistake of wringing or twisting it. This will make your saree lose out on its sheen and end up giving a permanent wrinkled look, which is honestly the worst thing that can happen to a saree known for its yards of mulberry silk.
Avoid drying your silk saree in direct sunlight. After all, there is no UV protection here to guard your face against the staring sun.
Once you are through with washing your silk saree, roll it in a cotton cloth or for that matter a clean towel. This will help in better absorption of the water and will minimise the chances of twisting or wringing your saree.
[sc:mediad]
Storage Of Silk Saree
Do not apply the formula of keeping a silk saree along with sarees made of other fabrics such as cotton, polycot, georgette etc. Wrap your precious silk saree in a muslin cloth or pure cotton cloth and store it separately to maintain their longevity.
Colour fading is a common problem one faces in silk sarees. This can burn a hole in your heart. Storing them in a dark place is the safest option in order to avoid discolouration.
What's a hangar for? Obviously to avoid the creases. Apply the same formula in storing silk sarees in your wardrobe. When kept in a hanging position, silk sarees would go a long way in giving you and your saree a wrinkle-free look.
Never use a brush or lash the silk saree. It might end up tearing the zari.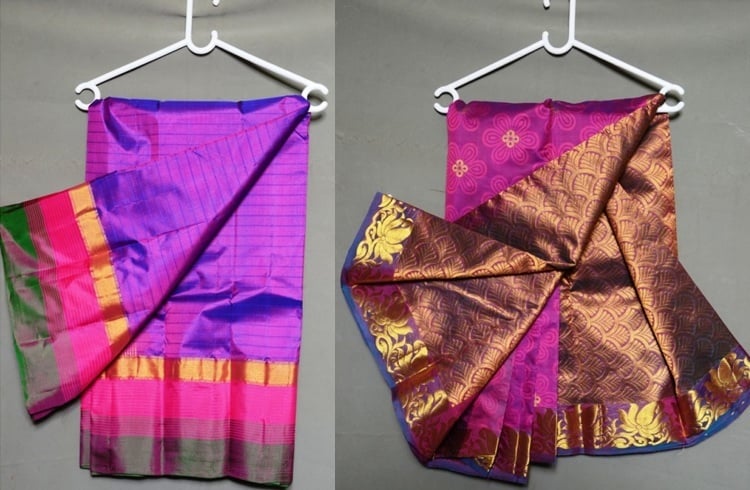 Dry Cleaning And Stain Removal
In the process of dry cleaning of silk sarees, several solutions and chemicals are used. However, there is a particular chemical fluid used to remove stains that thankfully do not harm the saree. Petrol is one of them to say goodbye to dark and hard stains.
Whenever you want to take off your nail paint, you use a nail paint removing liquid. The same liquid also known as acetone is versatile enough to knock off nail-paint stains from your silk sarees.
If there are stains from sweat, blood or food-related items such as gravy, chocolate, tea, milk, eggs, juice, ice cream, etc. use a mild detergent, or a liquid soap or protein stains remover shampoo to get the desired results.
Whenever your saree is down with ghee, oil, butter stains, rub it off by sprinkling and rubbing some talcum powder on the stain. Follow it up by washing it using a mild detergent in warm water.
Go back to science to remove the toughest of stains. A mixture of hydrogen peroxide and NH2 is the best bet.
Remember, stained silk saree must be dry-cleaned as soon as possible in order to address and avoid further damage.
[Also Read: Silk Jackets – Elegance at Its Best]
Ironing Your Silk Saree
Use low heat or put your silk saree under a cotton cloth while ironing it.
Steam iron is the best option as there are negligible chances of any harm happening to your silk saree.
Keeping Silk Sarees Wrinkle-Free
Never remove excess of water from a silk saree by twisting or wringing. Just wrap it in a cotton cloth to soak up the excess of water and then hang it in your almirah using a hangar.
Don't just stick to hanging your silk. From time to time, keep unfolding it and change its folding.
If you are running short of hangars, then pack your silk saree in cotton or muslin cloth.
The tips on how to maintain silk sarees mentioned above are not just restricted to silk. They hold good on all kinds of sarees.
So ladies, now that we have simplified how to maintain silk saree for you, follow these tips whenever you pull out your Kanjeevaram, Mysore silk or Pochampalli for an occasion. You will find all your worries on how to wash silk saree at home etc. vanish off in thin air.