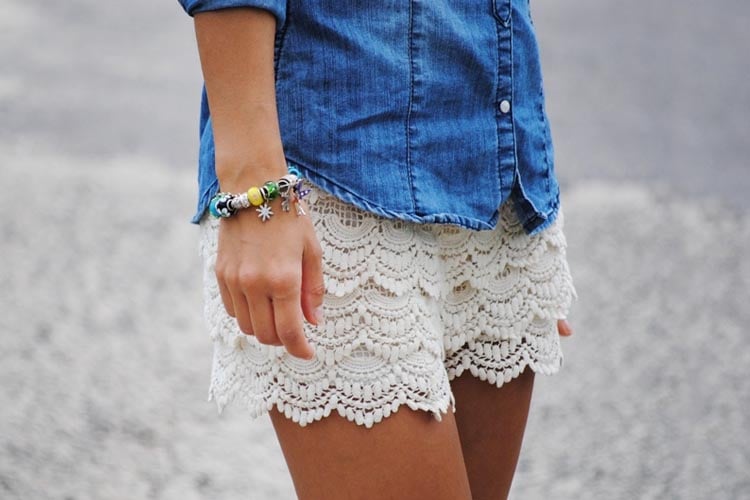 As the season of summer approaches, with it comes the craze of all sorts of shorts. Why are they so great? Well, along with them being airy and cute, they can be conveniently matched with anything and everything! But we're not here to go on about shorts, every girl is familiar with those. We're here to discuss how to wear lace shorts.
[Also Read: 4 Different Types Of Shorts: Which To Don When?]
Just as the name implies, lace shorts are shorts that are made out of lace! This piece of clothing portrays and immensely ladylike ensemble. Each summer girls here and there carry their beauty with flair by donning on these lace shorts. And that's why it is so difficult contemplating lace shorts outfits!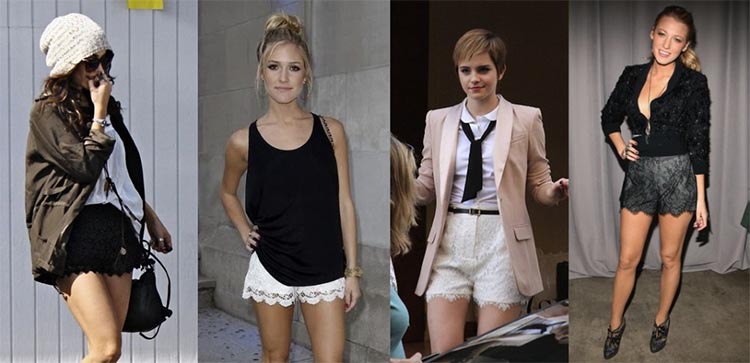 Ways To Wear Lace Shorts
Having trouble with what to wear with these shorts? Here are some fashion tips on ways to wear lace shorts –
1. The Chambray Shirt Style
Just grab your chambray shirt and tuck it in your light hued lace shorts. If you own a shirt with some lace embellished on it, even better! You could even tie your shirt up from the front. See which looks better on you! Throw on your shades!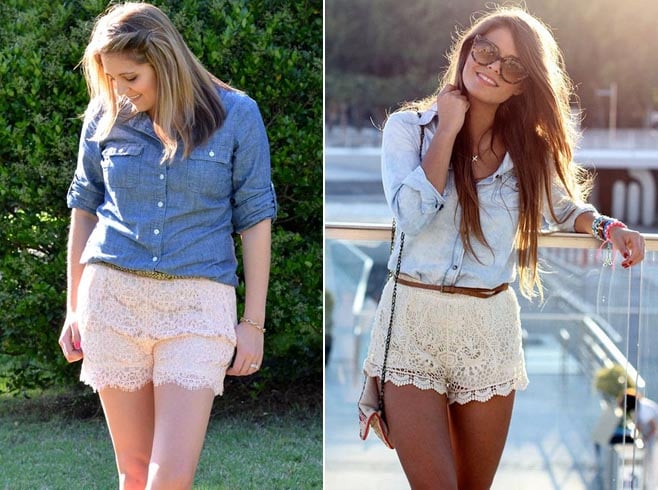 2. The Tank Top Style
Pair up your shorts with a dark colored tank top and along with a pair of flats. Put on some shades for the ultimate casual look!
This look can be altered into a classy one simply by pairing up your shorts with a bright blouse-tank top and along with minimal accessories.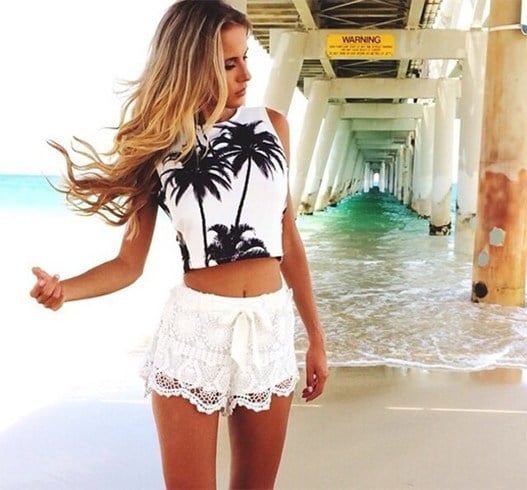 3. The Silk Shirt Style
Give a classy vibe by enrobing your lace shorts under a silk shirt. Even a patterned shirt will do wonders! Add some charming accessories, such as a necklace and bracelet. For the complete look put on a pair of heels.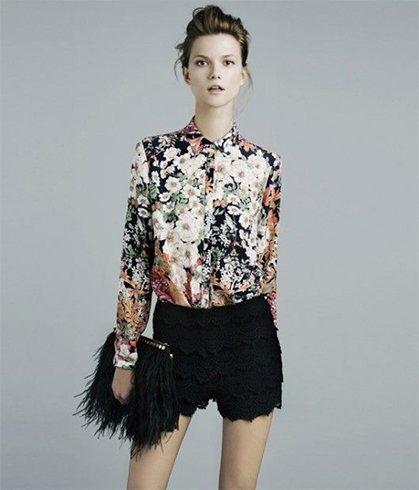 4. The Blazer Style
For the chic look team up your lace shorts with either a blouse or tank top and put on a blazer. If you own a blazer that is long; it will give a glamourous appeal along with a pastel colored blouse. The blazer should be of similar shade as your lace pants. Finish the ensemble with some alluring accessories.
[sc:mediad]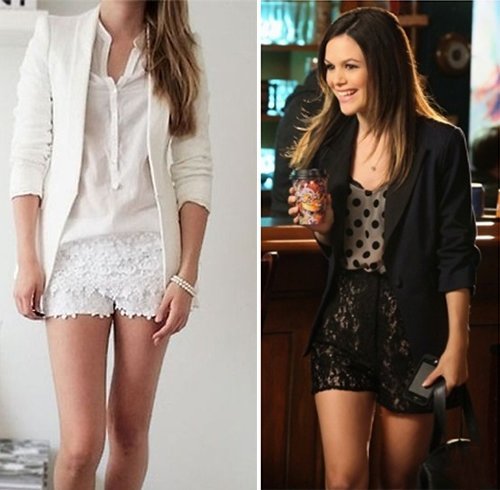 5. The T-shirt Style
For a super casual garb just wear your lace shorts beneath a funky or vivid t-shirt. Belt up the outfit. Grab a hat & jump in to some flats or heels. You're ready to go!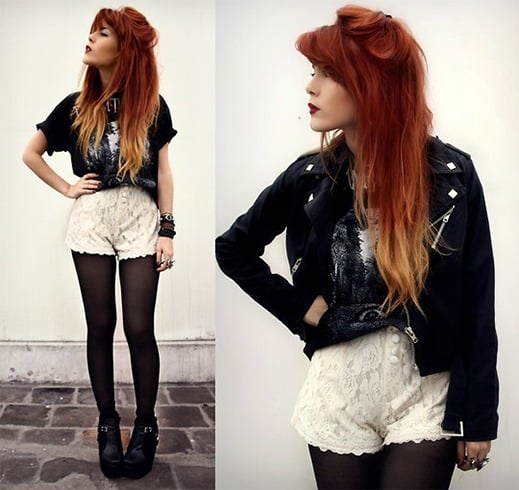 6. The Sweater Style
Set new trends by wearing a light sweater with your lace shorts. A unique and intriguing blend. Slip into some heels. This is the perfect vestment for the spring and autumn seasons.
[Also Read: Stylish Tips On What To Wear With Floral Shorts]
7. The Button-down Shirt Style
Create an elegant ensemble by matching up your lace shorts with a button-down shirt. Put on some heels to tie up the attire. Maybe even leave your shirt half tucked in and half untucked for a varied demeanor.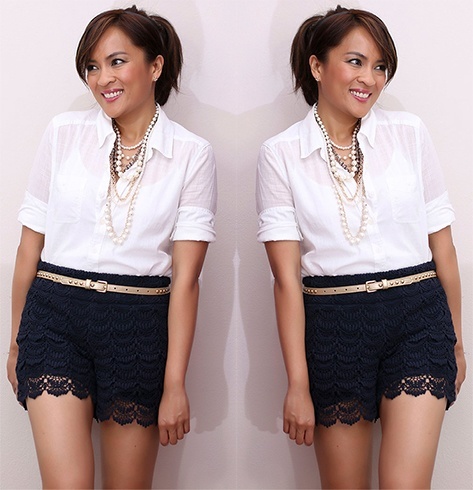 8. The Crop Top Style
Have a nice crop top? Simply wear it along with your lace shorts. Enrobe a long cardigan, if you want, to brush up the look. Heels or flats, either will correlate with this outfit.
9. The Leather Jacket Style
Pair your leather jacket with a pair of lace shorts by wearing a top beneath the jacket. It looks super stylish and gives a defining bold look. Add on a statement necklace to furnish the apparel.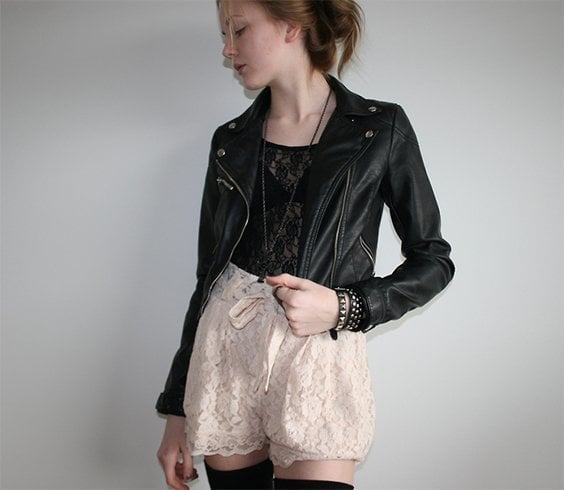 10. The Kimono Style
Have a graceful floral kimono? Wear it with your lace shorts with a matching top beneath. Don't forget to wear your shades.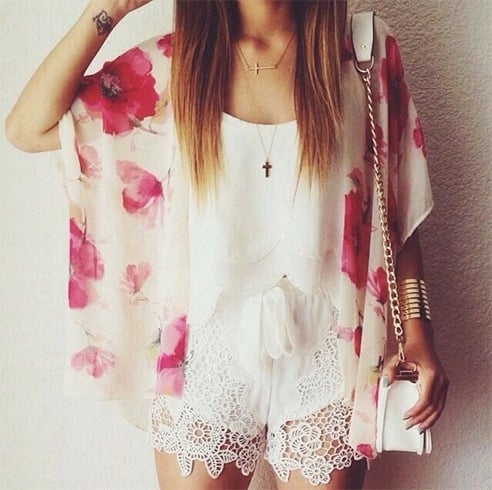 11. The Off-Shoulder Top Style
Just wear your lace shorts with an off shoulder top. Printed pieces will work just as brilliantly. Slip into some heels or flats; whichever suits you!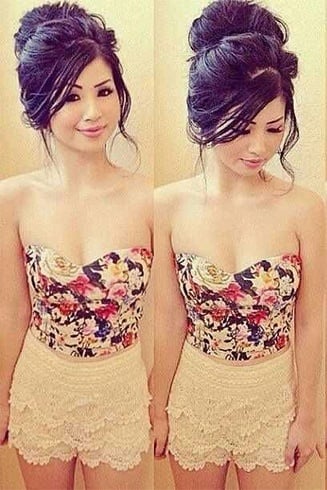 12. The Jacket Style
Team up a bright jacket and top along with your lace shorts. You could vary the style by wearing a striped top below the jacket. An offhand yet sophisticated attire!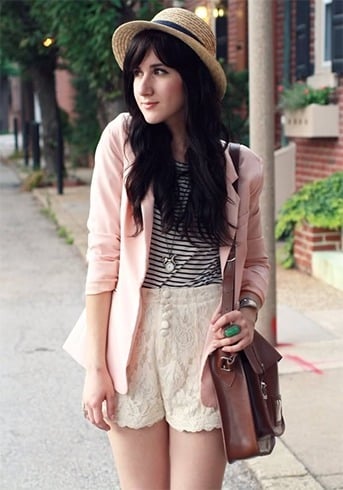 13. The Uniform Colour Style
Own a blouse, shirt or top of the same shade as your lace shorts? Well, wear it them together for a polished and dignified combo.
[Also Read: Shorts With Heels: Fun Or Fiasco?]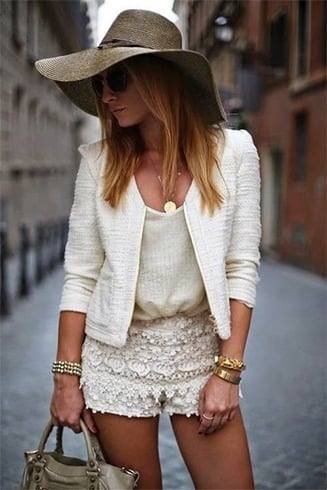 14. The Lace Denim Shorts Style
Want to combine your love for denim and lace? Then we suggest you pick up a pair of denim shorts with lace pattern on it and wear it with sexy tank top. It would be great if you could match the color of your top to the color of the lace.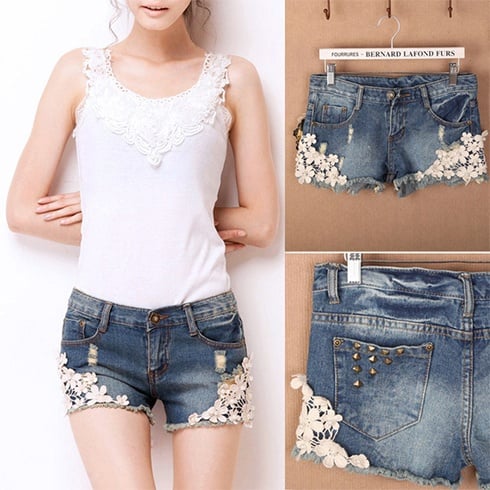 15. High Waisted Lace Shorts Style
Give your lace shorts outfit a twist by wearing a high waisted shorts with a casual floral shirt. This would be a perfect look for your Saturday night party.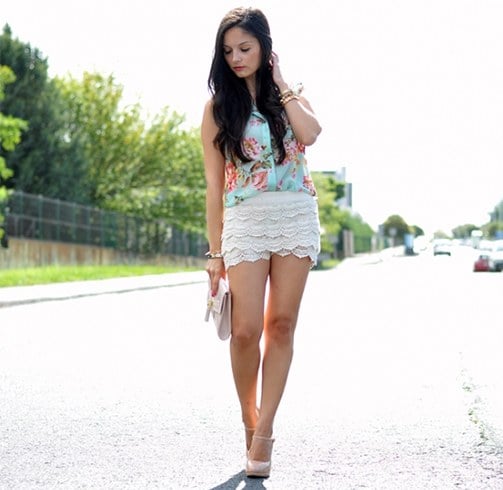 16. Crochet Lace Shorts Style
Girls lace shorts made of crochet is the in thing now and would be the most comfortable piece of clothing to wear to the beach. Pair it with a crochet bikini top and you are ready to be the beach babe.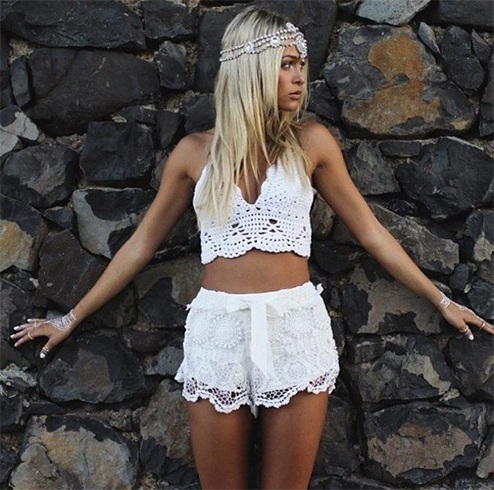 17. Coral Lace Shorts Style
Give your staple black and white lace shorts trend a break and pick up a beautiful coral lace shorts. You can wear an off-white silk shirt to go with it. Roll up those sleeves and add some chunky bracelets to complete your look.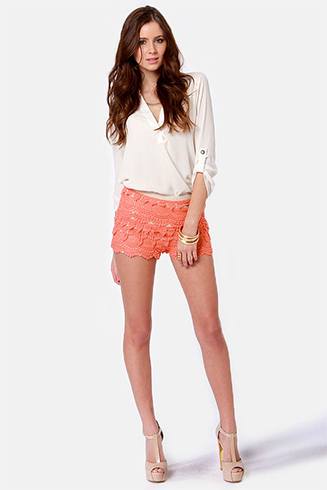 18. Lace Black Shorts Style
Black shorts with lace is one of the sexiest and a must have piece in every fashionista's closet. Black being a universal color, there is literally nothing that you cannot pair with it.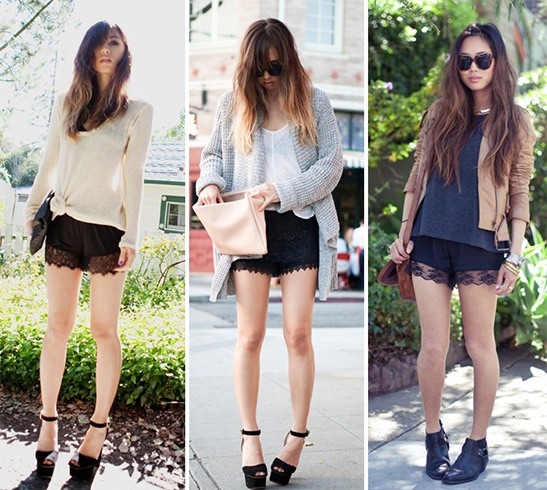 19. High Waisted Floral Shorts Style
A high waisted floral shorts with lace is another lace shorts trend that is picking up pace. Pick up matching footwear and accessories and you are all set.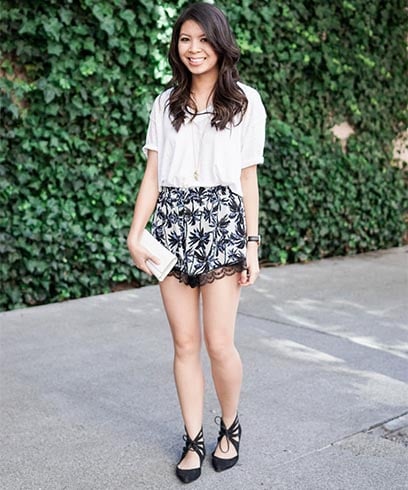 20. Lace Trim Shorts Style
Instead of picking up a lace shorts, you can also try out shorts which just have a trim of lace at the ends. You can pair it with a sweater, a funky sling bag and some kick ass boots.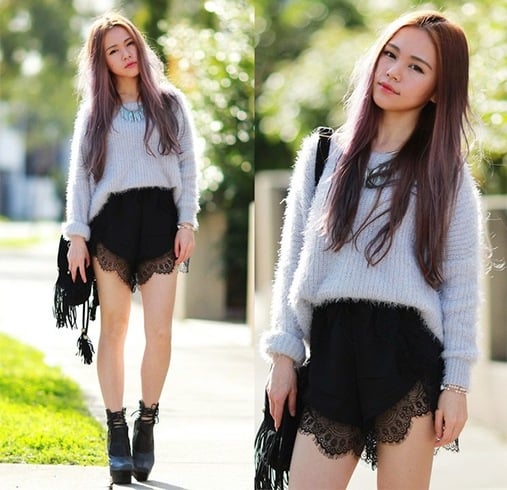 21. Plus Size Lace Shorts Style
The next time you are all set to party, pair your plus size lace shorts with a sensual tank top. But make sure you tuck your tank top inside the shorts.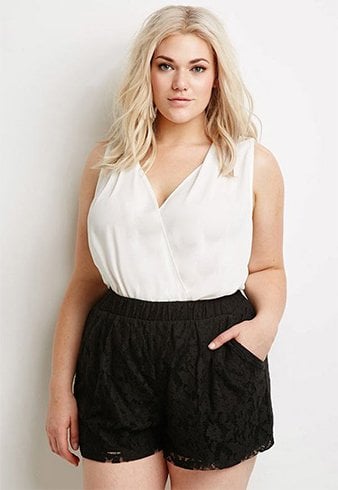 You can also get your hands on some amazing scalloped lace shorts or stretch lace shorts. Your options are just limitless.
So have an idea now of what to what to wear on lace shorts? You have probably already started trying out these. You can try on alternatives for the colder days, such as; wear your lace shorts over a pair of tights. Or even slip into some boots instead of the typical heels and flats (Just so you know…ankle boots coordinate better). Have fun mix and matching these outfits and attaining that perfect look; or maybe even start a fad of your own! Go on, give it a go!
Images Source: pinterest.com, polyvore.com