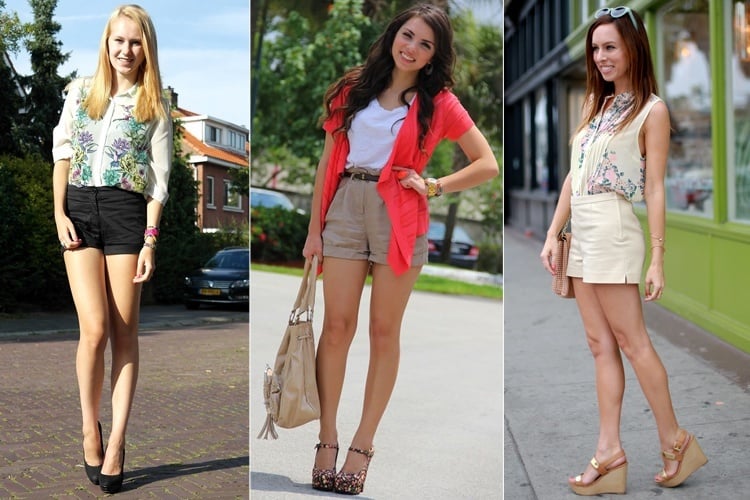 The combination of shorts with heels is very much in trend at the moment. But, when it comes to baring your pretty legs in shorts, the type of shoes that you wear is very important. If the heels are too high, you risk coming across risqué, heels too short and your legs come across as flabby. Thus, it is important you choose wisely. The smallest of mistakes can make the entire outfit look shabby and out of place. This could compel you to ask yourself, can I wear heels with shorts at all? The answer would have to be yes. The Shorts and heels look is one of those trends that cannot be missed at any cost.
[Also Read: Ways To Dress Up With Black Lace Shorts]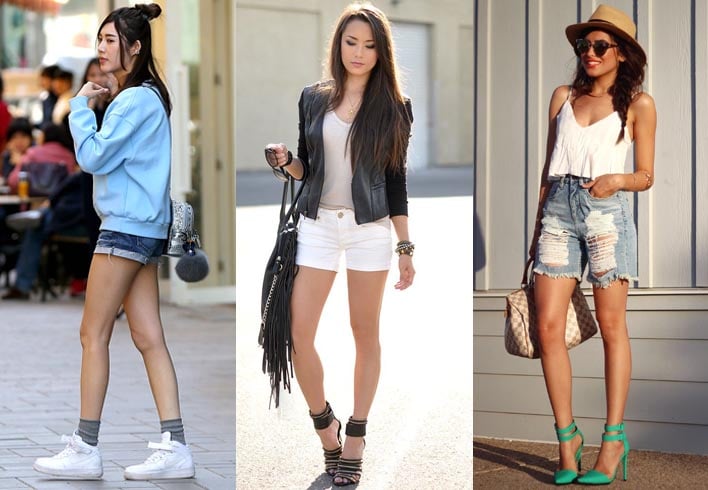 How To Wear Shorts With Heels?
To make it simpler for our readers, we got together and created an all-inclusive guide on the best heels to wear with your favorite shorts. Here is the list of the best shorts and heels outfits.
[Also Read: What To Wear With Floral Shorts]
1. Stiletto All The Way
Pairing a crop top with your favorite shorts and a nice pair of stilettos can give you that ultimate fashionista appeal. The best of both trends clubbed into one outfit, sounds great right? Looks great too! You just need to get the combination correct. Like, if your crop top is dark hued you could go with matching hued stilettoes to compliment the light colored shorts. Just make sure you don't forget to accessorize with a nice complimentary handbag and nice jewelry to complete the look.
2. Sexy Ankle Strap On
Have a reunion planned out over the weekend? You can get your college days back with this chic girl next door look. Club your shorts with a suave shirt along with your favorite classy ankle strap ons. These heels add a touch of elegance to your day-to-day outfits. With this outfit idea you can keep your friends talking about you for days.
[sc:mediad]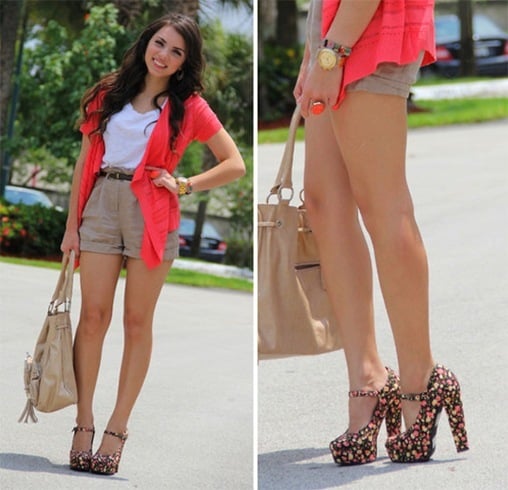 3. Boisterous Ankle Boots
Guess what? You can pair your favorite ankle boots with your favorite shorts. They actually make a great pair. For a perfect chic look, pair your shorts with a nice shirt and layer it with a complimentary elegant coat. Don't forget to accessorize with a nice sophisticated big handbag.
[Also Read: Wear High Waisted Shorts With Anything And Everything]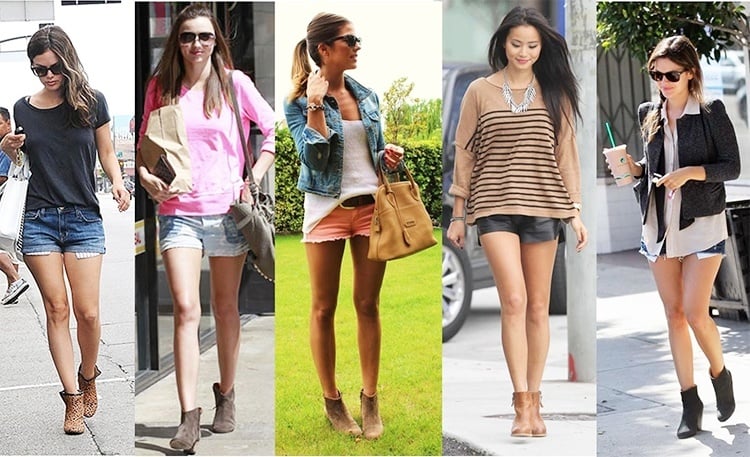 4. Lace Up With Those Pretty Heels
Now, you can exude a very exuberant look with a feminine touch. If you have recently got yourself a very fashionable pair of shorts and can't decide what to do with it. This look is what you are looking for. Pair those fashionable shorts with a blazer and tank top. Team it up with a pair of the very pretty lace up heels. Lace up heels are nothing but, gladiators with a touch of lace. Go get your entire group talking about your new outfit.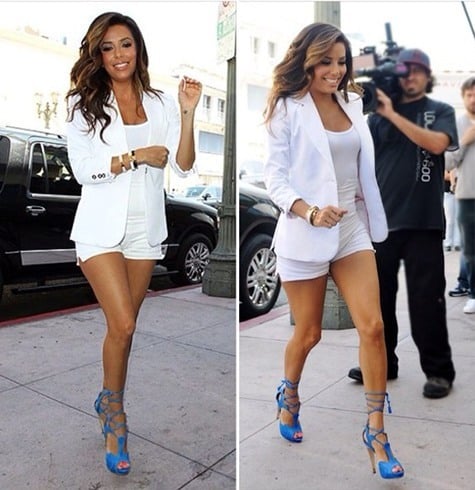 5. The Exotic Nudes Pumps
You could from a variety of normal looks with shorts and heels, but if you want to go exotic, this is the look for you. Pair your pretty patterned or floral shorts with a simple flowy top and the oh-so-sexy nude pumps sitting in your shoe rack. Pastel shaded tops go great with patterned or floral shorts, so keep that in mind while you shop for it.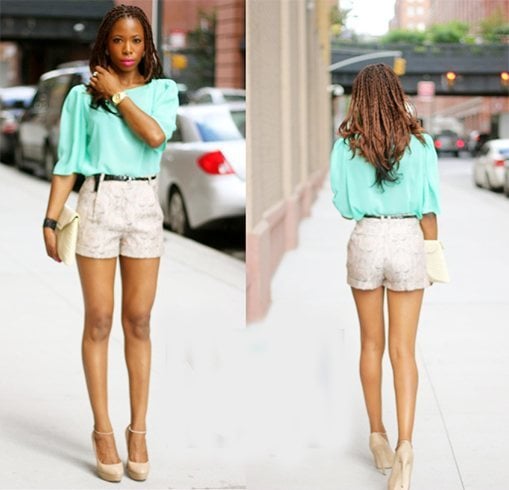 6. Wedge It Up
If you are not the stiletto girl, you can always go the safer wedged heels. These give you a better grip and you don't necessarily trip at every step. For a cool, casual look team it up with a cozy shirt with some flare and accessorize the look with some quirky pieces.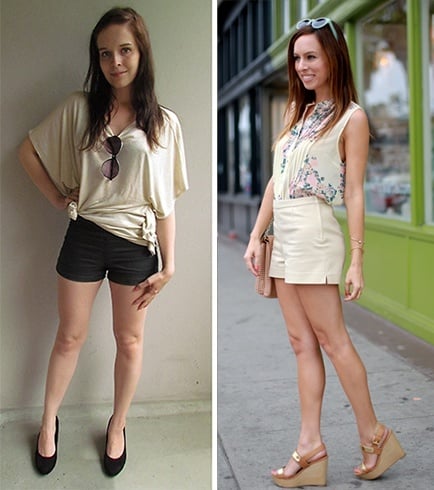 7. Chunk Zone
Layering is the key when it comes to donning a sexy boho look. Team up your crop top with printed blazers, naïve shorts and killer heels. Exude your wild side with this very tomboyish look.
[Also Read: Boyfriend Shorts are Next Big Thing For Summers]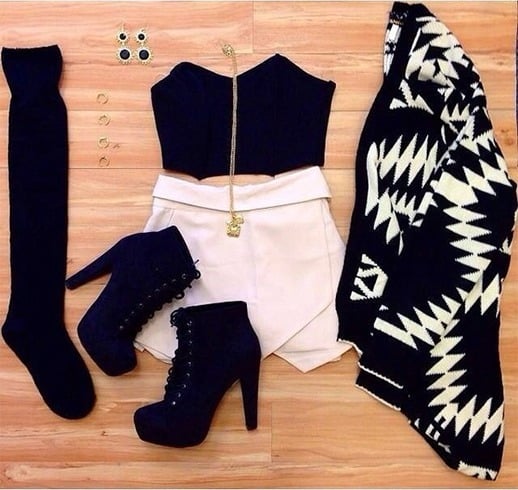 Celebrities are the best inspiration when it comes to finding out how to wear heels and shorts.
8. Selena Gomez
We love this Selena Gomez look where she has paired her white high waist shorts with a blazer and nude pumps. That's some power dressing!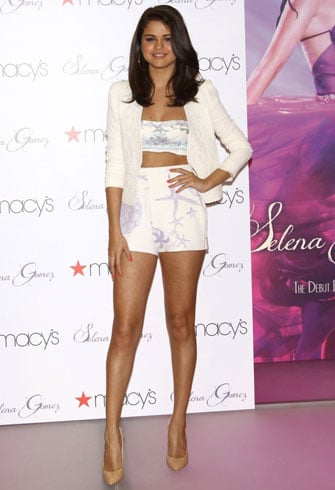 9. Kim Kardashian
The fashionista Kim shows how a shopping trip can be made sexy as hell by wearing a loose-fitting top with a comfy shorts and heels. We love how she matched her top, caged heels and handbag.
[Also Read: Short Legs]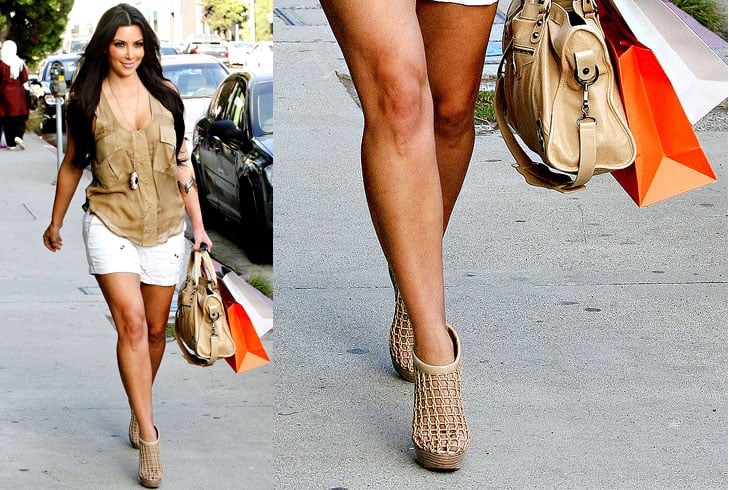 10. Blake Lively
Following the Blake Lively style can never go wrong. Look how she has beautifully matched her black and white outfit with black and white heels. Definitely a great shorts with heels idea to steal.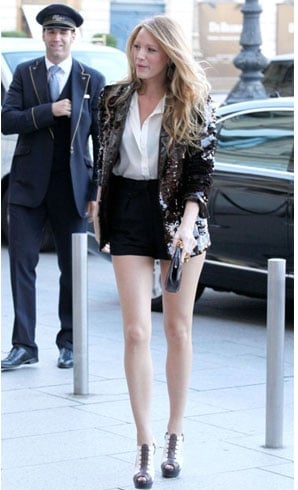 11. Kate Winslet
Stepping out in a similar colored outfit from head to toe makes a beautiful statement and it is no wonder why we adore this all black look of Kate. Here is your answer on what shoes look good with shorts – peep toe heels.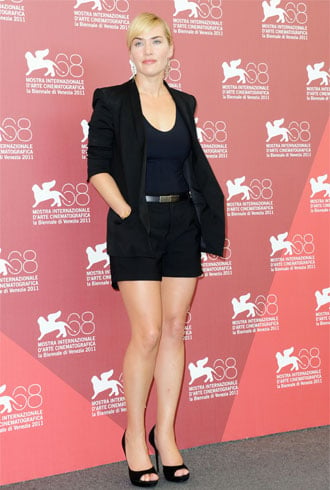 12. Emma Roberts
Emma shows how you can rock a matching shorts and heels outfit. She wore a red blouse with black frayed shorts and slipped her feet into a sexy pair of ankle strap platform wedges. Now you know what shoes to wear with shorts that are frayed.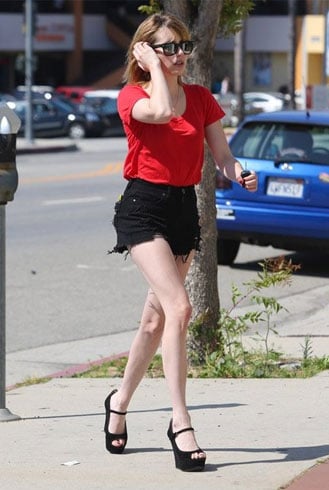 Now that you are well versed with shorts with heels fashion, don the look with oomph and charisma by teaming them with right pair of sandals.
Images Source: pinterest.com