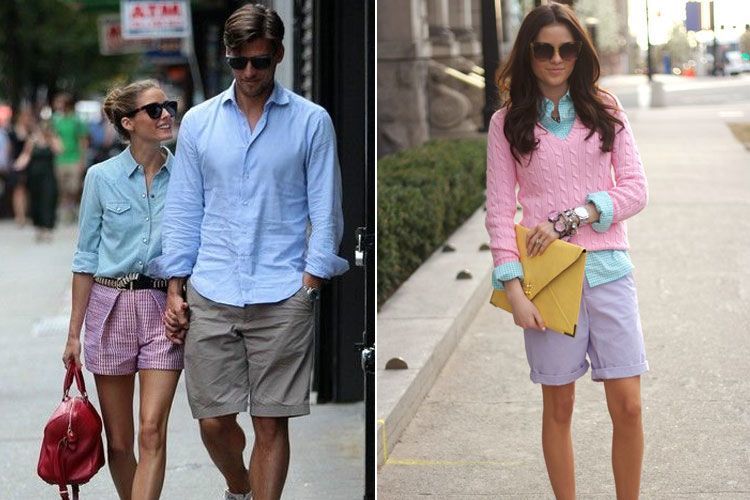 Girls, psst! Have you seen celebrities Olivia Palermo & Johannes Huebl on social media yet? If not, go ahead and you'd know what it means to be totally in the 'boyfriend' fashion.
[Also Read: Different Ways to Wear the Boyfriend Shirt]
Break all the rules
Boyfriend shorts are meant to do just that, and they follow no rules as such. You aren't embarrassing yourself by revealing a little more skin, than the usual. If you are comfortable showing a little more skin above the knee, these bad boys would help you beat the heat!
A free leg tan
Why spend a bomb for fake tan sessions, when Boyfriend shorts can get you the desired hue and for free! Fashionistas the world over wear Boyfriend shorts and walk out into the open gaze of the afternoon sun; a free tan thus assured for everyone.
You never know who's watching
It seems the men around are mostly interested in the tomboyish look we girls carry ourselves in, with utmost confidence and grace. Boyfriend shorts helps us look chic and not gross, and the men have nothing more to ogle at, than our legs!
[Also Read: How To Style Boyfriend Jeans for Women]
High fashion decoded
Team us the Boyfriend shorts with anything you want, and here are a few easy-weasy ways on dressing up in them too!
On a night out at the bar
Planning a night out with friends is an easy task, but dressing up for the occasion to hit the bar, is not. However, with boyfriend shorts paired with a loose white tee and a white shirt for cover, you would bring on the diva touch!
[sc:mediad]
To the mall and back
A casual afternoon out with family on lunch at the nearest mall, and you do not have a thing to wear? Let's rummage out those boyfriend shorts and pair them with a nice flowing shirt, a statement necklace and heels for the feet. You are now ready to make a statement!
[Also Read: The Kimono – Fashion Hit for the Indian Summer]
For the yummy mummy at a pool party
Summer time and a pool party goes hand-in-hand, isn't it? If you have boyfriend shorts made of denim, pairing it up with a bright camisole would be the ideal haute item to make things hotter at the pool bash!
Attending a game at the stadium
Show some support in more ways than one, and that too with a hint of fashion and style! Throw over your favourite teams' jersey and for the bottom, wear boyfriend shorts. Combine the look with sneakers for the feet and bun up the hair!
[Also Read: Shorts With Heels]
Dressing up for a farmhouse party
The event calls for light and casual dressing, and that means you can actually let your hair run loose and wild. For the look, grab hold of a bright camisole crop top and pair it with your boyfriend shorts, sunglasses for the eyes and bright lipstick for the pouty intense look!
Doing dinner on Maple Drive
Confuse the onlookers with an androgyny look, let them wonder which gender you are and you shall have the last laugh for sure. A bottle green dinner jacket over a white top or shirt and boyfriend shorts, seem so cool, isn't it?
The fashion editors cool and calm look
Needless to explain more, but the calming effects of pinks and blues for the tops with boyfriend shorts, sure strikes the eyes in a positive way!
To be honest and with the raging summer months doing its rounds, why wouldn't we girls want to bare a leg and more, for comfort and style? Boyfriend fashion now is the rage, and to keep cool and trendy, PYTs all over the world are picking up boyfriend shorts like never before.