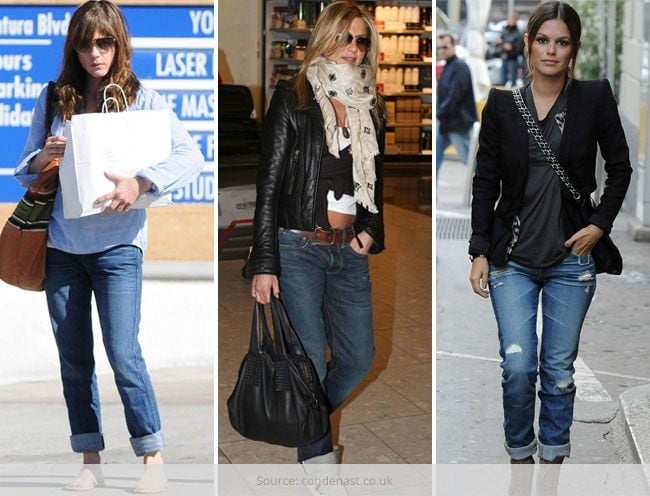 Boyfriend jeans is currently in trend and is here to stay for a long time now. Girls wearing boyfriend jeans look super cool and stylish. If you are wondering what boyfriends jeans look like, well I am here to explain each and every aspect of this latest trend in this post. Here, I will explain what are boyfriend jeans, how to wear boyfriend jeans, what to wear with boyfriend jeans, celebrity boyfriend jeans styles, where you can find best boyfriend jeans and lots more. So, let begin the fun and stylish ride now
What are Boyfriend Jeans?
Boyfriend jeans actually mean wearing borrowed (or even stolen) jeans from your boyfriend. Over the years, wearing boyfriend jeans has become a trend that is loved by all. Now apart from borrowing or stealing your boyfriend's jeans, you can also buy ready to wear boyfriend jeans for women from the fashion houses. Some well known brands like Gap and forever 21 offer a wide range of boyfriend jeans for women.
[Also Read: Plus Size Fashion Tips]
How to wear Boyfriend Jeans?
The punch of wearing boyfriend jeans is that it should look a size bigger than what you usually wear. But don't go for size too bigger than yours. It is suggested that you go just one size up from your regular size. Wearing boyfriend jeans is easier as compared to original jeans for women, as these jeans are less skinny and easy to slip in. Also, you can roll up the hem of your jeans to make your outfit look cool.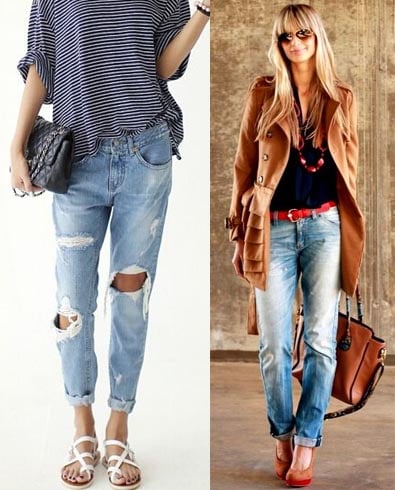 Style Boyfriend Jeans for women in 22 different ways:
Now let's discuss the ways you can stylish boyfriend jeans in 22 different ways. We will also be discussing what shoes to wear with boyfriend jeans, what shirts to wear with boyfriend jeans, different boyfriend jeans outfits and plus size boyfriend jeans outfit ideas.
1. Boyfriend Jeans with Sneakers:
Team up your baggy boyfriend jeans with tailored jacket, white sneaker and cool accessories! This outfit worn by Dakota Fanning is just perfect for a casual winter day out.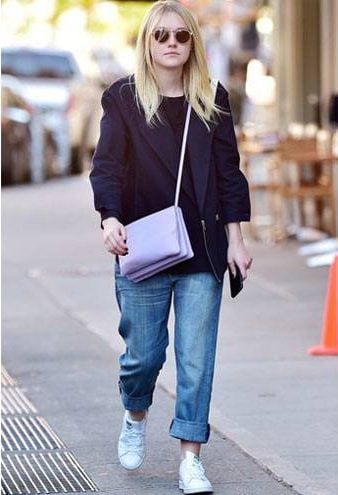 2. Boyfriend Jeans with Shirt:
Stunning Eva Mendes looks fabulous and chic in this light washed boyfriend jeans. You can wear a loose striped shirt with your basic blue light-washed boyfriend jeans to add a chic style.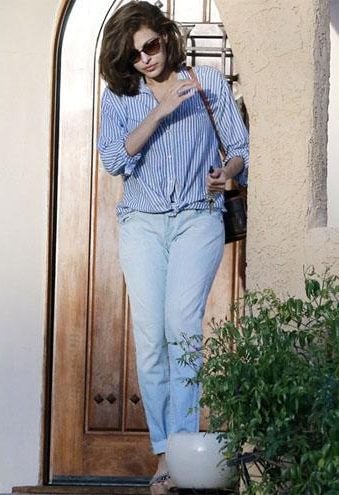 3.  Boyfriend Jeans Work Outfit:
Wear your boyfriend jeans with plain white tee, a black tuxedo blazer and team it up with your favorite heels just like Gwynnie did as shown in this picture.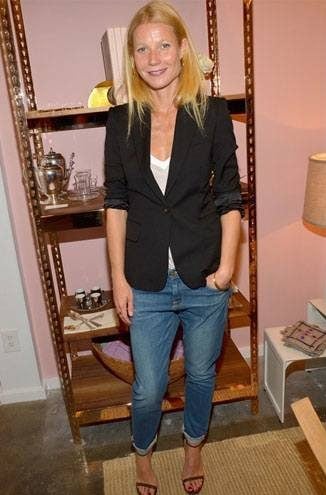 [Also Read: What Shoes to Wear With Jeans ]
4. Boyfriend Jeans Outfit While Running Your Daily Chores:
When in doubt, wear your boyfriend jeans with flat slippers and your easy plain shirt just like stylish Selma Blair did. A jhola bag with this outfit is making it a perfect casual 10 on 10 outfit.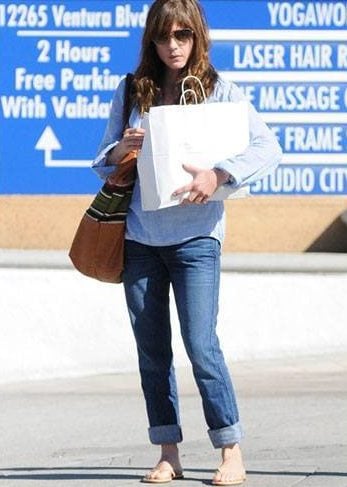 5. Color Blocking With Boyfriend Jeans:
Here's another way to style your boyfriend jeans. Wear a red statement jacket, super cool tee and sexy boots, and Ahh! You are ready to rock the world. Thumbs up to supermodel Helena Christensen's fashion sense!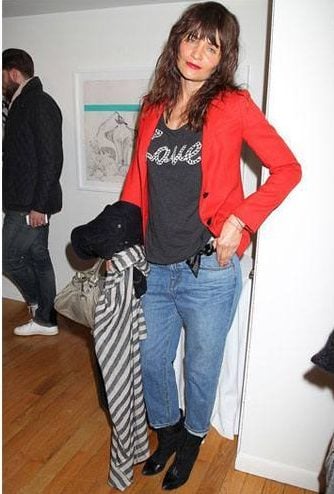 6. Boyfriend jeans With A Silk Shirt:
You can also style your baggy and loose boyfriend jeans with a long silk shirt, a grey tee and some cool accessories. Look at Nicole Richie's pictures and you will understand what I am trying to explain!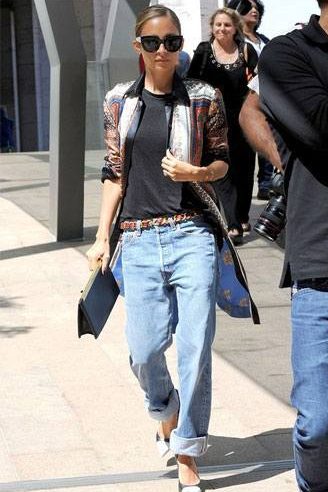 7. Smart Way To Carry Off Boyfriend Jeans:
Who said all your boyfriend jeans need to be baggy and loose? Look at this figure-hugging pair of boyfriend jeans worn by Rachel Bilson. The slight rips on the jeans are making it look stunning.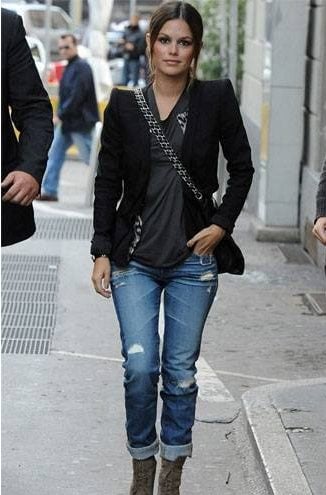 8. Crop Tops And Boyfriend Jeans Outfit Idea:
Crop tops look stunning with boyfriend jeans. Don't believe? Have a look at this outfit worn by Jennifer Aniston. The additional scarf, black leather jacket and brown leather belt is totally making this outfit look chic and stylish.
[sc:mediad]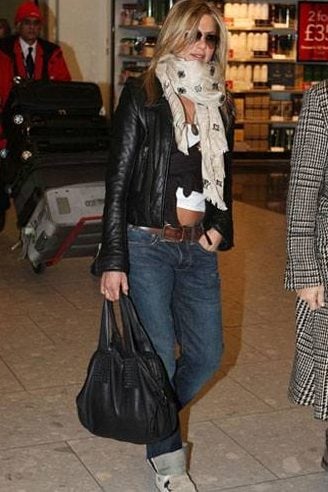 9. Kate Winslet and Boyfriend jeans:
And when you thought that over-sized boyfriend jeans won't work, or wondering how loose should boyfriend jeans be, check out this amazing boyfriend jeans outfit by Kate Winslet. She paired them with a tuxedo jacket, plain black tee and a pair of flats. She looks absolutely fab!
[sc:mediad]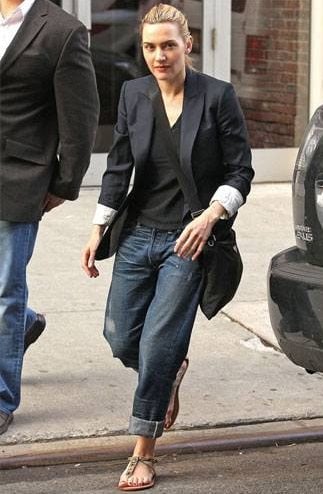 10. High Waist Boyfriend Jeans:
Wish to look glamorous? Style you favorite stone wash black boyfriend jeans with a trendy rockstar tee and super luxurious leopard print coat just as shown in this picture. Or go Emily Ratajkowski style. Wear a high waisted skinny boyfriend jeans over a slip top and look absolutely stunning.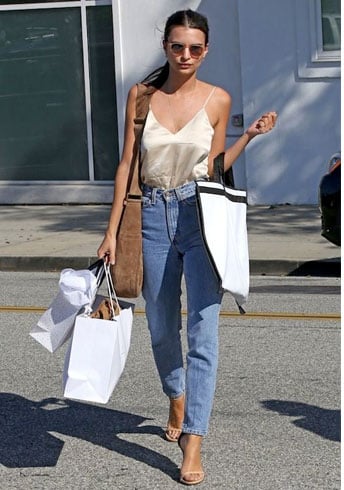 11. Pop Of Color With Boyfriend Jeans:
If you are a plus size fashionista, you can wear your ripped boyfriend jeans with a red winter jacket and an easy jockey tee to look stylish. Wearing high-on fashion accessories will enhance your look!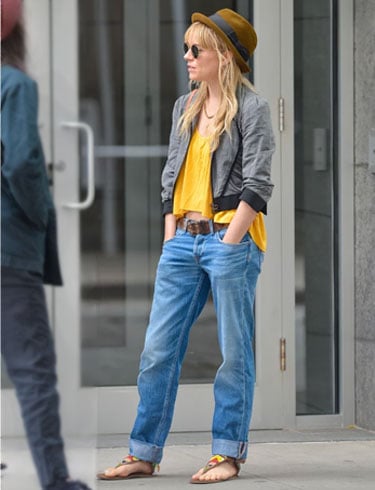 12. Boyfriend Jeans And Sweater:
Looking for a winter wear? Check out this stunning outfit by Diane Kruger. You can style up your boyfriend jeans with loose pull-over sweaters and flat tip toes for a perfect winter day out.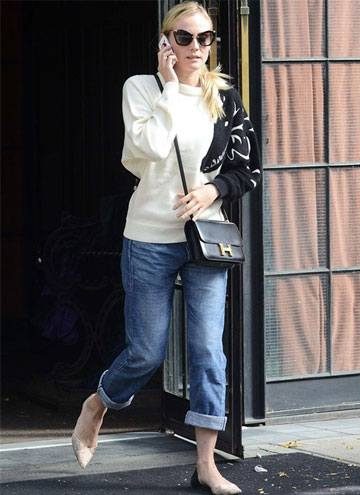 13. Ripped Boyfriend Jeans:
Wearing jeans in summer can be annoying and here we have a cool thought on how to wear your boyfriend jeans in summer. Yes! You guessed it right! Go the ripped style. Totally ripped jeans can make you look super cool. Get inspired with this stunning outfit worn by Eliza Doolittle and get your boyfriend jeans ripped off from the knees.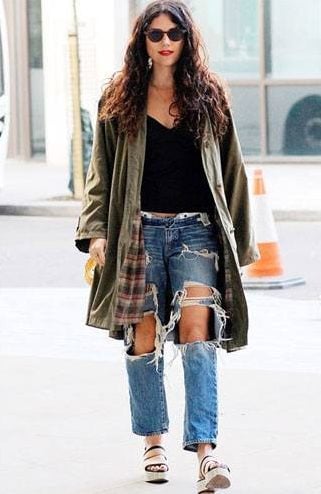 14. Boyfriend Jeans For Work Wear:
Here's presenting you a perfect office wear. Wear your favorite blue boyfriend jeans with denim shirt to your work and glam up your work place in a stylish way like Emily Rossum.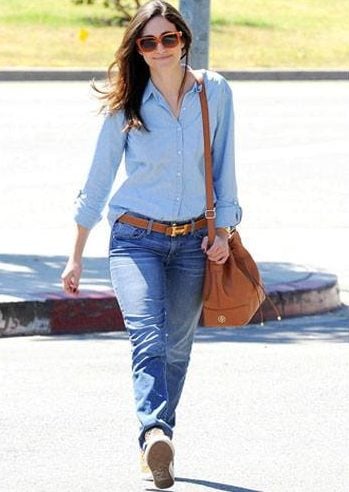 15. Runway Look With Boyfriend Jeans:
Here comes our last but the most stunning of all, worn by Vanessa Hudgens. Teamed up your Boyfriend jeans with a black tee, winter jacket and cool accessories and the end result is droolworthy.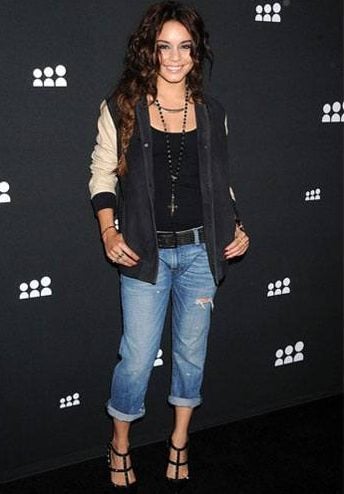 16. Maternity Boyfriend Jeans
Pregnancy always calls for loose, breezy outfits. This is when the maternity boyfriend jeans comes into play. The baggy style lets the skin breathe freely. Style it like Chrissy Teigen with a tank top and a cape jacket or go with a bomber jacket like Olivia Wilde.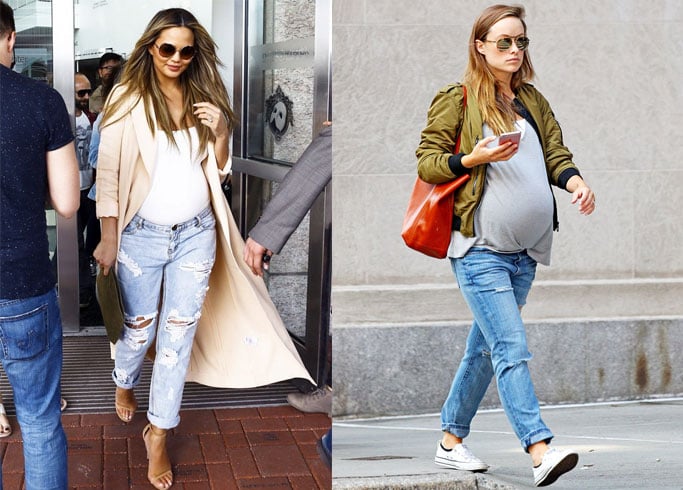 17. Boyfriend Jeans With Bodysuit
Embrace the summers with a cool bodysuit top and pair them excellently with boyfriend jeans. This look will heat up the summer for sure. Let Emily Ratajkowski be the inspiration to you.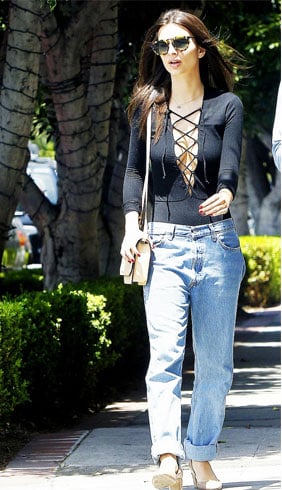 18. Boyfriend Jeans With Bomber Jacket
If you think the boyfriend jeans are looking too baggy on you, divert thefocus of the look with a spicy bomber jacket like Liberty Ross.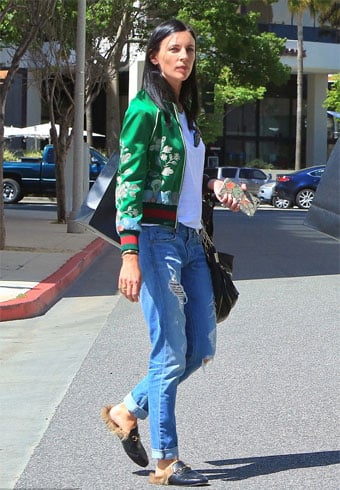 19. Boyfriend Jeans with Fringe Jacket
The fringe trend is still lingering in the fashion circuit. Now is the time to don a fringe jacket like Kendall Jenner on a best fitting destroyed boyfriend jeans and rock the street style look.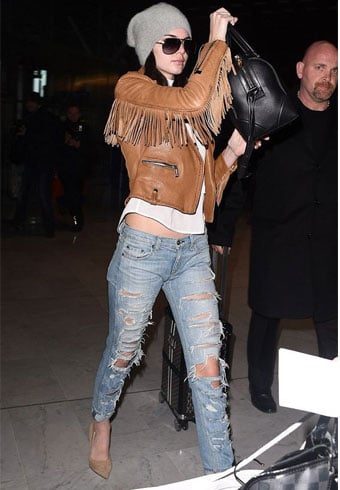 20. Boyfriend Jeans With off-shoulder Top
The off-shoulder style never fades away. Pick a cool white off-shoulder top and wear it over a pair of boyfriend jeans like Sofia Vergara.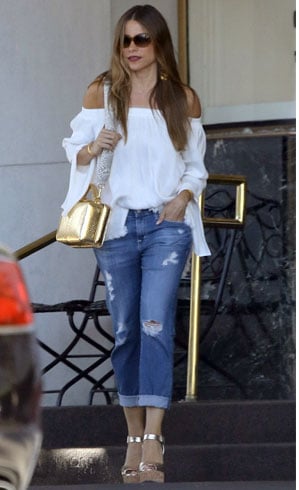 So, after looking at all the above listed outfit ideas, we can sum up the following things-
21. Shoes to wear with boyfriend jeans:
Boyfriend jeans look cool with sneakers and flat slip-ons. Though, if you are opting for a luxury party wear outfit, you can wear boots or tip toes.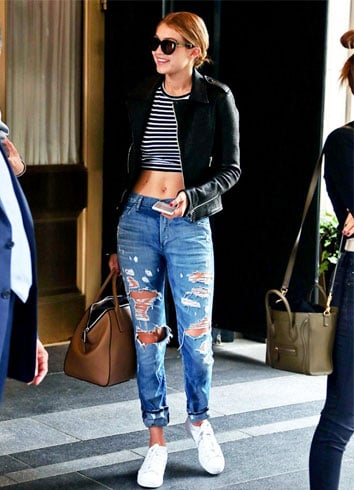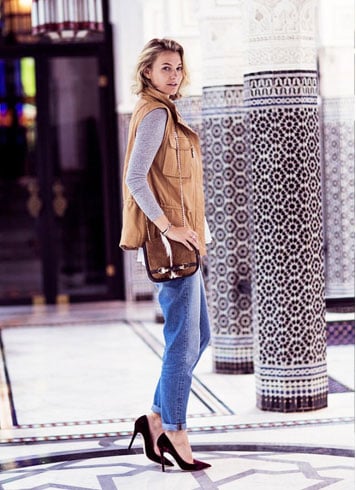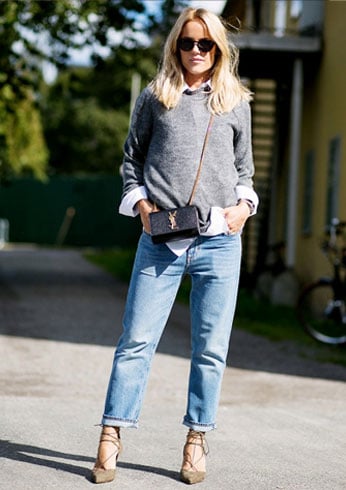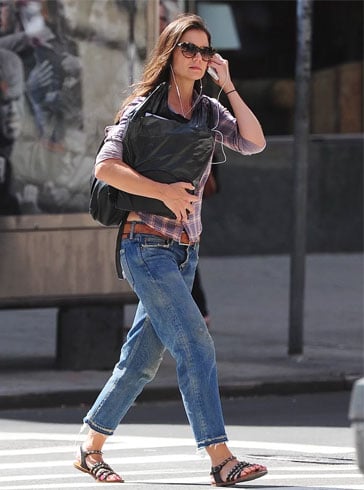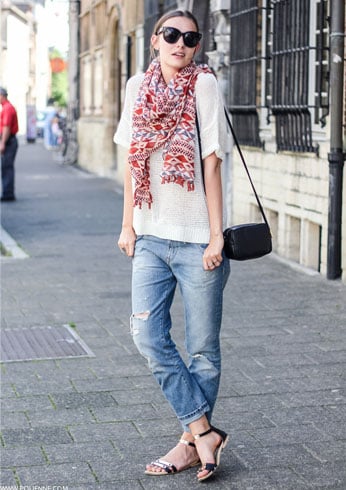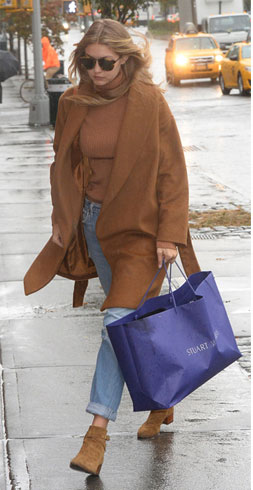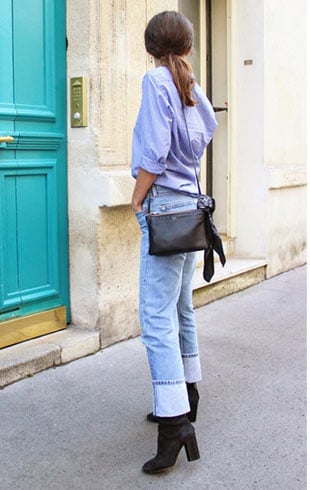 22. Shirts to wear with boyfriend jeans:
Cotton and denim shirts look totally cool with boyfriend jeans. Loose tees and crop tops also look cool with boyfriend jeans.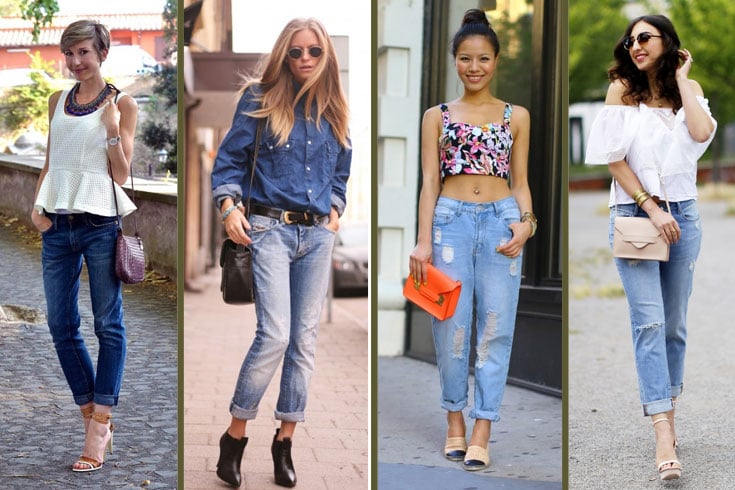 Now wondering where can you find the best boyfriend jeans for yourself? Well, like I said before… many brands now have ready to wear boyfriend jeans for women in their stores. Forever21, Gap, Zara, Koovs etc. are some brands where you can get a stunning pair of boyfriend jeans for yourself. Hope you enjoyed reading this post!
Stay tuned for more stuff on style and fashion. Take care & stay stylish!
Images Source: condenast.co.uk