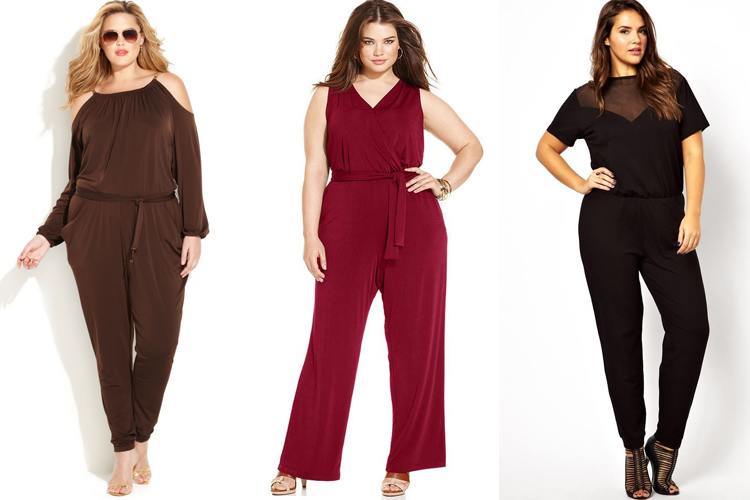 That 70's fashion fad is now trending again! You can see it everywhere – from movies to fashion runways – these days. But with the resurgence of this one-piece style, it has also become the hot favorite of curvy fashionistas. Yes, this truly classic and highly fashionable piece of clothing had always been a 'no-no' for plus-size beauties as they used to think that it would spoil their looks by exaggerating the curves.
[Also Read: Dresses To Hide Tummy ]
But now, jumpsuits are back with a bang and their plus-size varieties are totally flooding the market. There is always a jumpsuit that will work for your curvaceous body and give you a dazzling look irrespective of the occasion. The only trick is to pick the right one, which will flatter your body type the right way. Yes, jumpsuits are the new plus-size fashion.
So, get ready gals! Explore the complete style guide on jumpsuits for your plus-size figure and rock the look:
How to Pick the Best Jumpsuit for Plus-Size?
There are some already established dressing tips for oversized women. All you need to do is to keep those in mind while focusing on certain guidelines, specifically designed for jumpsuits. Here are the golden rules:
1. Opt for High Quality Fabrics
When it comes to the best plus-size jumpsuits, the type of fabric matters the most. If the material is clingy, it will either pull up or lie limp highlighting all your trouble areas. But high-quality materials are quite structured and hence, will flatter your shape perfectly. A few choices that you can make are:
Spandex: Being easily stretchable, spandex is a great option for plus-size jumpsuits. It offers utmost comfort by stretching with the size of the body.
Jersey: A jersey with considerable weight is another good choice. A polyester jersey skims the body the best and works for almost every oversized woman.
Others: There are a variety of soft fabrics with breathable texture, which make amazing jumpsuits for plus size. They also give a feeling of maximum comfort and relaxation.
2. Be Choosy about Colors and Prints
The apparently simple jumpsuit is actually a bold and striking fashion statement. So, selecting the colors and prints wisely is the key, especially for the plus-size versions. The trick is to go streamlined instead of wearing an overwhelming look. Monochromatic jumpsuits go excellent with the silhouette of curvy women. Also, go for rich, dark shades that can make your body look elongated thereby giving you a slimmer appearance. In prints, large colorful ones will cover most of your body so that the problematic parts are not focused on.
3. Pay Attention to Your Neckline
A large chest and wide hips are two features of oversized women, which can kill the look totally in jumpsuits. The situation becomes even worse if your bust is larger than your bottom. So, to kill that big bust look, pick jumpsuits with complementary necklines. You must opt for something sophisticated that is neither too tight nor too slack. Jumpsuits with open necklines like 'V'-neck, wide scoop, etc. look splendid on full-figured women as they make the neck look longer and the chest comparatively smaller as well as proportioned. You should also get thick supportive straps at the shoulder or a halter behind the neck to give your décolletage a great look.
4. Reconsider the Length of Sleeves
Both sleeveless and long-sleeved jumpsuits are available in the market. But for a plus-size woman, it is important to know which one will enhance her look the most. Wearing sleeves is definitely better for a full-figured woman rather than keeping the arms bare. However, for an ultra-chic look, it is recommended that you get a jumpsuit with long legs and short sleeves. A little skin show on arms can make the appearance perfectly balanced, while long sleeves will overwhelm the body.
5. Fight Tummy Issues with Detailing
Bulging tummy is another big issue for oversized women. But it should not prevent you from wearing jumpsuit and looking stylish. You can find these garments with lots of details around the bumpy areas that will either help you camouflage your tummy strategically or at least take the attention away from it. Look for features like gathering, overlays, ruching, draping, etc. Large prints will also do for this purpose.
6. Find Something Cinched In Waist
Last but not the least; make sure that your plus-size jumpsuit comes with long wide legs and clinching right at the waist or a little above it. This cut or shape is particularly important for curvaceous figures as it emphasizes the narrowest section of the body, thereby creating an ideal hourglass outline. You may also wear a belt slightly above your waistline in order to make your jumpsuit a good fit from your waist to crotch.
Finding the right jumpsuit and styling it up for your alluring curvy figure is no more a struggle.
Get ready to 'look fab with flab' – the jumpsuit way!