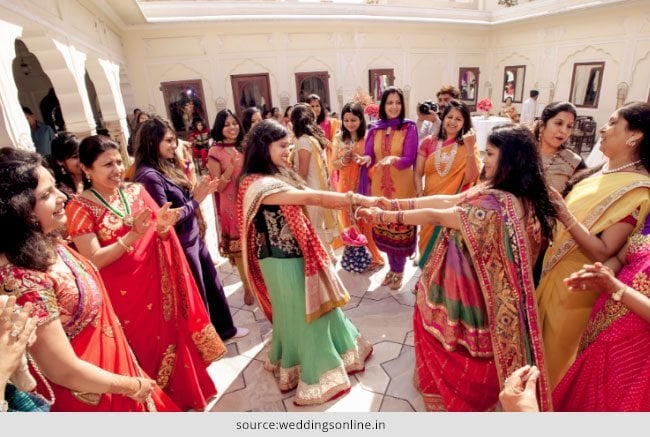 Whether you're the bride or a guest attending a Sangeet, when it comes to your clothing, it can get a little confusing. What to wear to a Sangeet Ceremony? This is one question on everyone's mind. A Sangeet is the one occasion where you can just let loose and where pretty much any colour of your choice. So how do you narrow down on that one colour to wear for your Sangeet? Just consider the following factors to help you pick your colour.
Be Experimental and Funky
The Sangeet is a time for having fun, with songs and dance. Let your clothing reflect that fun mood. Consider taking a step out of your comfort zone and wearing something a little brazen and funky. Colours that would otherwise take a backseat such as bright orange and parrot green can actually work really well for a Sangeet ceremony.
Choose Through the Process of Elimination
Be sure to pick a colour that you will not be wearing on any of the other wedding ceremonies. For instance, if you're wedding lehenga is red then you might want to steer clear of red for your Sangeet. Why repeat the same colour when you can pick a different colour for each ceremony. Colours such as purple, blue, and green can look great on you and are so often not the preferred choice for the wedding attire. So you can take your pick from one of those colours and really make your Sangeet outfit stand out.
Be Colourful
Wait a minute. Whoever said you have to pick only one colour? One the unique aspects of an Indian wedding is that it is so bright and colourful. And a Sangeet is the perfect occasion to be as colourful as you want. So go ahead and pick a multi-coloured lehenga or anarkali suit to look cheerful and bright on the day of your Sangeet.
Let the Bride Shine
[sc:mediad]
If you're a guest attending a Sangeet, then a good way to choose a colour would be to ask the bride what colour she is wearing so that you can avoid wearing it. This is in order to let the bride shine and be the centre of attention. So if the bride is planning to wear a pink lehenga, then you must pick a different colour.
[Also Read: What to Wear to A Best Friend's Wedding?]
Consider the Theme
If you have a colour theme for decorations, you can get inspired by it. There are two ways of doing this. You can pick a colour that complements or is the same colour as that of the decorations. Or you can do the opposite and pick a colour that will clash with the decorations and make you stand out.
Go White
If you're the bride then you will want to make sure that you stand out and look special on the day of your Sangeet. One great way to ensure that is to wear white. You can bet that people will turn up wearing bold colours to the Sangeet ceremony. So when you wear white, you will definitely be the focus of attention in the sea of colours. Actress Genelia D'Souza wore a white lehenga for her Sangeet and looked radiant in it.
We had recently discussed on colors to wear for mehndi. Now, you also know what colors to wear on a sangeet. Whichever colour you pick, just make sure that your outfit is comfortable and allows you to move freely. You wouldn't want to miss out on all the dance and dhamaka on the day of your Sangeet by wearing an outfit that restricts movement or weighs you down. While wedding pictures are beautiful and will make you sigh and bring tears of happiness to your eyes, your Sangeet pictures will make you smile and relive those happy and light-hearted moments. So pick the right colour to make your Sangeet pictures truly amazing.