Indian weddings are a colour riot and mish mash of so many functions! It is one of the most beautiful types of weddings and the myriad of ceremonies that are held signify an important part of the life that the bride is going to begin. The mehendi ceremony is one of them. It is a pre-wedding ritual and is mostly fun and games, but it also has a very traditional and cultural significance.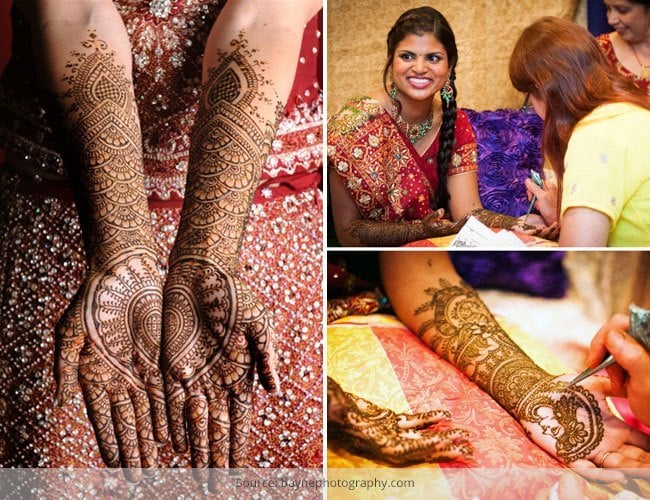 [Also read: Indian Henna Designs – Unfold Deeper Meanings & Significances]
Mehndi Ceremony is considered as a vital part of the matrimony and in many cultures, it is also considered as a shagun or an auspicious part of the matrimony. The ceremony usually has women from the bride's family coming in and celebrating with dance and songs and applying mehendi to the bride. Besides the bride, her close friends and relatives too soak in mehendi's colours.
Rituals say that mehendi is one of those sixteen adornments that make the beauty of a bride. Since it is an integral part of the matrimony, mehendi ceremony holds a lot of importance in a bride's life. It is usually a private and colourful affair, but sometimes mehndi ceremony is merged with another ceremony, Sangeet, to save on time and money. While some of you may wonder how to darken henna on hands and feet, other may wonder how to dress for a mehendi party. Fret not. We are here to help you.
Colours in a Mehendi Ceremony:
One basic question that pop in most brides mind is, "what to wear on mehendi". Well, if you observe any mehendi function, you will see that there is a colour explosion of all kinds of colours amid the guests. Women come in beautiful lehengas and cholis and colour salwars too. The predominant colours are mostly yellow, orange and red, but with changing times and trends, you can also see a lot of other colours in the mélange.
Here are some ideas on what colours you can wear on your Mehendi:
Mellow in Yellow:
Another pre-wedding ritual, Haldi, has the dominant colour of the ceremony as yellow. So, if you have already worn yellow in that ceremony, don't fret. You can again wear a different shade of yellow in your mehendi ceremony!
Yellow doesn't mean that you would have to settle down only with a single yellow colour. You can also contrast your yellow lehengas or Salwar with a colour like teal or pink.
The model below has pulled off a very gorgeous pink and yellow look for a mehendi ceremony.
[Also read: How to Remove The Mehendi Color at Home]
Going Green:
Green is another favourite with many brides now. A lot of women are now choosing dark green as their mehendi dress because it can give off a very royal look. Be it for a dark or a fair bride, green can easily complement both the complexions very well. Parrot green and fluorescent green would also look wonderfully royal on a bride.
[sc:mediad]
Like a candy!
Pink is one colour that every girl can look good in! If you are a fan of this color, you can carry off a pink coloured lehengas or Salwar with élan! Make sure you do not over accessorize your look. Mehendi is a pre-wedding ceremony which is often a relaxed event. So if you are planning to wear a heavy lehenga like the one shown below, you do not need to pile on more jewellery.
Purple Royalty:
For a more regal and royal look, purple mehendi dresses can be worn. Purple is the colour of royalty and has a very regal look to it. It makes for perfect bridal mehndi dresses. You can easily wear it on your mehendi without accessorizing it with any other jewels. A lot of brides are now going for a clean, minimal look which can gorgeously change the look of the bride without much ado.
The mehendi is a fun, pre-ritual wedding where the bride is meant to have fun! Don't fret about your dress, instead hang out with your close friends and family and enjoy your time!