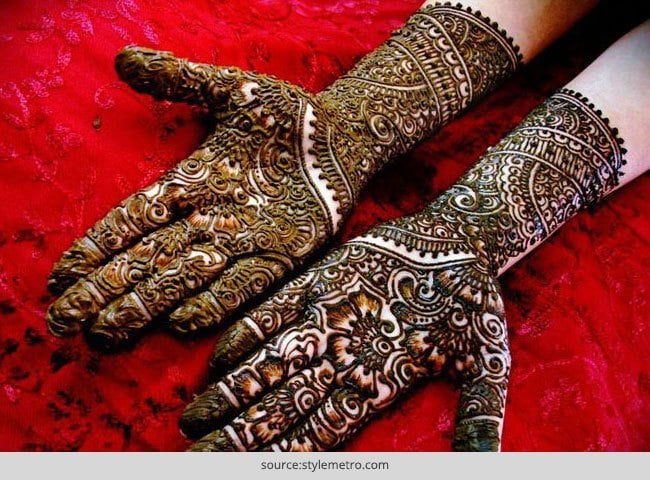 A beautiful mehendi design can be such a pleasant sight. But once it starts fading a little, and begins to look like a dreaded disease, you would love to have it fade away instantly. Though henna is not permanent, it can take a good two weeks or more to completely fade away. But don't worry; we have a few tips and tricks to safely remove your mehendi at home. Read on to know more!
1.Olive Oil Magic:
The mother of all oils, Olive oil can really work to fade away remnants of a beautiful mehendi design. It is a gentle emulsifier and can fade it out in three to four days. Take some olive oil in a bowl and mix it with a little salt. Salt can speed up the chlorination process and help make the fading process a lot faster. Dip it every day or about an hour or so for effective removal.
2.Bleach it Away:
A good quality bleach can help fade mehendi colour in a jiffy. You can take the commonly available bleach for the face and apply it on your hands. As soon as the bleach dries off, you can wash your hands in cold water and dip them in a bowl full of cold water for some time. Repeat this for a few more times to see the mehendi completely fade away.
[sc:mediad]
Caution: Always use bleach for sensitive skin because the presence of ammonia in the bleach can irritate the skin. Test the bleach on a small patch of your palms before dabbing your entire hand. Wait for at least an hour or so to see whether there is any reaction. If you skin feels fine, you are good to go!
3.Lemon+ Baking Soda:
A thick paste made by mixing baking soda and lemon can also work wonders to remove mehendi from your hands. Dab the paste on your hands and leave it on for ten minutes. After the paste dries off, use a scrub to exfoliate your hands. Scrub it in a circular motion to wipe away the mehendi. After about ten minutes or so, wash your hands with some warm water. This mixture tends to make your hands pretty dry. You can use a good lotion to bring the moisture back in your hands.
4.Chlorination
This is another common method to fade away the mehendi design. Many of you might feel that it is a little harsh to put chlorine on your hands, but if you want a quick fix, then this is one of the best methods to remove henna at home. You can easily purchase it from any medical store. Add a few drops of chorine in a bath full of warm water. Dip your hands in it for some three or four minutes. You will feel that your hands start itching. Don't worry, this is not harmful. Repeat the process a few more times to hasten the process of tattoo removal.
5.Wash and Wash and Wash
This is the most natural way to remove mehendi from your hands. Simply wash your hands more than ten times every day. Use soap or anti-bacterial liquid soap for best results. Though this process will take a little longer and will also tend to make your hands dry, this method works best and is also pretty natural. So, wash your hands as frequently as possible and see your mehendi fade in a couple of days' time.
[Also Read: Mehandi Party]
All the above methods are tried and tested. Use them to see your mehendi fade away in no time!