Henna looks amazing! Those intricate designs on hands and feet are gorgeous and spectacular. Though they originated first in India, and were used as an adornment for brides, henna designs are now common all over the world. The beautiful designs can last for a week or so depending on their exposure to water and soap.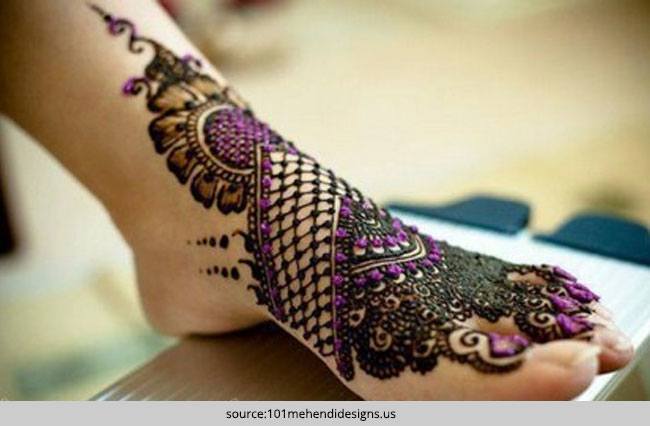 [Also read: Indian Henna Designs – Unfold Deeper Meanings & Significances]
Sometimes, however, all women do not get too dark mehendi stains. They stay a little orange. A good mehendi should give you a dark brown colour. So, how to darken henna on hands and feet?
Below are some tips to darken henna:
Clean Is The Key!
When you start applying henna on your hands or feet, make sure that you do not have any kinds of lotions applied on your body. If you do have, then you should wash them off with soap. The only way the henna will come out dark on your body is when it is in direct contact with your skin.
The Longer The Better:
For a very dark mehendi color, it is essential that you keep your henna on for a longer period of time. You can keep it on overnight for the darkest possible colour. When the henna dries off completely, scrape if off with a knife instead of using water. The longer you stay away from water, the better the colour will be. When you first scrape off the colour, you will see that the colour that has developed has an orange tint, but after a while this will get a darker, much richer brown hue.
Eucalyptus Magic:
The sweet smelling oil is a wonderful way to keep your henna dark. You can apply it before you use henna and it will give an extremely dark colour. If you ever thought how to darken henna on feet, now you have the answer.
[Also Read: How To Make A Henna Cone]
Lemon And Sugar Mixture:
[sc:mediad]
While your henna is drying you should use a mixture of sugar boiled in water and add a few drops of lemon juice to it. Constantly dab this cooled down mixture on your hands. The sugar keeps the mehendi sticking to the hand for a longer time and lemon juice acts as a catalyst to release more colour from the henna.
Cloves For Darker Stain:
Boil a few cloves and add a few garlic pods to it. Put your hands on top of this henna design and let your mehendi soak in the steam. Be careful not to burn your hands from the steam. This is also a very effective way to darken henna on hands or feet.
Vicks Or Tiger Balm!
Yes, as absurd as it may sound, but these balms can work wonders to keep your mehendi dark for a long time. After your henna has dried and you have scraped it off from your hands, apply Tiger Balm or Vicks on your palms. These help to extract more colour and keep your stain darker for a longer period of time.
Avoid Water At All Costs:
Henna stains easily fade when you use more water on it. As mentioned before, when the henna dries off, do not use water to take off the dried bits. Instead use a knife and scrape it off.
When it comes to going swimming, try and avoid as much as possible because swimming pools have chlorine, a bleaching agent, which will fasten the process of henna fading. Again, make sure you avoid washing clothes or utensils. If you have to, you may use gloves to prevent water on your mehendi designs.
[Also read: Applying Henna to Hair: Benefits and Precautions]
Mehendi designs look beautiful on a woman's hand. But as they start fading out, their charm starts fading too! So to avoid this, try and use the above methods. Hope you have got all your answers on How to Darken Henna on Hands and Feet.