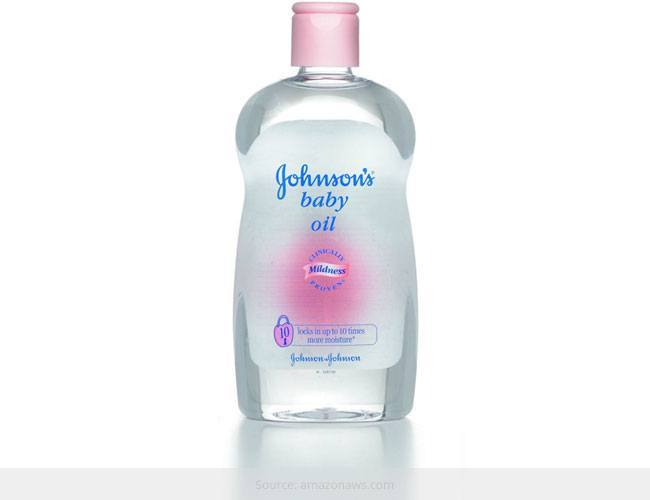 Hey, this one is a cootchie coo product that virtually reminds us of our baby days. It's soft and gentle on skin, gets absorbed easily and nourishes the skin to perfection.
Baby Oil, dearies, might be the first choice when it comes to nourishing and moisturising babies. But its versatility makes it popular for all ages, particularly among beauty-conscious women. Get out of the traditional perception that baby oil is meant for toddlers and see how it is fast expanding its territory into the vanity case of the female sex. You make wonder, does baby oil help dry skin, etc etc. Darlings, below are the benefits of baby oil for skin
Eye Makeup Remover
If you have run out of you eye make up remover and wondering how to remove eye makeup with homemade products, baby oil comes to your rescue.Just pour a few drops of baby oil on a cotton ball and swipe it gently across the eyelid and lashes. This will help wipe out makeup easily without a pinch in the pocket.
Shiny Skin
Mix a drop of baby oil into your regular lotion to get gleaming skin and longer lasting moisture.
Cracked Heels
No matter the pencil heels or stilettos we want to wear, our cracked heels end up ruining the moment. Rub baby oil on the heels and find smooth looking feet come back.
Face Scrub
Baby oil can be used as a scrub. First wet your face, then apply this oil to face, scrub with sugar, and wash off.
Ear Wax
Pesky problem of ear wax disturbs our flaunting ears. Put five drops of baby oil in your ear while lying on your side. This will help dissolve ear wax happily.
After Shaving Legs
Use baby oil after shaving your legs, in order to get superb moisturized legs. Make it a point not to dry legs before applying the oil.
Cheek Highlighter
Enhancing cheeks can be done in an innovative way. Use baby oil on cheeks for some great highlighting. You can also use baby oil on eyelids to make them look shiny.
Nails
On the nail front, baby oil plays a dual role – as cuticle strengthener and also nail paint remover.
Hair Serum
Give up those fancy cosmetic hair serums and use just a couple of drops of baby oil in the form of hair serum.
[sc:mediad]
Foundation
Mix the baby oil with foundation to give yourself a nice glowing face.
Bath
When you put baby oil in bubble bath, you stand to benefit from extra moisturizing power of the oil.
Stretch Marks
This is a common problem in pregnant mothers and obese women. Use baby oil with cocoa butter in order to successfully manage and erase stretch marks.
Eyebrows
Again give your vanity case a break and use baby oil that does it job of a 'brow tamer' excellently well once you have filled them with a pencil.
Untangling
If you are facing trouble removing stuck rings and bracelets on your fingers or arms, use baby oil. It will help untangle chains in a smooth manner. Similarly, sticky things such as band-aids, bubble gum, etc can be removed from skin by using baby oil.
Cold Wave
Facing cold bites on skin? Rub baby oil on exposed skin to protect it from the ill effects of cold.
Stress or Anxiety
Whenever you are feeling low, try using baby oil to massage your body. Within a few minutes you will feel your tensions melt away.
Paint Removal
In case the adventurous you is on the trip to painting your room and the paint gets all over your skin, then no need to worry or lose your cool. Just pour a small amount of baby oil in your hands and on other skin areas wherever the paint has got stuck. The rigid paint will come right off.
Lips
Winters particularly expose us to chapped lips. Even those with sensitive skin face the same problem of dry lips. There is no better remedy than baby oil that gets you back to the path of smooth and moisturised lips.
Frizzy Hair
Here's one of the best ways to get rid of frizzy hair. Soak some fresh tissues in baby oil and use these tissues to tame your frizzy hair. Make it a point to never use baby oil directly on your hair else they will become greasy.
The above reasons would have answered your question – is baby oil good for skin. Remember these points to get baby soft skin, you can thank us later.
Next time you go shopping for beauty products don't forget to add a bottle of baby oil to your list. It works wonders after all!