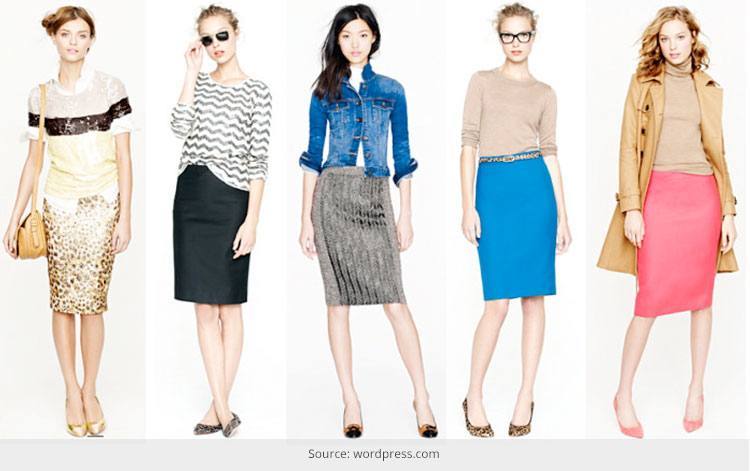 Pencil skirts can do wonders for your look. Not only are they incredibly stylish and chic, they are versatile at the same time! So you can seamlessly transform from your office look to a casual look just by changing a few pointers. Most women are terrified of pencil skirts because they believe that it is too hard to style. Fortunately, we are here to bust that myth. Here is how you can style your pencil skirt look without fretting out!
[Also Read: Pencil Skirt For Your Body Type!]
Let's get started with the basics: How do you buy a pencil skirt?
Pencil skirts are not limited to a certain body type, but it is always better if you can use something which would fit your body well. There are various types of pencil skirts available in the market and you can choose the ones which look the best for you. Here are the different types of pencil skirts available:
Peplum Pencil Skirt: This one has a gentle twist to the common pencil skirt and instead of being straight, this one's hem flares at the bottom. This design is perfect for women who would like to add the illusion of a curvaceous figure.
High Waist Pencil Skirt: The most sophisticated of them all, the high-waist pencil skirt gives a vintage or a retro feel to your look. However, the high-waist look may expose all your love handles. You can wear it with spanx to give it a more streamlined look. For curvaceous women or for those with pear-shaped bodies, pencil skirts can give a really accentuated look.
How to make sure your Pencil Skirt actually suits you:
Now this is where you would have to put your styling prowess to use. While most of us find the pencil skirt very tricky to style, it would be good to have some styling tips in mind. Here are some of them:
Get a fit exclusively for you:
Most pencil skirts do not come with the perfect fit, but you can customize them so that it can fit you snugly. The length of the skirt depends on the built of the women. So for the shorter ladies, the best would be to have the skirt right above the knee to create an illusion of longer legs.
Keep it smooth and simple:
The best way to know whether your pencil skirt fits you perfectly is to check out for bumps and rolls. When you are standing up, there should be no bumps or rolls. If they are there, then you would need a bigger size.
[sc:mediad]
[Also Read: How to Wear Midi Skirts]
Mix and match prints:
Who said you can't wear patterns and prints with your pencil skirt? One of the best things about pencil skirts is wearing it with anything and everything you like. You already know that a high-waist pencil skirt can create an illusion of long legs and to accentuate that look further, you can wear something with patterns on the top to have a more balanced and fitted look.
[Also Read: 5 Rules For Mixing and Matching Prints and Patterns]
Best Way to Create an Hourglass Figure:
Just like the long leg illusion, pencil skirts can easily help create an hour-glass figure illusion. Just some right accessories here and there to achieve the look. For instance, you can easily create an hour-glass figure by wearing a belt which is darker in colour than the top and the skirt.
So, there you go! We have given you all the secrets on how to style a pencil skirt in the best way!