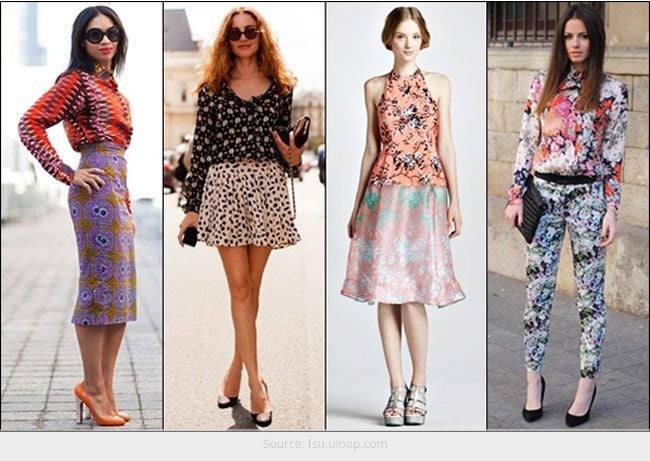 Dare we say, if ever there is one of the most creatively adventurous way by which you can reveal your personal style and individuality, then it is mixing prints and patterns liberally. Some say plaids and stripes shouldn't be mixed together, while others might argue that stripes go with everything under the sun – yes, even plaids. So banish all the mixing and matching rules you have learnt till date, and get a polished, balanced and sophisticated look every time by taking note of how to wear prints and patterns. Here are our top 5 mixing and matching trendy clothing tips.
1. Colours should be neatly matched together and not prints
If you think the colour of your skater skirt is going well with the colour of your crop top, then more often than not, the prints would gel well too. There is no colour-matching guideline you should be following as such. Everything goes with everything till the time you can carry it with aplomb. It is all a matter of personal preference. Having stated this, please note that black, white, grey and black-and-white prints are a few colours that you can never go wrong with – they go with practically anything and everything.
2. Simpler and graphic prints are easier to mix and match
This is the simple reason that explains why black and white prints, especially black and white stripes, match with everything. They can also be called as the neutral prints of stripes. Graphic prints, on the other hand, are much more easier and handy to be paired in day-to-day dressing, unlike the animal and floral prints. Keep in mind the colour and scale of any print and then think of print-mixing it together.
[Also Read: Prints and Fabrics Trending in 2015]
3. Always include a neutral colour to nail the overall look
Whoever said neutrals are boring should be striped off the title of being a fashionista. In fact, if there is one fail-safe shade that can save a look from looking too noisy and unpolished, then it is the neutrals. A neutral colour amidst the printed and patterned clothing is the way to go. We say make friends with beige, grey, gold, silver and ivory and you can never go wrong.
[sc:mediad]
4. Always make certain to scatter your prints all throughout your outfit
By scattering we mean, say if you are wearing a printed top, pair it with a printed heels or printed bag. This will ensure that your overall look is not getting busy and you have given enough breathing space in between.
5. Sport solids to break up your overall look
If sporting a complete matching prints fashion (print-on-print look) is not exactly how you would like to rock your printed look, then layer it on. Make sure that the layering is done with a solid-coloured piece of cloth. And yes, you can always accessories right to calm things down and give your look a grounded vibe.
Above all, carry whatever you are wearing with confidence, and you can be certain to never go wrong!