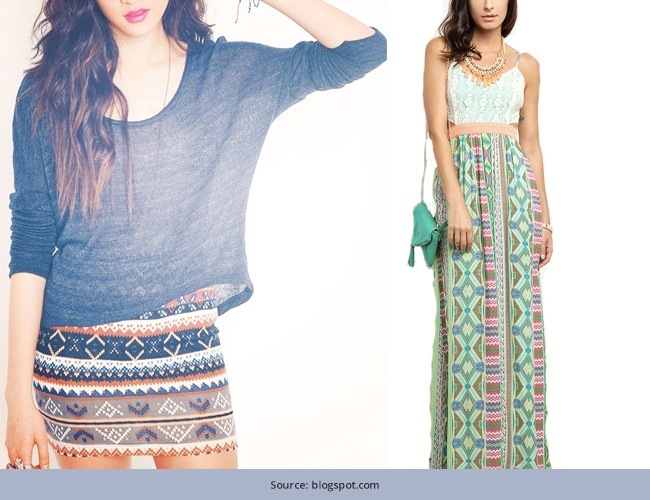 Prints are a delight for some women, who love the interesting dimensions that can be achieved through them. But not everybody is a fan of prints. Women who shy away from printed dresses do not necessarily dislike prints, it is just that they are scared to wear prints. As we all know, some prints can make you look bigger while some other can just look totally chaotic and unappealing. With such things to consider, it does sometimes seem like the safe thing to do is to keep away from prints.
But seriously, a wardrobe without prints will be extremely limited and can get quite monotonous and boring. Prints help add some exciting and much needed splash off different colours coming together to create a fun look.
Use Prints to Your Advantage
When used right, prints can actually help camouflage flab or create an illusion of a slender frame. For instance, if you have a pear shaped figure, then you can pair a solid shirt or top with a printed calf length skirt. The print must be small and the skirt must reach till your calves. This will create an illusion of a slender hip and waist.
Make Your Prints Stand Out
Okay now repeat after me: I do solemnly swear that I shall not wear prints from head to toe and will limit myself to one or two printed item at a given time.
Overdoing prints will just give you a very tacky look that is a definite eye sore. Unless you are Nicky Minaj or Lady Gaga, you should never overdo on prints.
Ahem, Nicky Minaj working the red carpet.
Ideally, this is what you need to aim for. Since it is a printed dress, the bag and shoes have been kept understated with solid colours.
Pick the Right Designs and Patterns
Okay there is a huge risk that the print you pick ends up looking like a curtain or a bed sheet. To avoid falling into this trap, pick light coloured prints and avoid choosing prints with big patterns, opting for smaller intricate designs.
[sc:mediad]
Now here's an example of how not to wear prints. Her dark printed dress looks drably awful and the long sleeves do not help either. Kim Kardashian received a lot of criticism for this gown that she wore to the Met Gala in 2013.
Here's a nicer, more subtle use of print. This just goes on to show that when it comes to prints, less is definitely more. A printed maxi skirt with a simple crop top.
Printed Accessories
Don't limit yourself to wearing printed clothing. Conversely, you can keep your clothing of solid colours and break the monotony with fashion accessories, such as a bright printed scarf, belt, or bag. Printed accessories are a great way to start using prints in your wardrobe.
Animal Prints
Animal prints can look edgy and sexy, but if you don't do it right, they will end up looking extremely gaudy. Firstly, consider if you like animal prints. Don't wear animal prints just because you think they are trendy. If you don't like them, don't wear them. It's as simple as that.
Secondly, you again need to exercise caution to not go overboard with it. An animal print dress might seem like a cool idea, but how it ends up looking totally depends on how well you accessorise.
Former Super model Heidi Klum has been spotted (no pun intended) wearing animal prints on several occasions. Have a look and decide which of these looks work for her.
Aztec Prints
These are one of my personal favourites. With the bohemian trend that has been seen for a while, Aztec or the tribal prints have surely taken a stand for themselves. From Aztec Print skirts to Aztec print shirts, Aztec print yoga pants and similar printed accessories, all of it is available in this print.
But as mentioned earlier and now that you have also sworn, do not wear Aztec prints from head to toe. Remember, it's a trend, make the most of Aztec Prints but do not over-do the trend.
Chevrons are another type of prints that look great when worn in bright colours and accessorized using the color-blocking technique that we have already told you about in an earlier post. If you haven't read on color-blocking, read it right away.
Prints can accentuate your outfit and make them look so much more vibrant and fun. They've just got a bad rep because of all the fashion faux pas that's been committed. So now that you're aware of the pitfalls, you shouldn't worry about making a mistake. Fashion is all about taking risks and finding your way through all the hits and misses along the way.