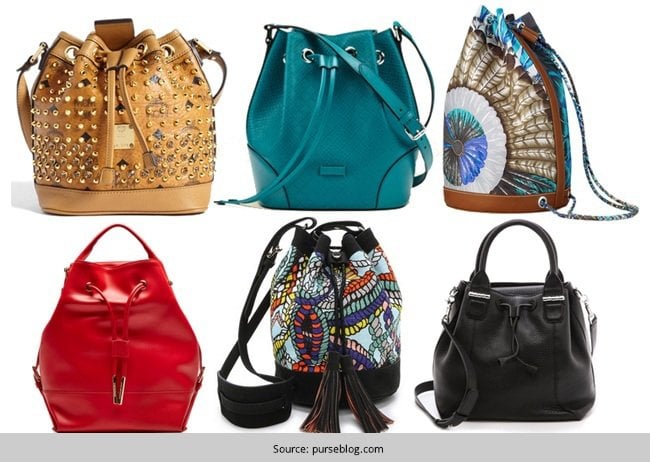 Much like home interiors, gadgets and accessories, trends come in all shapes & sizes. What goes around comes around in fashion. And this has exactly happened with bucket bags. After writing an elaborate piece on bucket bag spring trend, I am back once again to tell you about top 10 bucket bags you must own.
As we are talking about fashion fads, which are in and out of the fashion world throughout the years, this handbag style makes a classic example. There are trends like the military or leopard prints, which have always managed to get into the designers' collections apart from becoming the much talked-about high street fashion finds. And there are also trends, which are drenched in a collective grasp which enables them with the less ubiquitous obsessions.
The intriguing bucket bag falls into this last-mentioned category, as it is back with a micro-trend story based on the moral – must-have items can come in small packages!
New York Magazine had this to say on bucket bag,
"This is a shape to fill, cinch, and carry, whether you go classic (Saint Laurent by Hedi Slimane's sleek black bag) or attention-grabbing (Elizabeth and James's bright-yellow, snakeskin-textured version). Click through the gallery ahead for those, plus eight more voluminous shoulder bags that will fit all your essentials and then some."
Frankly speaking, I'm not at all surprised by the enormous popularity of these bags, knowing all the hype about most expensive bags that people splurge on, have garnered traction sub rosa among the world's top fashion icons from Kate Bosworth and Alexa Chung to Naomi Campbell and Uma Thurman. And when Marc Jacobs sent down his models clutching their NN14 Noe bags for his final collection of Louis Vuitton, the fashion world understood this was the call.
The Noe is one of Vuitton's first iconic bucket bags and to close his final show with an updated version of the LV bag was indeed a great send off.
Traditional bag lovers will be glad to know about the Louis Vuitton has introduced lots of new versions of the original bucket bag, the Noe, including Epi leather in perfect summer shades.
And on the cheaper note, several new age bag brands have come up with an unstructured style that mostly appeal to younger customers.
To find out the best high end bucket bags, let's check out top 10 bucket handbags you must own from our bucket list!
1. Louis Vuitton Noé Bag – $1070
This monogrammed timeless bag was originally created in 1932, basically for the chic to carry four to five bottles of champagne en route. And it's of no surprise that a high end bag which was designed to help the crème de la crème of Jazz era would dramatically resurface in this sartorially-beloved decade in the form of label-bedecked leather or satin puff versions to accentuate power suits and party dresses!
This year, the standby carryall has garnered another surge of popularity, especially after the handbag moguls have updated the bucket bag in vibrant neutral hues.
2. Mulberry Edna Drawstring Bag – $1350
Mulberry has been ruling the tote bag fashion for couple of years now. Whether it's the Alexa, the Bayswater, or the Margaret, every bag lover craves for a Mulberry must-have tote. Now they are ruling over the bucket bag trend. The British luxury bag brand understands the new age preferences and how today's fashionista is looking for the miniature version of tote bag in something like tan to add edge to her look.
3. Tila March Bonnie Bucket Bag – $780
Tila March's cylindrical sac in silver instantly draws anybody's attention. The super polished look in mushroom shade offers this bucket bag a sophisticated look, which is this year's minimalist trend. You can pair this bucket bag with a strategically-knotted button-down and black maxi skirt to make a fantastic monsoon ensemble.
4. Alexander Wang Diego Bucket Bag – $825
Alexander Wang is famed for whipping up their items to everyone's hit list just as their Diego Bucket Bag. This leather drawstring style bag is available in a variety of colors and materials and much popular are the velvet and leopard prints. I especially loved the Alexander Wang in mustard color as it seamlessly blends with everyday basics. It can go with casual, denim-centric outfits such as a flak jacket and skinny jeans.
5. Pour La Victoire Sade Bag – $499
I was quite elated to know that one of my favorite purveyors of footwear started out with handbags, especially their Pour La Victoire Sade Bag, which is perfect for the city-girl on the go. This spacious bucket bag can easily occupy all of your stuff, while the strap and chain detailing give it a little edge.
[sc:mediad]
6. Zara Handbag with Handle – $109
Zara excels in high street finds and this sleek bucket bag says it all. This luxe mix of suede and leather bucket bag effortlessly goes with neutral basics like tan trousers and camel coats. This bag even complements knitted sweater and knee-length skirt to get a Chloe-inspired look.
7. Calvin Klein Key Item Drawstring Bucket Bag -$147.99
Whether your style is more biker or bohemian, there is a bucket bag out there for you. And this versatile spring bag can with go any style.
8. Joie Mabel Bucket Bag – $232.80
The Joie Mabel bucket bag in super soft lamb leather is highly trending these days. With a drawstring closure, rose gold hardware and adjustable cross body strap, this bag is the epitome of boho chic fashion.
9. Marc by Marc Jacobs Too Hot to Handle Drawstring Bucket Bag – $448
Suddenly drawstrings bucket bags are everywhere. This style first gained popularity with the iconic Louis Vuitton Noe Bag and then spawned perennial favorites like the Alexander Wang Diego Bucket Bag, and now it is back with new version – Marc Jacobs Drawstring Bucket Bag.
10. Seau Saint Laurent Medium Bucket Bag – $1,950
This classic bucket bag in red instantly adds elegance to the look. From workplace outfits to party wears, this bag can go with any outfit, suiting all occasions.
So, these are the top 10 bucket handbags you must own! Do let us know your favorite piece from our bucket list!