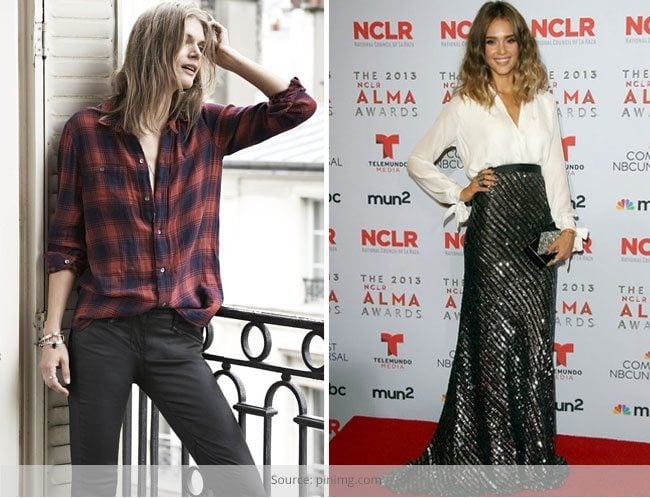 If you do not own a boyfriend shirt, then you don't know what you're missing out on. The boyfriend shirt is a long, loose shirt that gives the impression that you've put on your boyfriend's clothes (hence the name). You can create some very trendy and sexy looks with this piece of clothing. Not convinced yet? Well let me show you some interesting ways in which you can rock the boyfriend shirt.
The easiest way to wear a boyfriend shirt is with a pair of shorts. Tuck in the shirt to create a casual look that suggests you got out of bed and wore the first thing you could lay your hands on. A checked shirt with denim shorts is a classic look that you will want to try. Just make sure the shorts are really short and snug-fitting to counteract the loose fit of the boyfriend shirt. Here are some pictures that you can take as inspirations.
You can also wear a boyfriend shirt as a jacket, layering it with a bodycon dress or a summer dress. This will take your look from sweet and girly to edgy and rustic, creating an interesting contrast between the feminine dress and the oh-so-masculine look of the boyfriend shirt.
Another clever way to wear the boyfriend shirt is to pair with your leggings or distressed jeans. The result in a very casual yet trendy look. Here's Mary Olsen and Rihanna wearing boyfriend shirts with distressed jeans. Can you have a look at that and honestly tell me you're not dying to try out that look?
Okay so we've looked at all the casual looks that you can achieve wearing a boyfriend shirt. But surely you can't glam it up and wear it for a party right? Wrong! It's all about getting creative girl. You can wear a crisp white or black shirt tucked into a sequined mini skirt or formal trousers. In 1998, Sharone Stone wore an over-sized white shirt with a floor-length Vera Wang skirt to the Oscars. The fashion world loved the look and it has since then been recreated by many other celebrities.
[sc:mediad]
This next look is quite scandalous and only to be attempted if you are a daring female who loves to shock and don't mind being the centre of attention wherever you go. The boyfriend shirt, provided it is long enough, can actually be worn as a dress. Simply cinch it at the waist with a belt and you have a whole new outfit! Slip into a pair of sneakers or boots to complete the look.
You can also get creative with it and tie up the shirt to make some interesting and cute-looking strapless dresses. Just make sure to tie them up securely and pin them in crucial places to ensure that they do not accidentally unravel.
The coolest thing about this trend is that you can create a number of looks by mixing and matching your boyfriend's shirts with your clothes. Oh sure, you can always buy a loose shirt to create these above mentioned look, but I say why waste money when you can just rummage through your boyfriend's wardrobe and come up with some super cool looks? You have got to agree that there is something irresistible and very personal about wearing your boyfriend's clothes all day long. So try out this cool budget-friendly look this season, you're sure to have your boyfriend's approval!