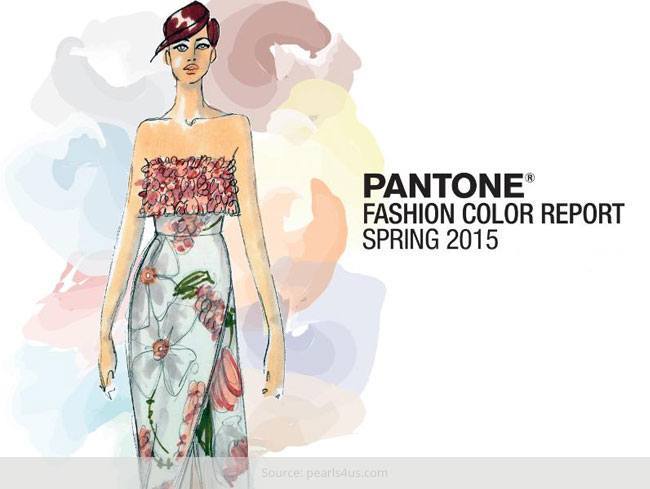 Colour is all around us, be it spring, summer or fall. How does colour govern our life? It stimulates moods and personalities, travel and adventure, cuisine and glamour. Talk about colours in glamour and the entire spectrum of shades, tones, undertones and overtones fills our vision. It is a different experience watching a mosaic of colours on the fashion ramp. Just like there are international fashion bodies that bring about trends for the coming seasons, similarly there are ones that reveal dynamic trend shifts in colour. Get ready to be the first one to read the voguish colours that would make the journey of fashion the most chic, sultry, sexy and enjoyable looking. It is the most happening forecast that will help you change your appreciation and love for colours and costumes.
The Colours of Spring 2015
Critics and commoners, all have to hear out Pantone, the international colour authority that declares the colour of fashion. In its recently revealed Fashion Colour Report Spring 2015, the findings are an absolute read. Featuring Top 10 colours for women's and men's fashion for Spring 2015 in combination with designer sketches, headshots and quotes, the Colour Report is the bible of fashion for the oncoming spring. Executive Director of Pantone Colour Institute, Leatrice Eiseman is quite candid with her comments. Says she, "Many feel compelled to be connected around the clock because we are afraid we'll miss something important. There is a growing movement to step out and create 'quiet zones' to disconnect from technology and unwinding, giving ourselves time to stop and be still".
Cool hues would be the one to dominate the world of fashion in 2015. Leatrice continues "Color choices follow the same minimalistic 'en plein air' theme, taking a cue from nature rather than being reinvented or mechanically manipulated. Soft, cool hues blend with subtle warm tones to create a soothing escape from the everyday hustle and bustle". This means pastels and neutrals will be wardrobe-dominating.
Top Ten Women's Colours for Spring 2015
Women are choosy about two things in life – colour and variety. However, colour preferences tend to change very often. As per Pantone's Fashion Colour Report for Spring' 15, the preference for Pastels during Spring is going to change to the dark side.
The Spring 2015 palette is eclectic enough. Watch out for these 10 commandments that would cast new decibels in fashion statement.
Aquamarine – An airy, ethereal blue known for its cool, dreamy feel, Aquamarine interestingly gels well with the other greens and blues.
Scuba Blue – Short of the thrill of scuba diving, this colour rendition would give you playfulness that's carefree and invigorating to the body and mind.
Lucita Green – This is no Lucy in the Ball but a soft and serene green that has clarity to offer to the fashion-digging souls.
Classic Blue – This one is for a refreshing and thoughtful look. Strong and reliable it is with its waterborne qualities.
Toasted Almond – Almonds might be good for skin, hair and eyes. But toasted almonds have the suntanned abilities in providing comforting warmth that's timeless.
Strawberry Ice – A light coral tone, Strawberry Ice pairs well with Toasted Almond like the sun-kissed skin in spring and summer.
[sc:mediad]
Tangerine – This energising colour adds a colour impact in the season of spring. In fact, tangerine when teamed with Strawberry Ice and Toasted Almond makes for a retro-inspired look.
Custard – What kind of flavour does custard bring to your mind – soft, mellow, browny yellow? That is what Custard is for the spring palette. Combine it with Classic Blue to get a maritime feel.
Marsala – Think of Marsala and the name spells Fortified Wine. This compelling hue brings the richness of a fulfilling meal enriching mind and soul. The red-brown roots point towards natural earthiness. Says Eiseman about Marsala, "Exuding confidence and stability, this hearty, yet stylish tone is universally appealing and translates easily to fashion, beauty, industrial design, home furnishings and interiors."
Glacier Gray – This neutral colour pop is absolutely timeless that brings a touch of graceful relaxation. Combine Marsala and Aquamarine with it to welcome an unexpected pairing that is a perfect celebration of spring.
Like to know which colour topped out of the ten? In the women's wear category, Aquamarine topped the list, followed by the cool turquoise Scuba Blue and minty Lucite Green.
From the press release that was circulated to the media,
"Marsala was a hit on the Spring 2015 runways with fashion designers featured in the PANTONE Fashion Color Report Spring 2015. Daniel Silverstain, Herve Leger by Max Azria and Dennis Basso incorporated the hue into their collections. The impactful, full-bodied qualities of Marsala make for an elegant statement color when the color is used on its own or as a compelling accent when paired with many other colors."
Fashion Designers such as Betsey Johnson, BCBGMAXAZRIA, and Monique Lhuillier have incorporated some of these colors into their Spring 2015 collections.
Official Sponsors
The official hair care sponsor of the Spring/Summer 2015 season of Mercedes-Benz Fashion Week held from September 4th – 11th, 2014 at Lincoln Center in New York City has been Tresemme. Such is the brand pull of Tresemme that it returns to New York for its 13th consecutive season in empowering women with secrets of creating runway hair. TRESemme would be partnering with established and emerging fashion designers such as Clover Canyon, Prabal Gurung, Phillip Lim, Misha Nonoo, Narciso Rodriguez, Rebecca Taylor and Marissa Webb in their 'hair trip'.
That has been the pull of the event Fashion Colour Report for Spring 2015. Inspiring women from runway to read-to-wear in colour perspectives.