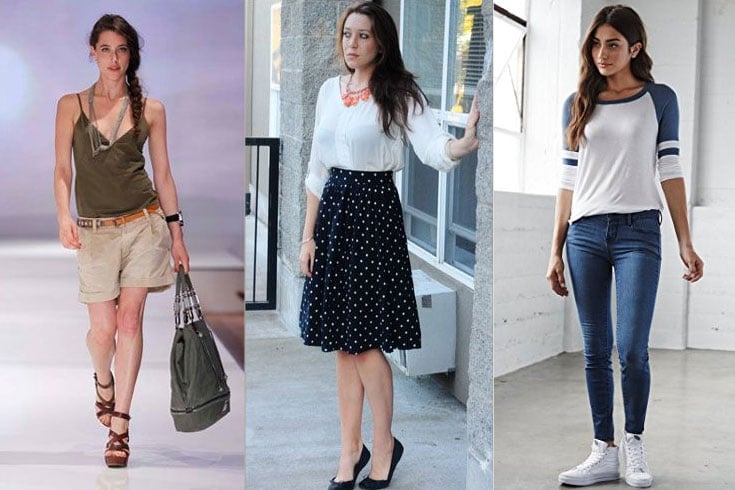 "Yo Shorty" they said! Well, show them what those short legs can do. If you are fed up of watching the best of clothing lines being flaunted on skinny women with long-long legs, girl we have news for you. There is hope, because fashion transcends all boundaries, and fashion is for all. You could be tall or short, fat or thin, heavy chested or flat, there is always something to wear, which would make you look like a diva! Here's a guide on what to wear if you have short legs.
Elongating Your Legs
No, we aren't talking about surgery, but elongating the legs with the help of dressing right is what we mean. Aim for the best way to do that, without chopping the scene up. The aim is to have 'one-full-body' sans the chopping, and this would help make the legs look longer and not wide and short. Hence avoid heavy contrasts; dark denims with light blue denims, or cuffed denim shorts too. Even if you fancy wearing horizontal faded creased pants, avoid it at all costs. Also you must know how to find the perfect jeans that suits your body type.
Stubby Legs
Short-stubby legs are a pain to be born with, but that doesn't mean you cannot wear short flair skirts or hot pants to be trendy. It all depends on the cut and the style that you choose, so let's take a look at them all to make your legs look lean and long.
1. Above The Knee Shorts- Quite flattering for sure, the more skin you flaunt the better. They help create an illusion of long and lean legs.
[Also Read: Dresses For Fat Legs]
2. Muscular And Short Legs- Mini-skirts with wedges or platform heels to the rescue this evening. You sure would have legs looking long and slim, and boyfriend would love that too.
[Also Read: How to Appear Tall – 7 Tips to Keep in Mind]
3. Below The Knee Shorts/ Skirts- Critical, since it aims at the troubled areas and rests just above those stubby calves, so avoid them if you aren't confident of carrying yourself with an oomph!
4. Petite Frame And Short Legs – Shorts that sit pretty and just above the knees are okay to wear. The hems are longer and it would create an illusion of height too.
[sc:mediad]
5. Long Skirts- They should be well-fitted, especially around your hips; or else the 'slimming' illusion wouldn't happen.
6. High Waisted Shorts And Skirts Or Dress Pants- Quite tricky, since they start out higher than what they actually should and would shorten your waist. However, if you match a tee or top with the pants, skirts or shorts (similar shade or colour), the upper half wouldn't be chopped and you would look tall.
[Also Read: How To Wear High Waisted Shorts]
7. Boyfriend Shorts And Bermudas- Wonderful! This is for the girl who wants to look tall sans the skin show. Such garments fall pretty above your knees and aren't MINI as such, but dressy for sure and casual too.
8. Clothes With Vertical Stripes And Details- It is very important to know how to wear stripes for you body shape? If you are talking of pleats and piping, vertical button rows; go right ahead, since they make the lower part of your body look lean and long.
9. Matching The Skin-Tone To The Clothes Colour- Tan and Beige for sure helps elongate the look on your legs, and you could play colour chop too – dark blue on top with black for the bottom!
Shoes- Nude, Light Brown, Tan, Black or Dark Brown, when worn with dress pants, shorts, short skirts, flair skirts etc bring on the inches to the legs.
10. Panty Hose- Match the panty hoses' colour to that of your shoes, helps define the legs and makes them look long too.
11. For Winter Fashion- Opt for trendy winter fabrics for winter fashion. Black tights that are opaque and shorts (dark coloured) with a black sweater or cardigan would make your legs look streamlined and long.
12. Heels – T-STRAPS for sure!
13. Say No To Low-Rise Jeans-Skip wearing low-rise jeans as they have the tendency to make you look shorter than you are which is definitely not desirable. Also put away that tight fitting jeans or pants which will define the length of your legs and reveal your little secret.
14. Asymmetrical Lines-A straight hemline clearly etches the leg length and makes it tough to give yourself the elevation that you need. Instead, go asymmetrical with the hemlines confusing the audience and making it difficult to focus on a single part of the body. This is a magic trick which will work wonders when played smart.
15. Go Monochrome-Always use color to your favor. As we all know pairing the same color of shoes as the pants will elongate the look, similarly, going monochromatic will create the delusion of long legs. While trying out this concept, opt for the darker colors and you will surely be amazed by the transformation.
Most importantly, you could be spending and splurging on fashion, but if you do not have the confidence to carry out the 'diva strut', nothing would help bring in the accolades. We all have the short and long of everything, it's how we carry ourselves that matters the most!