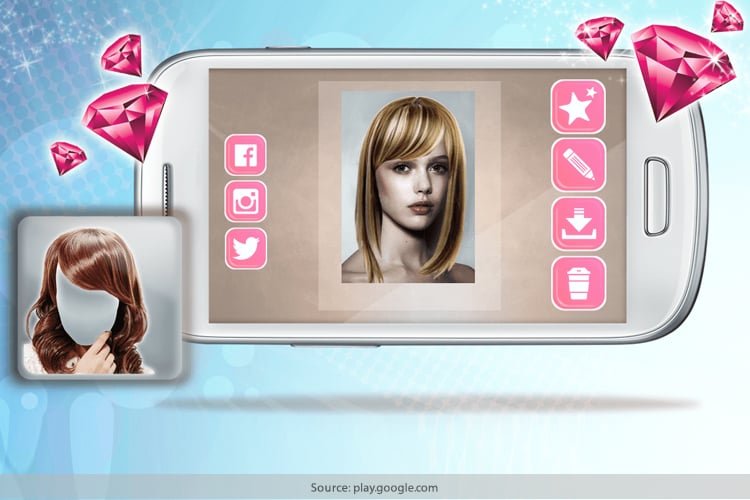 In this day and age, we have an app for almost anything we need. The same would be for hairstyles and haircuts too. Isn't it great, where you have the best hairstyle app, which allows you to try out various looks and styles, hairstyles and hairdos, haircuts too and then decide which one to go for ahead? This isn't some fantasy chick flick movie concept, but for real there are best hairstyle apps to try out.
A List Of Top Apps To Try Out Hairstyles
Here Are A Couple Of best Hairstyle Apps To Try!
Hair Salon
This isn't a free app as such, and there is a minimal fee you have to pay for the same. The different hairstyles app is loaded with innumerable hairstyles of latest trends, and you wouldn't have to sit under the salon scissors for the same. Pre-loaded with more than four dozen hairdos, all you have to do is to upload your selfie and take a chance at each hairstyle shown.
[sc:mediad]
Virtual Hairstudio
As the name suggest, this is an app to change hairstyle and to check out the latest hairdo and hairstyle trends too. And that is why it has been rated as one of the best hair styler app android users have loved to download. Take a photo of yours and apply a style on the same; free and some for a fee!
HairStyle Mirror
HairStyle Mirror would be your bestie for life, and would help you pick up a cool chic hairstyle too. You need to upload a picture of yours and stare into the phone; a suitable hairstyle as deemed fit would pop up. And there are more than hundred hairstyles and cut styles to choose from.

The Hair Style Changer
An app that allows you to check without changing; which means, you don't have to undergo a salon disaster. You get to use this app to check from a wide range of hairdos and hairstyles, which shows you how the end look would be on you. Easy to use, fun and feature friendly, you don't have to worry about a costly haircut going bad anymore.
The Celebrity Hairstyle Salon
An app that allows you to try out various hairdos, in various length and hues, and in one click that too. Now how cool is that? You could use the virtual decorative accessories to style up your hair with, and add a glam sham touch to the same as well.
Ultimate Hairstyle Try-On
The Ultimate app is another amazing app and probably one 0f the best hair color apps around. With many downloads to its name already, the hair color changer app would bring to you the best hairstyles, haircuts and hair colors that would suit you- the best part is, it showcases what celebrities are wearing at the moment and would let you know if the style you choose or fancy, would suit you or not!
Hairstyles
The hairstyles app is a simple name for sure, but has plenty of styling and hairdressing options with amazing virtual accessories for you to try out. Get elegant and very gorgeous hairdos and hairstyles shown to you, which can help you create a list of photomontages to paste on social media.
Hair Color Booth App
You've heard of phone booths and wedding booths, now brace yourself for the hair color booth. Touch up your hair, have an app shot too and change the color of the hair as well. So much fun in one app!
Do you know of hair changer apps that you want to let us know about? We are sure there are or may exist plenty of them on various portals out there; if you do have more names to add to this list, do write in and let us know a bit about them, so that we could tell us readers more about the same and why they should also check these apps out.